Rich Rodriguez: 'I almost felt like I was getting pushed out the door'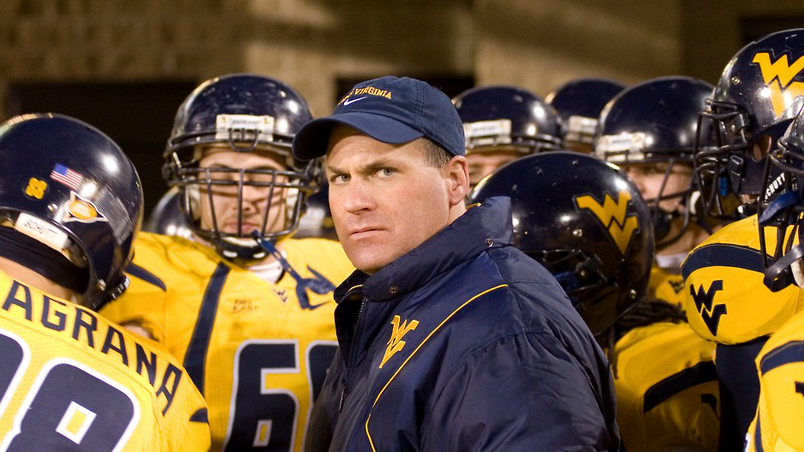 Arizona coach Rich Rodriguez joined Seth Davis on CampusInsiders and had plenty to say about his 2007 departure from West Virginia.
In the video interview, Rodriguez said he regrets not offering an explanation to the Mountaineer fan base, as he was advised against it by Michigan. He defended his decision to not coach in the 2008 Fiesta Bowl.
Here is a full transcript of the interview (emphasis mine):
"The one thing I've heard people say is, 'Well, you must have been looking for this job,' or that the Michigan thing was in the works before the season was over. That's absolutely not true. I didn't talk to them even a week after this season. It was a week and a half after the season that I got a call, and I was like, geez, you know, maybe I should listen to it. I still wasn't going to take the job if I thought the administration at the time at West Virginia had the same vision I did as far as growing the program.
"The program had gotten to a pretty good place, and I wanted to keep growing it. The administration at the time — not the one now, but the administration at the time — I wasn't convinced with my talks with them that they wanted to keep doing that. That was my perception, my belief.
"If I could do one thing over again, I would have a press conference at West Virginia and explain some of these things. I was kind of told to not do that by the next employer [Michigan], 'Hey, move on.' I got some advice to not do that. But I owed that to West Virginia, and I think it would have cleared a lot of things up, telling them, 'This is why I'm leaving, this is why I'm taking this opportunity, which is a great opportunity. You may not like it, but at least I've given you the up-front thing.'
"I didn't. They said to just move on and take the high road. Well, sometimes the high road is not always the best. I think staying on the level road and talking to the people [is best]. I called a few people that supported the program and gave them a heads-up, but there were so many other people that had supported the program and myself and our staff that I didn't contact before I left that, if I could do one thing over again, I would do that.
"A lot of people were made because I didn't coach the bowl game. That was my decision only, but I thought that I'd have been a huge distraction. I thought the best chance for West Virginia to win the bowl game against against Oklahoma was for me to remove myself and for the staff, that way they could focus on just the game and not the drama of me being there and my last game. So, I would have done that over again. I would have told them why I was doing it, because I would have been a distraction, and I wanted my guys to win that game, and they wound up playing great for Coach [Bill] Stewart and that staff and winning that game [48-28]. There were some lessons learned."
"I was told to fight the lawsuit. To me, there would have been a lot less hard feeling — there still would have been hard feelings — but I was told to go ahead and fight it, you have a case. The only thing I wish I got — I'm glad the thing got settled and all that, but there were opportunities for me to really say what happened, because people didn't know what happened, they thought I just got into a car and left for Michigan. No, no. When Michigan offered the position, I didn't take the job right then. I said, I'm going to go back and talk to my superiors at West Virginia and tell them what's going on and see what they think about it and give them an opportunity to say, 'Hey, we want you guys to stay here and keep doing what you're doing and we're with you all the way.' When that meeting went the other way and they said, 'Listen, we've done all we can with you. Take it or leave it.' I almost felt like I was getting pushed out the door. Now that was my perception, but that's what I felt. I didn't take a job at Michigan without consulting or talking to the folks at West Virginia first, so that was another misconception.
"It's in the past, and they've moved on and I've moved on, but when people still say they're mad, it's like, geez, that's a long time ago. I would hope that (interrupted). It's home, that's a lot of it too. I hope that there were a lot of good things that happened back over 7 years, too. A lot of things and people that, when they supported the program when I was there that are still in place, facility-wise and infrastructure-wise that I think have helped them get where they are today."
Stephen J. Nesbitt: This email address is being protected from spambots. You need JavaScript enabled to view it. , 412-290-2183 and Twitter @stephenjnesbitt.
More in this category: