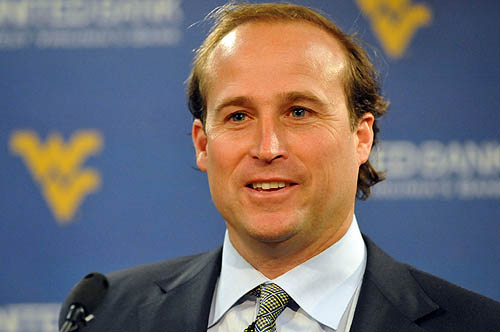 MORGANTOWN, W.Va. — West Virginia coach Dana Holgorsen met with the media Friday for a spring-football luncheon.
Here's a news recap:
• Players have been working with the strength-and-conditioning team for the past two months. "Have had six good weeks of good. The goal at this time is to get this guys bigger, faster, stronger and healthy." Coaches have had nine early-morning sessions with the players to "kick 'em around a little bit, yell at 'em, scream at 'em."
• Spring camp will start Monday, March 2. Will have three days indoor, non-padded practices. After spring break, they'll have four weeks, 12 practices, all padded. Will hold four open Saturday practices. March 22 in Wheeling. March 29 in Morgantown. April 5 in Charleston. Then the next Saturday, April 12, will be the spring game in Morgantown.
• Team will look pretty similar this season, with some needed improvements. "Hopefully the outcomes will be a bit better." Invites fans out to open practices -- show your devotion, we'll show you our improvement.
• Injury report: Clint Trickett, progressing. Had shoulder surgery. Will be throwing gradually throughout the course of spring. Will not participate in spring; will be cleared by summer. Wes Tonkery has had numerous shoulder surgeries and a thumb injury. He'll miss spring. Jared Barber had knee surgery and will miss camp. Tyler Tezeno will miss majority of spring ball after knee injury. Cleared after missing games: Malik Greaves (hip), Shaq Petteway "real close" (knee); Dustin Garrison (knee); Christian Brown (foot), Nana Kyeremeh (shoulder); Ricky Rumph.