Empty Netter Assists - 05-01-12
Playoff Stuff
Penguins - Islanders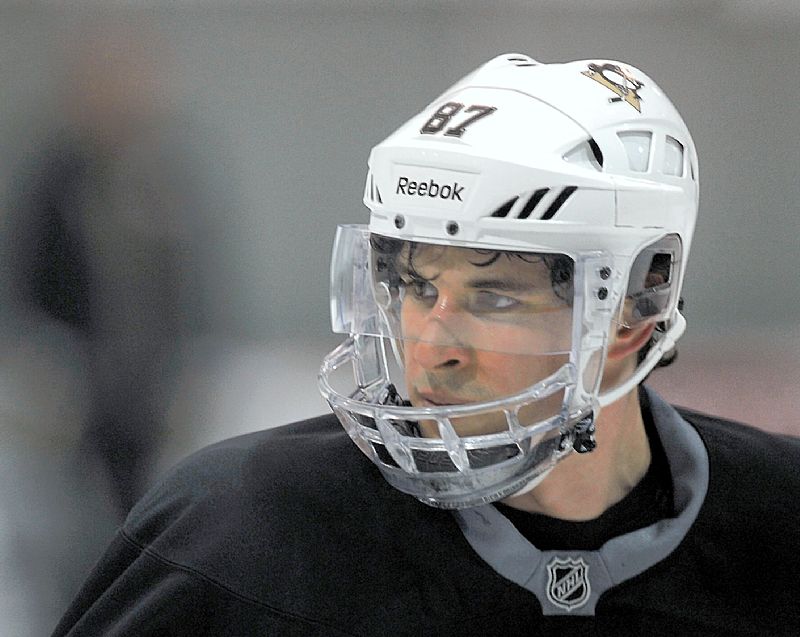 -Sidney Crosby (above) will not play tonight.
-Marc-Andre Fleury needs a big rebound after the 2012 postseason.
-"I want to show my best game because this year wasn't great for me. I have a chance to play better." - Evgeni Malkin.
-An EN playoff tradition: What is it?
-Crosby speaks:
-Brooks Orpik speaks:
-Jarome Iginla speaks:
-Marc-Andre Fleury speaks:
-Goaltender Evgeni Nabokov is one of the few members of his team with significant postseason experience.
-"Some [coaches] are more in your face. Jack is a guy who is positive, has a lot of energy, likes to have a lot of fun. He's been great for our group, mostly a younger team." - Islanders forward John Tavares on head coach Jack Capuano.
-After the Jump: The Wild lose Niklas Backstrom before the playoffs even begin and overtime wins for the Blackhawks and Blues.
Canadiens - Senators
-"It's a Canadian matchup. We're two hours away from each other. ... A lot of fans on both sides are going to be at the games. It's going to be an exciting series." - Canadiens foward Tomas Plekanec (right) on facing the rival Senators in the Eastern Conference quarterfinal round.
-"One guy has won a Norris. One guy hasn't." - Senators forward Chris Neil on the differences between Senators defenseman Erik Karlsson and Canadiens defenseman P.K. Subban.
-"I love the idea of having a goaltender like 'Andy' back there. You know he's going to perform every night, he's always focused and his preparation is some of the best I've ever seen in a goaltender. You know what you're getting with him going in every game." - Senators defenseman Marc Methot on goaltender Craig Anderson.
Capitals - Rangers
-"Every time he gets an opportunity around the net he rips it. And they've been going in for him. Someone has to be draped all over him in the [defensive] zone to try to make sure he doesn't get the opportunity to fire." - Rangers defenseman Marc Staal on Capitals captain/forward Alex Ovechkin.
-Capitals forward Mike Ribeiro is returning to the postseason for the first time since 2008.
-Rangers coach John Tortorella went off on local media for how his relationship with former Rangers forward Marian Gaborik was portrayed.
Bruins - Maple Leafs
-Bruins forward Nathan Horton (right) returned to the lineup for the first time since suffering an "upper-body" injury against the Penguins last month.
-Maple Leafs forward Tyler Bozak ("upper body") remains questionable for Game 1.
Blackhawks - Wild
-An overtime goal by Bryan Bickell gave the Blackhawks a 2-1 win against the Wild in Game 1. Corey Crawford made 26 saves in the victory.
-After goaltender Niklas Backstrom suffered a suspected "lower-body" injury during warm-ups, the Wild was forced to start backup goaltender Josh Harding.
-Backstrom was injured while reaching for a rebound:
-Pass of the Night: Check out this nifty backhanded dish by Chicago's Patrick Kane to set up former PenguiN Marian Hossa on the power play:
-Hit of the Night: Bickell on Minnesota's Zenon Konopka:
-Bickell's goal:
-Happy times in Chicago:
-The Blackhawks warming up in the dark:
-Harding was all over this puck:
-Minnestoa's Matt Cullen put something on this shot:
-Crawford peering through traffic:
-Minnesota's Kyle Brodziak tried to re-direct a puck by Crawford:
-"It was a bit of a curveball to say the least." - Wild coach Mike Yeo on having to play Harding.
-Wild forward Jason Pominville missed Game 1 due to a suspected head injury.
-Hockey Night in Canada's playoff-opening montage was special as always:
Ducks - Red Wings
-Jonas Hiller made 21 saves for the Ducks in a 3-1 victory against the Red Wings in Game 1.
-Anaheim's Teemu Selanne scored the eventual game-winning goal on a power play off a feed from former Penguin Ben Lovejoy:
-Fire Ray Shero.
-Happy times for the Ducks. Not so much for the Red Wings:
-"When you have the passion to score goals, it doesn't matter how old you are. Maybe the celebrations go down a little bit. But inside it's the same thing." - Selanne, 42, on his goal.
-"My biggest concern is we looked exactly like we did in the first 20-25 games of the season, where we couldn't move the puck on the back, we weren't efficient, we weren't a five-man unit. We didn't look organized in that way and we weren't relentless in the offensive zone because we didn't come with speed.'' - Red Wings coach Mike Babcock.
Canucks - Sharks
-"I'm not going to focus on their players, I'm going to make them focus on me." - Canucks forward Ryan Kesler on how he plans on approaching the Sharks.
-The Canucks continue to be coy about the healthy of starting goaltender Cory Schneider.
Blues - Kings
-Two goals, including one in overtime, by Alex Steen gave the Blues a 2-1 win against the Kings in Game 1. Brian Elliott made 28 saves in the victory.
-There was a scary moment when Kings defenseman Robyn Regehr suffered a broken nose after getting in the face by the skate by St. Louis captain David Backes:
-Lucky Save of the Night: Elliott got a little help from a goal post here:
-A goal by Los Angeles' Justin Williams with 31.6 seconds remaining in regulation forced overtime:
-Ugly Goal of the Night: Steen's overtime goal came off a brutal turnover behind the net by Kings goaltender Jonathan Quick:
-Happy times in St. Louis:
-Cool Photo of the Night: The Blues warming up:
-The Blues being popular:
-"Exactly what it looked like. I tried to make a pass. He blocked it and scored. I don't have an option to the left, and you're trying to force him to the left, trying to give my D-man a little more time with the puck …. You try to make him make a decision. And he got the stick on it." - Quick on Steen's overtime goal.
-"The hockey gods took care of us." - Blues coach Ken Hitchcock.
Non-Playoff stuff
Penguins

-The NHL officially announced the Penguins would face the Blackhawks in an outdoor game at Soldier field March 1.

-Happy 37th birthday to former Penguins forward Eric Meloche (right). The son of former Penguins goaltender and current assistant coach Gilles Meloche, Eric Meloche was a seventh-round pick in 1996 and spent parts of three seasons with the Penguins. He made his NHL debut in 2001-02 and recorded one assist in 23 games. The 2002-03 season saw him record six points in 13 games. His best season an an NHLer was 2003-04 when he recorded 10 points in 25 games. During the 2004 offseason he signed with the rival Flyers. In 61 games for the Penguins, Meloche, one of two players to wear No. 72 for the Penguins (Alex Kovalev is the other), scored 17 points.
-Happy 75th birthday to former Penguins and Pittsburgh Hornets defenseman/forward Dick Mattiussi. Acquired from Cleveland of the AHL in exchange for cash in 1966, Mattiussi spent parts of two seasons with the Penguins. He appeared in 32 games during the Penguins' innagural season of 1967-68 and recorded two assists. After 12 games and two assists in 1968-69, Mattiussi was dealt to the Oakland Seals along with Earl Ingarfield and Gene Ubriaco for Bryan Watson, George Swarbrick and Tracy Pratt. In 44 career games with the Penguins, Mattiussi recorded four assists.
Central Division
-The Predators signed forward Patric Hornqvist to a five-year contract extension worth a total of $21.25 million. On the final year of a contract with a salary cap hit of $3,083,333, Hornqvist's new deal will have a cap hit of $4.25 million. In 24 games this past season, Hornqvist had points (four goals, 10 assists).
-EN Says: Hornqvist dealt with various injuries this past season so his production was limited. When he's healthy, he's a solid 20-goal threat who is a persistent net-front presence. This is a fair contract for a top-six center.
-Blue Jackets forward Marian Gaborik is being examined for an abdominal injury.
Northwest Division
-"Well, it's 2013, I don't think there would be much of a reaction. We've talked about this before in the dressing room. Some people think it would be harder than others. Obviously, there is that doubt because it's taken so long for somebody to come out. There still hasn't been a hockey player to come out. I'm sure there is some uncertainty as to how the guys would react. There's a lot of people, though, I think would welcome it." - Canucks defenseman Kevin Bieksa (right) on potentially having a homosexual teammate.
Pacific Division
-The Coyotes assigned forwards Alexandre Bolduc, Chris Conner, a former Penguin, and defenseman Michael Stone to Portland of the AHL.
Patrick Division
-Former Devils/Bruins/Avalanche/Wild/Islanders forward Brian Rolston formally announced his retirement. In 17 seasons in the NHL, Rolston, a one-time all-star, appeared in 1,256 career games and scored 761 points.
-Former Penguins defensive prospect Victor Ekbom and Islanders forward Justin DiBenedetto have joined Örebro of Sweden's Elitserien.
(Photos: Crosby-Peter Diana/Post-Gazette; Plekanec and Horton-Claus Andersen/Getty Images; Wild/Blackhawks-Jonathan Daniel/Getty Images and John Starks/Daily Herald/Associated Press; Red Wings/Ducks-Harry How/Getty Images; Kings/Blues-Chris Lee/St. Louis Post-Dispatch/Associated Press and Dilip Vishwanat/Getty Images; Meloche-Mitchell Layton/Getty Images; Bieksa-Ronald Martinez/Getty Images)
More in this category: