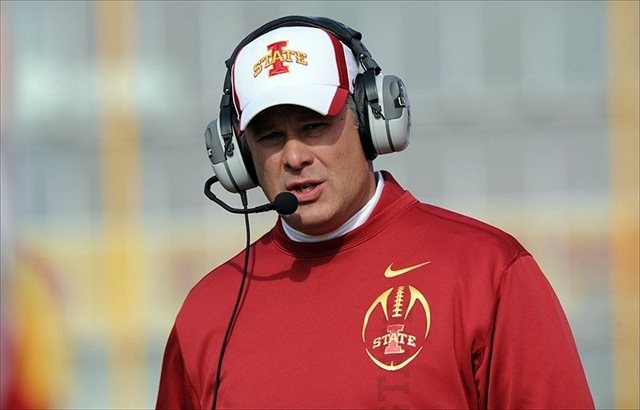 (Photo: USA Today)
West Virginia wraps up the home portion of its 2015 schedule with a game against Iowa State, a contest in which the Mountaineers enter as a two-touchdown favorite.
Earlier this week, I caught up briefly with Bobby La Geese, the sports editor of the Ames Tribune who covers all things Cyclones. You can find Bobby's work here and follow him on Twitter at @BobbyLaGeese.
1) Dana Holgorsen downplayed the emotional impact that Paul Rhoads' firing will have on Iowa State, but since that news came down, how much more motivated do the players appear to be?
When the team found out about the firing of Paul Rhoads, there were players barely able to speak. It's been a every emotional week for players who play for a coach that wears his emotions on his sleeves.
ISU is certainly motivated to win the last game of the Rhoads era. The emotions will have an impact on the game. The question is how? I see only two ways this plays out. Either ISU puts together a strong, spirited effort to honor their coach or the emotions of the week exhausted the Cyclones and they come out flat. I honestly don't know which one it will be.
2) Given the coaching situation, are you expecting the Cyclones to be a little more aggressive tactically since they don't have much (if anything) to lose?
ISU has been a little more aggressive since offensive coordinator Mark Mangino was fired in late October. The Cyclones have pulled out more trick plays, including on special teams, and gone for it more on fourth down. These are the kinds of things Rhoads did early in his tenure when ISU went to bowl games in three of his first four years.
There is no reason for ISU to leave anything in the playbook. I would be shocked if the Cyclones didn't put together their most aggressive gameplan of the season.
3) How much different is Iowa State's offense under Todd Sturdy than it was under Mark Mangino? And how much of an impact has the switch at quarterback from Sam B. Richardson to Joel Lanning had?
ISU has become the offense Rhoads wanted this season since Mangino was let go. The Cyclones are a run first group. A lot of it is Sturdy. The Cyclones are using more formation combinations than before and throwing out some very creative plays, ones that weren't used at the start of the season.
ISU, though, is forced to be this kind of offense because of Lanning. He reminds a lot of folks across the league of former Kansas State quarterback Collin Klein. Like Klein, Lanning is a big threat in the running game. His passing skills need some refinement (he does have a cannon). Lanning's current skill set works best with a run-based offense that utilizes plenty of option plays and straight quarterback runs.
4) This doesn't have much to do with the game itself, but you wrote earlier this week that Iowa State needs to hire a coach that will make the Cyclones unique in the Big 12 and give them a clear identity. What coach (or coaches) would best fit that?
ISU is one of the top 10, if not top five, toughest Power Five jobs to win at in the country. A clear identity, something preferably something that no one else in the conference has could be a big benefit for ISU. The Cyclones have lost a lot of games playing conventional football over the years. It's time to try something else.
Navy's Ken Niumatalolo should be a top candidate. He runs the triple-option and has won consistently at a non-traditional power. Another option would be Montana coach Bob Stitt, who embraces outside the box thinking and analytics.
Being unique doesn't just mean going to an extreme. Baylor is winning because Art Briles brought a unique version of the spread to campus (granted, it's a lot more common today, but no one runs it better than Briles). ISU could also go after a coach that's already won at a non-traditional stop - like Toledo coach Matt Campbell, Utah State coach Matt Wells or Wyoming coach Craig Bohl, who won three FCS titles at North Dakota State.
Craig Meyer: This email address is being protected from spambots. You need JavaScript enabled to view it. and Twitter @CraigMeyerPG