Sharko P. Jones is ready for Game 5
(Photo: Brandi Duffy)
"Is that a Moscow mule, Sharko? What refined taste you have."
"I'm wearing a Pens tee...aren't I?" responds Sharko P. Jones.
Brandi Duffy is ready for the Penguins Game 5 tonight with her unexpected friend, Sharko P. Jones. Just the name alone may make Penguins fans want to click away, but there is an explanation for this creature's name.
Sharko P. Jones is an inflatable shark that Duffy has been dressing up in Penguins attire. Duffy said she is a bartender and had the shark out at work one day and it became a source of entertainment. Duffy is a huge supporter of the sport.
"I live for hockey," Duffy said.
She wanted to have fun with the Stanley Cup and thought an inflatable shark would do just that. Duffy said she predicted that the Sharks and the Penguins would be the teams to make it to the Stanley Cup.
"I'm usually afraid of jinxing stuff, but I didn't have that fear this time," Duffy said.
She said she plans to carry the shark on her back while she rides her scooter today. She will be watching the game from a bar, as many of us will tonight (unless you can fork out a grand or so for a ticket). She said she hopes to take Sharko to the parade if the Penguins win.
Duffy also said she was thinking about having Sharko carry a hammer, as if to say he was hammering the nail in the coffin with Game 5.
Sharko is usually a source of laughter and several people have wanted to dance with him; however, Duffy said she has had people want to pop him in the past. They are soon made aware that Sharko is a Penguins fan and is indeed decked out in black and gold.
(Photo: Brandi Duffy)
I wish this car had a sunroof.
Duffy said the Stanley Cup is such a rare experience that she just wanted to have fun with it and Sharko P. Jones was the perfect way to do so. She said Sharko sometimes sits in her car and attracts looks from people passing by.
Maybe you will catch a glimpse of the inflatable shark while the Penguins take on the real deal at Consol Energy Center. Go cheer for the Penguins tonight alongside Duffy and Sharko P. Jones, as if you needed to be told twice. Just remember: Celebrate responsibly.
(Photo: Gab Bonesso)
"I'm a pacifist shark who enjoys red wine and watching Bobby Flay."
We were updated that Sharko P. Jones is not the only inflatable Penguins fan out there. Phineas the shark has been making his rounds with comedian Gab Bonesso since 2009.
"I'm often known as the shark girl," Bonesso said.
The comedian said she and Phineas just love the city and she tries to promote shark awareness with the inflatable shark. She said every summer the two do meet and greets and she tries to advocate that sharks are not monsters.
"We live every week like its shark week," Bonesso said.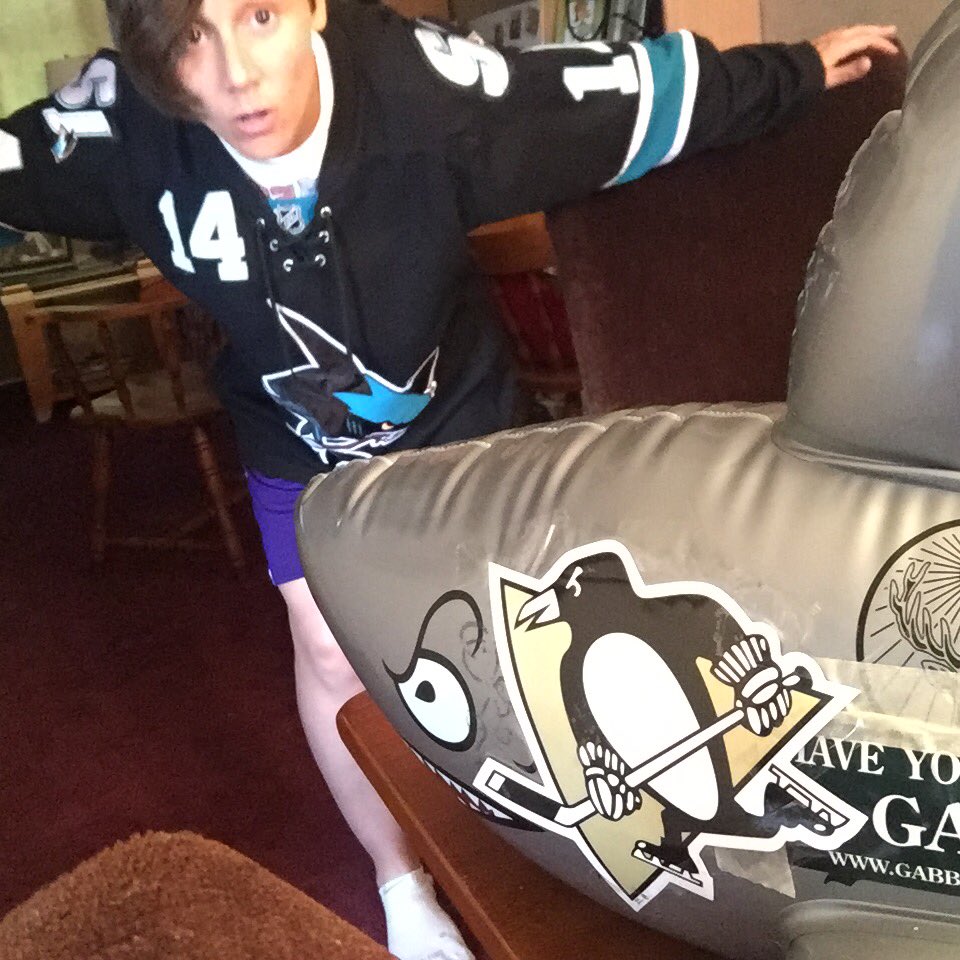 Phineas the shark sports a Penguins tattoo to show his support for the team. Phineas has his own Facebook page where he tries to show people he's really not that bad.
"I like to tell people, if a shark came into your living room, you'd probably bite him too," Bonesso said.
Bonesso will be speaking on KDKA radio tonight and she and Phineas plan to watch Game 5 from Market Square or from a friend's party.
More in this category: