Smith's coaching status still uncertain ..... State basketball rankings ..... Other notes
Varsity Blog was like a bear, going into hibernation for a period of time over the holidays. But Varsity Blog is back and ready to roll again with some items that fell off my laptop:

Terry Smith is in California, working as an assistant coach for the East team in the Semper Fidelis All-American Bowl all-star game.
But Smith still isn't certain where he will coach after that.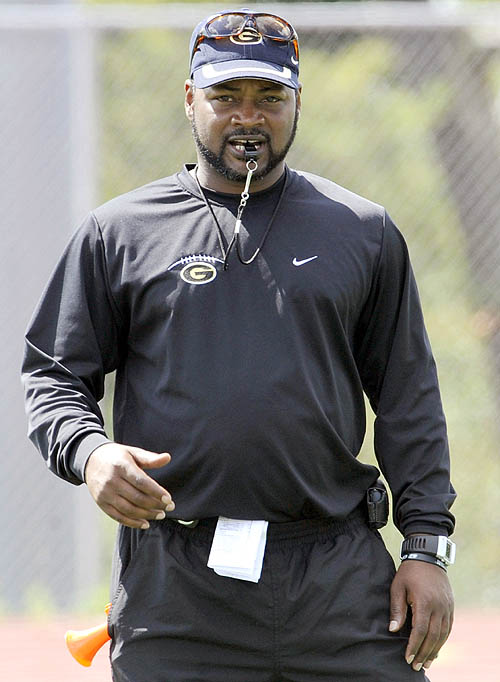 Smith (pictured) has been Gateway High School's coach since 2002. But last summer, the Gateway school board made Smith's athletic director job a part-time position and slashed his contract in half. The board also passed a resolution that, as of Dec. 31, a Gateway administrator cannot also have a supplemental contract. That meant Smith couldn't be athletic director and also football coach.
But Smith said the board recently extended the deadline on the administrator/supplemental contract issue status to June 30. So now, Smith doesn't know what his future holds. It might not be determined for at least another month or possibly much longer.
Just a hunch, but if I had to guess, I'd say odds are Smith has coached his last game at Gateway.

State rankings
Earlier this week, Jerry Shenk and the boys at Middle Atlantic Sports News/Llhoops.com released their first state rankings. Jerry and his crew have been doing these rankings for more than three decades. I like them because the rankings are regardless of class.
Interestingly, three WPIAL teams are in the top 12 in the state – and all three are from Class AAAA Section 3. New Castle is No. 8, North Allegheny No. 10 and Hampton No. 12.
Chester, not surprisingly, is No. 1. A few other WPIAL teams are in the top 25. Check out the rankings with plenty of information on each team.

New Castle's strength
I watched New Castle play once this season. All I can say is wow! Believe it or not, the Red Hurricanes might be even better than last year when they lost only one game. Their defensive pressure is tremendous. Their quickness and athleticism can't be matched by anyone in Class AAAA. And when their guards are shooting well, I don't see anyone in Western Pa. beating them.
Upcoming games against North Allegheny and Hampton will be interesting for New Castle, but I think the Red Hurricanes win both and don't be surprised if they win both by double digits. One thing that will help Hampton is the size of the Luther twins (Ryan and Collin) will let them see over New Castle's traps and also enable Hampton to withstand physical play a little more. But how will Hampton's other players handle the pressure and traps?
Coach Ralph Blundo has done a tremendous job in molding this New Castle team. I'm not predicting a state championship for New Castle, but I will say this: The Red Hurricanes can compete with any team on the eastern side of the state.

Section 1 uprising
Section 3 in Class AAAA has been lauded many times this season, and rightly so. Section 2 is very good, too. But it's time for some "props" to  Section 1.
Section 1 certainly is nowhere near as strong from top to bottom as Section 3 or 2, but Section 1 teams have had some impressive showings this season, especially lately. Penn-Trafford is a sleeper team in Class AAAA. The Warriors gave Hampton a good game in the season opener and handed Bethel Park its first loss last week.
Hempfield crushed Section 3 Shaler earlier this season and lost by only two points to a good Fox Chapel team.
Kiski Area is only 5-4, but beat Section 3 Butler and lost to Hampton by only 54-53 last week.

PFN all-state football teams
The Pennsylvania Football News released its all-state teams this week. These are different than the Pennsylvania Sports Writers All-State teams. Take a look at the PFN's teams.

Pryor-Wisniewski combo

Former Post-Gazette colleague brought Colin Dunlap brought this to my attention a few days ago. Former Jeannette star Terrelle Pryor started at quarterback for the Oakland Raiders Sunday, and the Raiders' starting center was Central Catholic graduate Stefen Wisniewksi. When was the last time a WPIAL quarterback took an NFL regular-season snap from another WPIAL player?
There might not be any way to check it, but I wonder if it has ever happened. Sure, the WPIAL has produced its share of QBs, but centers?
But Pryor and Wisniewski were together on one other team before. OK, so it wasn't really a team, but they were both on the Post-Gazette Fabulous 22 in 2006 when Wisniewski was a senior and Pryor a junior.
By the way, these photos of Pryor and Wisniewski are from their high school years.

Big-game hunting
A number of big games on tap in boys basketball Friday night, and the best of the lot to me is Montour at Chartiers Valley. Incidentally, some new colleges are now showing interest in Montour's Devin Wilson for basketball – and Duquesne is one of them. Duquesne was at the Montour-Beaver Falls game last week to watch Wilson, but also to see Beaver Falls junior Elijah Cottrill.
George Washington and George Mason are two other schools now showing interest in Wilson, who still has not decided whether he wants to play football or basketball in college.
Some other top games tomorrow night are Penn-Trafford at Hempfield, Kittanning at Mars,  Central Valley at Beaver, Serra at Jeannette, Deer Lakes at Apollo-Ridge and Eden Christian at Vincentian. I don't know if I've ever said "Eden Christian" and "big game" in the same sentence before. True, Eden Christian's schedule so far hasn't exactly been strong, but the team is 7-1. Vincentian is 8-0 and averaging 83 points a game. The game is at Vincentian's gym, which is small even for a grade-school game.
By the way, I wonder about Vincentian's future once North Catholic's new campus opens in Cranberry.
But speaking of big games, there is a gigantic girls game tomorrow night in the WPIAL. It will be a 1 vs. 2 battle when No. 1-ranked Bethel Park plays host to No. 2 Mt. Lebanon.

Fresh face
Lincoln Park freshman Maverick Rowan is averaging 23.6 points a game.
More in this category: