Will Pitt be it for Foster?
I'm just sayin'
Robert Foster, the star receiver at Central Valley High School, will announce his college choice this afternoon. He will choose between Pitt and Alabama.
Just a hunch that he won't be saying "Roll Tide."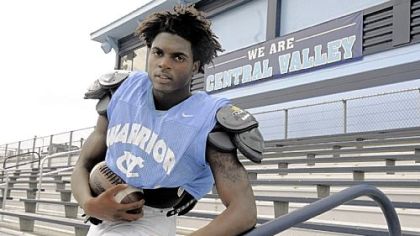 Some sources can't say definitively, but they believe he is leaning toward Pitt. Again, it's just a hunch from some sources, but it seems logical. It seems players from the WPIAL rarely pick schools far south in the SEC or Big 12. But then again, a few years ago three WPIAL players (McKessport's Branden Jackson and Delvon Simmons, and Clairton's Desimon Green) shocked many when they signed with Texas Tech. Jackson and Simmons were contributors to Texas Tech's defense this season (Simmons was a starter). Green never made it to Texas Tech and is now at California, Pa.
Getting Foster would be a big catch for Pitt coach Paul Chryst.
The Post-Gazette's Sam Werner will be covering Foster's news conference and you can follow him on Twitter @SWernerPG.
Basketball thoughts
**** The Upper St. Clair-Bethel Park game the other night was a head scratcher. At least the score was. Bethel Park won, 38-17, and it was 8-3 at halftime.
Some wondered what the heck happened? Well, Upper St. Clair held the ball for much of the game. You may ask why? Bethel Park is good, but it isn't exactly the Schenley team with DeJuan Blair and D.J. Kennedy. But Upper St. Clair's leading scorer, Jordan Grabowski, did not play. Also, in the first game of the season Upper St. Clair lost one of its top players when Gian-Karlo Molina sustained a season-ending knee injury. Molina is 6 feet 4, a foreign exchange student from Puerto Rico and showed plenty of promise.
So Upper St. Clair coach Danny Holzer decided to try and hold the ball on many possessions.
**** The best WPIAL game tonight might be in Class AAAA Section 3 with Seneca Valley playing at North Allegheny. Of course, there will be big games in Section 3 all season. But a good non-section game is in Class A between two undefeated teams - Serra and OLSH.
**** Is Trinity one of the big surprises this year? The Hillers are 6-1. How good are they? It's tough to say because they have only played one team from Pennsylvania. Trinity beat Mt. Lebanon, 75-54.
**** I will catch New Castle's act for the first time tonight. The Red Hurricanes are averaging 77 points a game. Wow.
**** Did Paul Sapotichne see the writing on the wall when he retired after a long stint as Greensburg Salem's coach? The Lions are 1-6 this season.
More in this category: