Clairton could eventually meet record-setting QB
I'm just sayin'
Here is a matchup I would pay to see in the PIAA football semifinals: Clairton vs. Port Allegany.
Both teams play in the PIAA Class A quarterfinals this week. If they both win, they will play in the semifinals next week. We all know about Clairton and its 60-game winning streak. Port Allegany, a District 9 school, has quarterback Matt Bodamer, who set the state record this season for career passing yards.
Bodamer has thrown for 3,522 yards this season alone. That's a career for most WPIAL quarterbacks. He is 194 of 267 and is 301 yards shy of the state single-season record. Also, his 49 touchdown passes are only three short of another state record. But just a hunch that Bodamer might find things just a little tougher against Clairton's defense. But it would still be interesting to see. Bodamer threw for 262 yards last week on a snow-covered field.
Port Allegany, though, has to get by Sharpsville first in the PIAA quarterfinals tomorrow night. Clairton has to get by Berlin Brothersvalley, but that won't be a problem. Sharpsville beat Port Allegany in the PIAA playoffs a year ago.
***** The Post-Gazette picks a coach of the year at the end of the season for the WPIAL-City League. Who the heck should it be this year? I don't ever remember a year with so many deserving candidates. Maybe the state playoffs will sort things out a little.
***** Along the same lines, who should be the player of the year?
***** McDowell plays North Allegheny in a PIAA AAAA quarterfinal tomorrow. Pitt fans might be interested in this story by Tom Reisenweber of the Erie Times-News on McDowell player James Conner, who is a Pitt recruit. Conner was recruited by Pitt to play defense, but he might end up on offense.
***** We need to clear something up about the PIAA quarterfinals sites. A lot of people out there are misinformed. Home sites in quarterfinal rounds are rotated every year. For example, this is the year that the WPIAL champs in Class A and AAA travel to the home district of their opponent. But the WPIAL champs in Class AAAA and AA play games in the WPIAL.
Next year, it will be reversed.
I've received a few complaints from West Allegheny fans about having to play Erie Cathedral Prep in Erie. Well, this is the year the WPIAL AAA champ travels, so please stop with the idea that there is a conspiracy against West Allegheny. West Allegheny fans are quick to forget that it was only three years ago that West Allegheny won the WPIAL and played Erie Cathedral Prep in the quarterfinals. The game was at North Allegheny.
***** I really wish football season was over this week or next. I still have a hard time believing Pennsylvania still plays high school football until mid-December. Only a few other states (all in warm weather) will still be playing at that time. It's absurd that Pennsylvania is still playing in mid-December.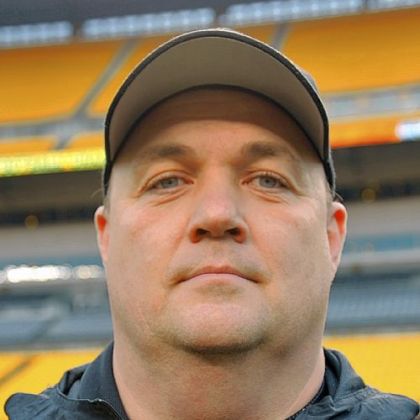 ***** I love Dan Bradley's story. He is the first-year head football coach at Sto-Rox. But he is also the head boys basketball coach at Avonworth. Basketball practice started in Pennsylvania a few weeks ago. Bradley (pictured) would practice with the Sto-Rox football team, leave and go right to Avonworth for basketball practice.
The day Sto-Rox played in the WPIAL football semifinals (Nov. 16) was the first day of basketball practice. Bradley conducted a basketball practice after school - and then went and coached Sto-Rox in the football game. That's tremendous. You think this guy is dedicated, or what? A little crazy, too. Ha ha. But if you really love working with kids and love coaching, you do crazy things like this.
Rick Davis of the P-G has a story on the two-sport guy in today's North Xtra editiion.
***** The start of basketball season is only eight days away. The Post-Gazette will have its girls basketball preview in tomorrow's Varsity Xtra section. The cover story is on Seton-LaSalle, which won a state title last year with a perfect record. Could the Rebels be even better this year?
***** By the way, Hopewell girls basketball player Shatori Walker-Kimbrough is ranked the No. 43 player in the country by HoopGurlz.
***** The Post-Gazette boys basketball preview will be in next week's Varsity Xtra. Thinking about who should be the No. 1-ranked teams in each classification, it is hard to come up with a No. 1 in Class AA. Beaver Falls is the defending champ and will most certainly be good again, but the Tigers will be small and were hit hard by graduation. They do have an excellent backcourt in Drew Cook and Elijah Cottrill. But should Beaver Falls be No. 1? What about Sto-Rox, or Jeannette, or Quaker Valley? Here is a team that could make some noise in Class AA: Seton-LaSalle.
Looking at things right now, my preseason No. 1 teams in the other three WPIAL classes would be New Castle (AAAA), Chartiers Valley (AAA) and Lincoln Park (A).