WPIAL semifinal predictions ...... A game to remember ...... Minnie ruled ineligible
Varsity Blog program note: Tonight's live blog will be from the North Allegheny-Seneca Valley game, but we have reporters at all eight WPIAL semifinal games, so check out the blog for score updates and reports. You can also follow on Twitter @mwhiteburgh

SEMIFINAL PREDICTIONS
Here are my predictions for the WPIAL semifinals and the two PIAA games involving City League teams. Last week's record: 11-5. Playoff record: 40-8
WPIAL CLASS AAAA - North Allegheny over Seneca Valley; Upper St. Clair over Woodland Hills.
WPIAL CLASS AAA - Thomas Jefferson over West Allegheny; West Mifflin over Central Valley.
WPIAL CLASS AA - Aliquippa over Jeannette; South Fayette over Washington.
WPIAL CLASS A - Clairton over Neshannock; Sto-Rox over North Catholic.
PIAA - McDowell over Perry; Clearfield over University Prep.
DO YOU REMEMBER?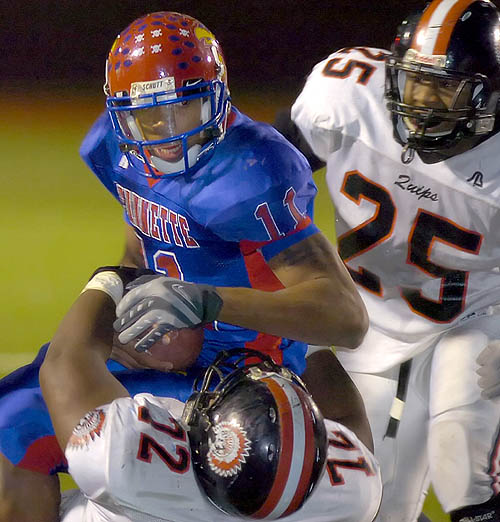 Tonight's WPIAL Class AA semifinal between Aliquippa and Jeannette is bringing back memories of the last time the two met in the semifinals. It was five years ago at Highlands and it was one of the most memorable games I've ever witnessed. Jeannette won, 70-48, in the highest-scoring game in WPIAL history - regular season or playoffs.
Terrelle Pryor had more than 400 yards offense for Jeannette, including more than 300 rushing. (Pryor is pictured running the ball against the Quips). I also remember Jonathan Baldwin making some big catches for Aliquippa.
And I remember how Jeannette coach Ray Reitz and many other people were still amazed at the game a few days later.
PIAA RULES MINNIE INELIGIBLE
In case you had not seen a Varsity Blog post from last night:
For once, the PIAA backed the WPIAL in a student-athlete transfer case.
The PIAA today ruled Elijah Minnie ineligible to play high school basketball this season, saying he transferred from Summit Academy to Lincoln Park for athletic reasons. Minnie is a 6-foot-8 forward who is considered one of the better juniors in the WPIAL. In early October, the WPIAL ruled Minnie ineligible, but Minnie and Lincoln Park officials appealed the case to the PIAA.
In the past few years, the PIAA has overturned the WPIAL in many cases involving student-athlete transfers. But not this time. A PIAA appeals committee had a hearing with Minnie and Lincoln Park today in Mechanicsburg, and upheld the WPIAL ruling by a 3-2 vote.
"The [WPIAL] panel was unanimous in its belief that the transfer was motivated by a material purpose related specifically to the sport of basketball," said North Hills athletic director Dan Cardone, a WPIAL Board of Control member who was one of the WPIAL representatives at the PIAA hearing today. "By the PIAA upholding our decision, it reaffirms what we felt occurred."
The background on the case is this: Minnie attended Monessen as a freshman, got into some trouble and was sent to Summit Academy as a sophomore. Summit Academy, located near Butler, is a school for adjudicated youth. After completing his sentence at Summit, he then enrolled at Lincoln Park for this school year.
Lincoln Park is a small charter school in Midland. It has a strong basketball program in Class A of the WPIAL and has been the destination of other noteable transfers in recent years. Because Lincoln Park is a charter school, a school district where a student resides must pay Lincoln Park a yearly fee. Monessen is paying about $9,000 to Lincoln Park for Minnie.
During the WPIAL hearing, Monessen contended Minnie is not living in Monessen in the first place. Minnie and Lincoln Park, however, contend that he still, indeed, lives in Monessen. According to Lincoln Park athletic director Mike Bariski, Minnie's Monessen home is 53 miles from Lincoln Park.
Minnie and Lincoln Park had contended at the WPIAL hearing that he should be eligible to play basketball because he decided to attend Lincoln Park to improve his grades and also because he wanted to get away from bad influences in the Monessen area.
But the WPIAL and Monessen contend athletic intent was involved in the transfer. In the WPIAL hearing, Monessen athletic director Gina Naccarato and basketball coach Joe Salvino said Minnie admitted he lives with Ryan Skovranko in the West Mifflin district three or four days a week. Skovranko is a talented player at Lincoln Park who transferred from West Mifflin during his freshman year.
"Him staying with [Skovranko] puts up a red flag right there," Salvino said last month.
More in this category: