Lou Cerro: He builds those who receive
Montour's Devin Wilson has a good chance at breaking theWPIAL record for career receptions, held by former Seton-LaSalle standout Carmen Connolly.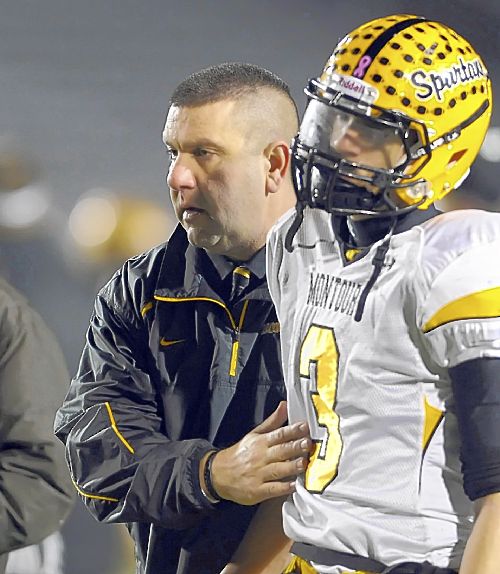 There is a thread between Wilson and Connolly. It's Lou Cerro.
Cerro is Montour's coach, and he also coached Connolly at Seton-LaSalle.
Connolly caught 221 passes from 2002-05. Wilson, a senior, now has 206 catches in his career. With two regular-season games left and then the playoffs, Wilson has a good shot at breaking the record. (Wilson is pictured with Cerro).
Cerro's teams have always been strong in the passing game. When he was at Seton-LaSalle, Cerro also had Bill Stull, who is among the top 15 passers in WPIAL history (Cerro also had an excellent passing game coach in Greg Perry, who is now Seton-LaSalle's head coach). At Montour, Cerro coached Dillon Buechel, who finished his career last year as the second-leading passer in WPIAL history.
Montour plays host to West Allegheny tonight in a big WPIAL Class AAA Parkway Conference game.
Making their points
How impressive was Aliquippa last night in beating Beaver Falls 66-7? You need to know that Beaver Falls is a pretty decent Class AA team. But the Quips put a rout 66 on the Tigers. I am still researching this, but I know right now that it has been a long, long time since Beaver Falls gave up 66 points in a game. I'll know more by the end of the weekend on that one.
Look at it this way: The most points the Beaver Falls basketball team gave up last season was 63.
Tonight's coverage
I will have a live blog from tonight's West Allegheny at Montour game. I'll also have score updates and reports from other games in the WPIAL and City League. If you have a score, put it on "Twitter" with #wpial or tweet me notes and scores @mwhiteburgh. Or you can send me email to This email address is being protected from spambots. You need JavaScript enabled to view it.
And don't forget we have a great package of statistics on our web site. Not only stats for WPIAL leaders, but stats for every team in the WPIAL and City League for the season.
More in this category: