Saturday quarterback
It's time to play Saturday quarterback - notes and thoughts after the fourth Friday of the football season.
Central Catholic gave up points for the first time this season, but the Vikings still have not allowed a touchdown. They beat Fox Chapel, 35-3.
I have a feeling the string of games without a touchdown might end Thursday night when Central Catholic plays Seneca Valley in the Root Sports TV game of the week. Seneca Valley's Forrest Barnes scored seven TDs last night against Connellsville. He most certainly won't get seven against Central Catholic, but I think Seneca Valley will score.
But I also think Central Catholic will win. Seneca Valley, by the way, is 3-1. Interesting matchup.
*** I noticed J.J. Consentino threw for a touchdown and ran for two for Central Catholic against Fox Chapel. I would imagine he is now the starting QB. He is a transfer from Kiski Area, but sophomore Graham Adomitis was the starter the first few games.
*** A lot has been made of Hempfield's 3-1 start under first-year coach Rich Bowen, and rightly so. But what about South Allegheny? The Gladiators are 3-1 under coach Pat Monroe. When was the last time that happened?
*** I wonder if Monroe would still be coaching at Duquesne High School if Duquesne didn't close a few years ago?
*** Hempfield could be in trouble because of injuries. Standout running back Joe DeFloria missed almost three quarters of last night's game against Kiski Area with a shoulder injury. If he can't play this week against Gateway, Hempfield has problems.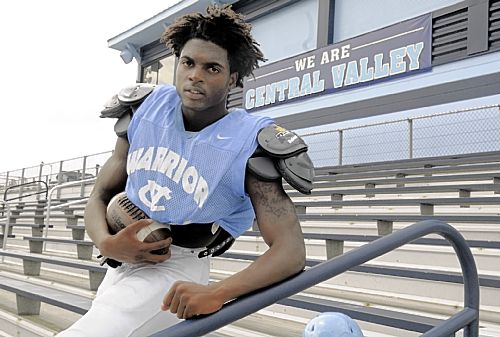 *** Robert Foster
(pictured)
, the all-everyting receiver at Central Valley, sat out the first quarter of last night's game against Blackhawk for disciplinary reasons. But Foster came on strong in the game and caught six passes for 125 yards, including a couple of TDs.
Central Valley coach Mark Lyons told Jim Equels of the Beaver County Times: "Part of my job is to make sure this team understands the importance of practice. And I wanted Rob to know that it's not acceptable to be the best player on the field on Friday nights only. I want him to be his best every day in practice as well."
I guess we talkin' practice.
But seriously, that says a lot about Lyons that he's not afraid to discipline a player of Foster's stature, and it wasn't as if Lyons sat Foster against a horrible opponent. Blackhawk is a pretty decent team.
*** How good is this Mars team? The Planets started the season with a win against Franklin Regional, which was ranked No. 1 in Class AAA at the time. Since then, Mars has played sub-par competition, but the Planets have outscored their past three opponents, 151-12.
*** Just a personal thing: I still can't stand the practice of parents wearing their son's picture on a button.
*** I know Texas is blessed with an abundance of skill players. But do they play any defense in that state? I constantly see ridiculous statistics coming from games in that state. Like this game Thursday night? Mike Richardson of Marble Falls in Texas set a state record with 725 yards passing in a 62-55 victory against Boerne Champion. That is the second-highest total in U.S. high school history.
But get this: Boerne Champion's QB threw for 595 yards.
Marble Falls' first-year coach is Todd Dodge, who gained fame years ago as the coach at Southlake Carroll, where his team went 98-11 with four state championships and three mythical national titles (USA Today rankings). In between Carroll and Marble Falls, Dodge failed as a college head coach at North Texas, where he had a 6-37 record.
*** A nice story this week by Ted Silary of the Philadelphia Daily News on Matt Galambos, a Pitt recruit from Haverford School in Eastern Pa. Galambos sounds like an interesting kid.
*** Clairton receiver Tyler Boyd said he hasn't narrowed his list of colleges yet, but he was thinking about attending the Maryland-West Virginia game today with Monessen QB Chavas Rawlins, who already has committed to WVU.
More in this category:

Join the conversation: