Two teams go back to "All the Right Moves"
Do you remember "All the Right Moves," the football movie in the 1980s that starred Tom Cruise? Hey, longtime WPIAL coach Don Yannessa even had a few lines in the movie
Well, two Western Pennsylvania teams will turn back the clock Friday night and try to relive the movie - at least with jerseys.
When Westmont Hilltop plays at Johnstown, both teams will wear replica jerseys from "All the Right Moves," a movie about star football player Stefen Djordjevic (Tom Cruise) and his quest to use football to make it out of a steel town. The movie was filmed in Johnstown and the two fictitious rivals depicted in the movie are Ampipe High School and Walnut Heights.
On Friday, Johnstown will wear replica jerseys of Ampipe in the movie, and Westmont Hilltop will wear replicas of Walnut Heights. Also, a player from each team will be awarded a college scholarship.
My question is did the schools try to get Yannessa to show up? In the movie, Yannessa plays the coach of Walnut Heights. The Ampipe story was actually based partly on Aliquippa High School's football team, which was coached by Yannessa at the time.
Craig T. Nelson also starred in the movie and I will always remember a tremendous story Don Yannessa told me years ago while we were playing golf at Beaver Lakes County Club. Yannessa also helped coordinate the football play scenes in the movie. As he tells it, one day filming was canceled in Johnstown. Yannessa and Nelson had become friends and Nelson told Yannessa he wanted to visit Aliquippa.
So Yannessa took Nelson to Aliquippa for the day - and night. Yannessa pretty much was the mayor of Aliquippa back then - and still is a popular figure in the town.He took Nelson to a few "establishments" in Aliquippa. In one of those establishments late at night, Yannessa couldn't find Nelson. Yannessa finally went to his car. That's where Yannessa found Nelson, laying on the roof of the car. It seems Craig T. might have had a "few too many." Great story from Don, who is one of the great story tellers I have ever been around, and also quick with the one liners.
In fact, the day Don told the Nelson story might have been the same day we were playing golf with former Steelers kicker Roy Gerela. Roy, an excellent golfer who was an assistant coach for Yannessa at Baldwin, hit a tee shot on a par 3.
"That's way over the green," Gerela said of his shot.
"Are you sure, Roy?" Yannessa (pictured) said looking upward as the shot sailed through the air.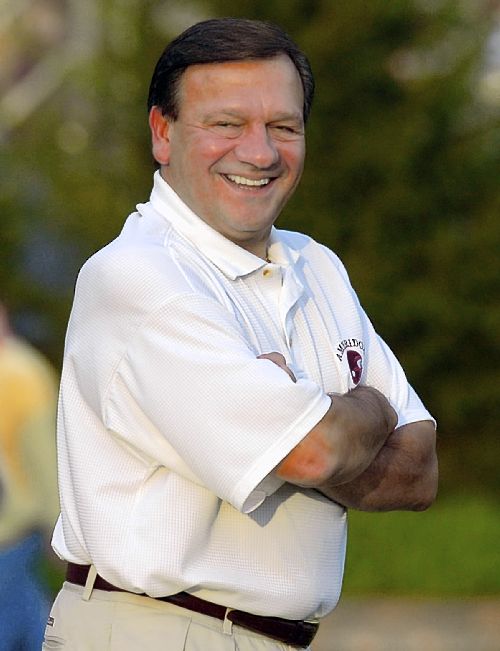 "Oh, that's way off the green," Gerela said.
When the ball landed on the green about 10 feet from the pin, Yannessa quickly chimed, "No wonder you missed that extra point against Dallas in the Super Bowl, Roy. You can't see."
I don't know if Roy laughed at the line, but I'm still laughing.
By the way, as recently as a few years ago, Yannessa was still getting small residual checks for when "All the Right Moves" would appear on television.
And I will say this: WPIAL football misses Don Yannessa since he retired a few years ago as Ambridge's coach. He was great for high school football.
More in this category: