Three WPIAL players selected to national all-star games
The U.S. Army All-American Bowl and the Under Armour All-American Bowl are two of the most prestigious national all-star games for high school football players. This year, the WPIAL will be represented in both games.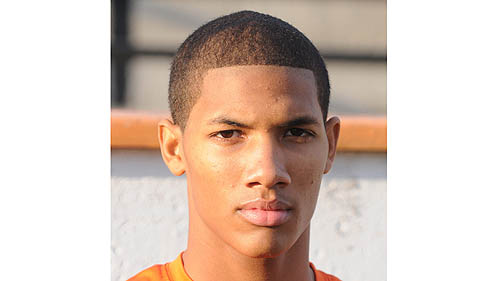 Three players from the WPIAL have been selected to play in the games. Clairton receiver Tyler Boyd (pictured to the left) will play in the Army All-American Bowl Jan. 5 in San Antonio. The game will be televised live by NBC. Boyd plays receiver, running back, defensive back and even some at quarterback for Clairton, but he will be a receiver in the game. He is being recruited by many major colleges as a receiver.
Meanwhile, Central Valley's Robert Foster and Belle Vernon's Dorian Johnson will play in the Under Armour game Jan. 4 at Tropicana Field in St. Petersburg, Fla. The game will televised by ESPN.
Foster (pictured) is ranked by scouting services as one of the top receivers in the country and has narrowed his list of colleges to seven.
Johnson is an imposing, 6-foot-6 offensive tackle at Belle Vernon. Johnson (pictured below) originally committed to Penn State in the summer, but backed out of the commitment after the NCAA hit Penn State with sanctions. Johnson said a few weeks ago that Pitt and Ohio State are now his top two schools.
All of the players in the Under Armour game can be seen on ESPN.com
A rivalry game
The McKeesport at Woodland Hills game tomorrow has been designated as part of the Great American Rivalry Series this year by the U.S. Marine Corps. It is one of only 67 games in the country that will be part of the series this season. Besides the winning team getting a trophy, a student-athlete from each school will also get a college scholarship.
Funny. I always thought Woodland Hills and Penn Hills were main rivals. Oh well.
"This Week In High School Sports"
By the way, Terry Shields and I talk about Thursday's big Montour-Central Valley game and also break down some of the other big games in Varsity Xtra's "This Week In High School Sports." Scroll down to the "video" section.
More in this category: