Saturday quarterback ...... notes and thoughts
With the first Friday night of the season in the books, let's talk ...
Coach Rich Bowen has turned around programs at Serra (twice), Elizabeth Forward and Yough. Is he on the way to doing the same at Hempfield?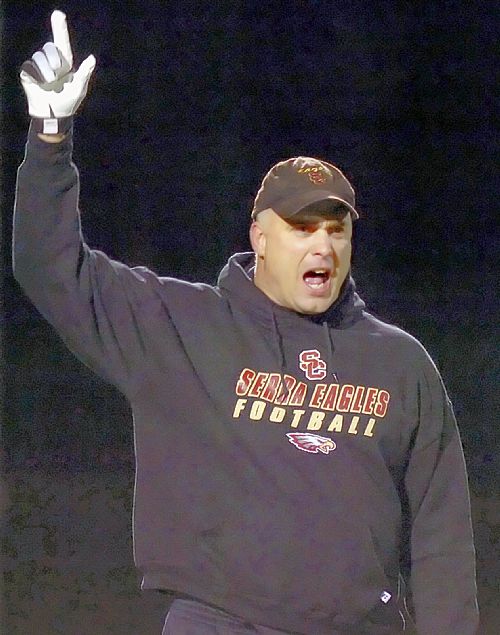 Sure, you can't judge a book by the cover, but can you judge it by the first chapter? Hempfield's first game under Bowen was pretty impressive as the Spartans defeated McKeesport, 33-18. In order to understand the significance of the win, consider that McKeesport won the past four games against Hempfield by scores of 42-0, 30-7, 56-0 and 46-12. And consider that Hempfield has won only 25 games since the 2000 season. And consider the game was at McKeesport.
Bowen always seems to build strong offenses, and Hempfield's offense was impressive against McKeesport. Its defense was good enough against a McKeesport team that features one of the WPIAL's top throwing quarterbacks in Eddie Stockett, an Akron recruit.
Bowen (pictured from his days at Serra) was coaching at Waynesburg University last year as an assistant. He only spent that one year at the college level, though. Previously, he was a head coach at the WPIAL level for 19 seasons.
We might be seeing more victories from Hempfield this season. The Spartans play in the Foothills Conference, most certainly the weakest of the three Class AAAA conferences. Hempfield plays Latrobe this week.
Showdown Thursday
Root Sports has returned to televising Thursday night games once again this season, and the station's first Thursday game has to be one of the best games of the first part of the season. Montour plays at Central Valley Thursday, live on Root Sports. It will be a 1-2 matchup. With Franklin Regional losing, Central Valley will most certainly move up to the No. 1 spot in the Post-Gazette's WPIAL Class AAA rankings, which are released Monday. Montour should be No. 2.
Maybe you've heard about the two big-name stars in this game - Central Valley's Robert Foster and Montour's Devin Wilson. But it looks like Central Valley has a future star in Jordan Whitehead. He was a first-team all-conference defensive back last year as a FRESHMAN!!! He made his debut at running back against New Castle last night and rushed for 136 yards.
I never did get to see Whitehead play last year as a freshman. I heard a lot about him. But I did get to see him play in a junior-high basketball game. He is not a future Division I college basketball player, but he most certainly had Division I type athletic ability for a freshman.
Quarterback stuff
**** Anthony Richards is known more for his basketball ability. He was a starting guard on New Castle's WPIAL championship basketball team this past season. Richards is a junior at New Castle and didn't play football as a freshman and sophomore. He was on the golf team. Yet, due to some injuries, he was the starting quarterback for New Castle against Central Valley. He finished 3 of 6 for 32 yards and ran nine times for 52 yards.
**** I knew Andrew Koester as a talented young basketball player with a bright future in that sport. He started last year as a freshman at West Allegheny and had some big games. His father, Bob, played at Franklin Regional and then Xavier University (as the father of a Xaiver student, there's the shameless personal Xavier plug). But what I didn't know about Andrew Koester is that he apparently has a lot of football ability. He completed 8 of 19 against Blackhawk last night for 139 yards and threw the winning touchdown pass with 1.4 seconds remaining. Not bad for a sophomore.
**** Montour used three different quarterbacks against Hopewell and coach Lou Cerro said he will continue to use all three this week against Central Valley.
**** Central Catholic plays North Hills Friday. It could be an interesting storyline here: Central Catholic started sophomore Graham Adomitis at quarterback against Shaler. Adomitis attended North Hills Junior High in seventh and eighth grade before enrolling at Central Catholic as a freshman.
This and that
**** Monessen QB Chavas Rawlins (pictured), a West Virginia University recruit, ran for 145 yards last night. I wonder if he's playing for Monessen's soccer team in tonight's game against Charleroi? Don't laugh. Rawlins usually plays for Monessen's soccer team if it doesn't conflict with football.**** New Castle has 699 wins in school history. Only three teams in Pennsylvania have 700 wins - Mount Carmel, Easton and Berwick.
**** Montour vs. Central Valley is definitely the best game this week (on Thursday). On Friday night, though, the best bets look like North Hills at Central Catholic, West Mifflin at Belle Vernon, Peters Township at Penn Hills, Monessen at Brentwood and North Catholic at Springdale. Speaking of North Catholic, Trojan running back P.J. Fulmore led all WPIAL rushers with 265 yards last night. The kid is only a sophomore.
**** I give credit for Vincentian for trying to start a football program, and I'm not here to make fun of the Royals. But how bad might this first year be for the team? They lost to Avella, 65-6. Avella? Heck, Avella didn't score 65 points all of last season. Heck, Avella didn't score 65 points in three other seasons since 2003.
**** North Allegheny junior receiver-defensive back Elijah Zeise sustained an injured shoulder against Mt. Lebanon and might not play in this week's game.
More in this category: