State football rankings ..... other notes
Some items that fell off my laptop.
A few publications around Pennsylvania have state football rankings, and the Pennsylvania Football News recently released its first rankings. Two WPIAL teams are No. 1 in their respective classifications.
The Pa. Football News has Aliquippa No. 1 in Class AA and Clairton No. 1 in Class A. No surprises there. The other No. 1 teams are Central Dauphin in Class AAAA and Archbishop Wood in Class AAA.
The Post-Gazette rankings will be released Friday in our "Varsity Xtra" preview edition. On Thursday, our regional editions (PG North, South, East, West) will break down the teams in each area.
Other notes and thoughts
***** Seton-LaSalle doesn't do very well with girls basketball coaches staying after successful seasons. Dennis Squeglia stepped down as the Rebels' coach late last week. Not long ago, Bryan Bennett guided Seton-LaSalle to WPIAL Class AA championship appearances in 2009 and 2010, but walked away to become the boys coach at South Side Beaver.
Squeglia isn't talking and school administrators aren't saying much, either. Sources have said it was a mutal parting. Squeglia won two consecutive WPIAL Class AA championships and guided the Rebels to a perfect 30-0 record this past season.
This isn't the first time Squeglia walked away from a job after success. He took Peters Township to the 2008 WPIAL AAAA title game and then resigned. Squeglia had said he wasn't pleased with the commitment level from the players at Peters Township.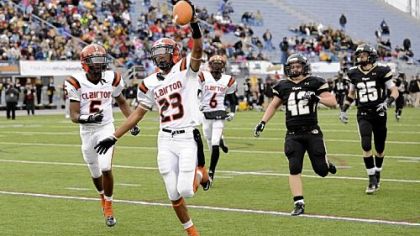 ***** Clairton's Tyler Boyd has been picked to play in the U.S. Army All-American Bowl in January. Boyd (pictured) and some other Clairton fans were letting some critical tweets fly yesterday when Rivals.com released its top 100 players in the country - and Boyd wasn't on the list. To me, no big deal there. Boyd doesn't need a top 100 ranking to validate his talent. Don't we already know? He has two dozen scholarship offers. Enough said.
I do know that, rightly or wrongly, playing in Class A sometimes can hurt a player's reputation. Plus, Clairton's other players who have gone to Division I schools in recent years haven't exactly set the world on fire in college. But Boyd can't do anything about his school's enrollment and he can't do anything about previous Clairton players. All he can do is keep lighting up opponents with his play. That should be enough, whether he gets a top 100 ranking or not.
***** Remember Scott Zolak, former Ringgold High School and University of Maryland product? He is the new color commentatoron the New England Patriots radio network. Zolak will join longtime play-by-play announcer Gil Santos. Zolak takes over for Gino Cappelletti, who retired.
***** It's nice to see former North Allegheny basketball standout Anthony Dallier will play for Yale next season. Good for him. Dallier left North Allegheny for his senior year and played at a prep school in Massachusetts. He "reclassified," repeating his junior year. One of the reasons Dallier left was the hopes of getting more college notice. But the thing is that when Dallier was at North Allegheny, he was already being recruited by Ivy League schools and the like. Cornell already had told him he would be accepted. He had an offer from Duquesne, and James Madison and Davidson were among schools showing plenty of interest when he played at North Allegheny.
***** The start of the regular season in WPIAL football this year is like any other. Rather than play non-conference games in the opener, just about all teams are playing conference games on the first night. With that in mind, I'm wondering if coaches will treat scrimmages this weekend any different? After all, you play for keeps from the very first game.
More in this category:

Join the conversation: