Former Rochester football standout killed
DeAndre Moon was a standout football player at Rochester High School who was slated to play running back at a Division II college this season. But Moon was killed this morning in a shooting in New Brighton.
Beaver County coroner Teri Tatalovich-Rossi said Moon was pronounced dead at 4:05 a.m. in the emergency department of Heritage Valley Hospital in Beaver. New Brighton police are investigating but had no comment. The shooting occurred around 3 a.m.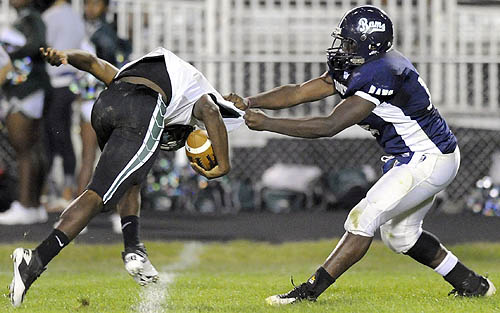 Moon (pictured making a tackle against Sto-Rox) had accepted a scholarship to Concord University, an NCAA Division II school in Athens, W.Va., and was listed on Concord's roster for this season. A year ago, Moon was a Class A all-state selection at running back, but he was also an outstanding linebacker. He played in Pennsylvania East-West all-star game in May.
Moon rushed for 1,675 yards on 220 carries and helped the Rams reach the WPIAL Class A semifinals last season before losing to Clairton.
Moon's death has a number of players around the WPIAL expressing thoughts on social media. On the Twitter account of Clairton's Tyler Boyd (@boutdat_23), Boyd wrote, "this world is full of young girls getting pregnant and having kids and people taking young lives smh"
Central Valley star receiver Robert Foster wrote on his Twitter account (@DROBFoster_4) about Moon, "swear I mite not b able to go to practice tomorrow I swear I wont b able to focus this is killin me new my homie since midgets."
More in this category:

Join the conversation: