South Park's Stanley would be one of best college javelin throwers
It has been a little more than 24 hours since South Park's Bill Stanley set a national high school record for the javelin. Time sometimes helps a marvelous effort sink in.
How much should we marvel at Stanley's effort? Well, consider this: It would put him among the top 10 Division I college throwers in the country.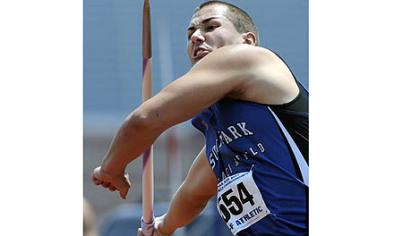 At the PIAA championships Saturday at Shippensburg University, Stanley threw 246 feet, 9 inches. He broke the National Federation of High Schools record of 244-2, set in 2010 by Sam Crouser of Gresham High School in Oregon. Looking at the top Division I colleges throws in the country this spring, Stanley's throw would put him seventh. The top throw is 266-9 by Tim Glover of Illinois State.
What is interesting is that Crouser is now a freshman at the University of Oregon and he has the fourth-best throw in the country at 250-11.
Here is another fact that might put Stanley's throw into perspective: It would've earned him third place at the NCAA Division I championships a year ago. Wow! Glover won with a throw of 263-6.
The coaches at South Park were saying yesterday they believe Stanley's throw qualifies him for the U.S. Olympic Trials. That is certainly significant. But Stanley said he will not go to the Olympic Trials, on the advice of Ohio State coaches. Stanley has signed with the Buckeyes.
"I'm going to take a break," Stanley said. "My coach [at Ohio State] said that he just wants me to do high school nationals. So I'll just do that. He said he'd take me to the Olympic Trials in four years if I'm still doing well."
More in this category:

Join the conversation: