Woiodland Hills and the NFL - a six pack
History was made last year when Woodland Hills became the first school in the history of Pennsylvania to have five graduates active in the NFL at one time.
This year, Woodland Hills went one better.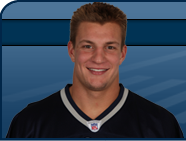 Six graduates of Woodland Hills are on active rosters in the NFL this season. The newest Woody High graduate on a team is Rob Gronkowski (pictured to the left), a tight end with the New England Patriots. Some may want to put an asterisk besides him because he only attended Woodland Hills for his senior year. But hey, he still graduated from Woodland Hills.
The other five Woodland Hills graduates in the NFL are receiver Steve Breaston
(pictured below) of the Arizona Cardinals, defensive end Jason Taylor of the New York Jets, fullback Lousaka Polite of the Miami Dolphins, defensive back Ryan Mundy of the Pittsburgh Steelers and defensive back Shawntae Spencer of the San Francisco 49ers.
It's highly unusual for a Pennsylvania school to even have four players active in the NFL at one time, let alone five. Only five Pennsylvania schools -- three from the WPIAL -- have ever had four active at one time. In 1970, Butler had Terry Hanratty and three Saul brothers -- Bill, Rich and Ron.
Ambridge had four in the NFL in the 1950s -- Bob Gaona, Andy Miketa, Len Szafryn and Ed Ulinski.
Monessen had four in the early 1970s -- Eric Crabtree, Doug Crusan, Sam Havrilak and Bill Malinchak.
The only other two schools in the state to have four in the NFL at one time were Carlisle Indian School in 1922 and Harrisburg Tech in 1925. One of the Carlisle Indian School players in the NFL was Jim Thorpe.
More in this category: