Trout Photo Contest
Show off your catch now through May 13 in the Post-Gazette's annual Trout Photo Contest. Send only digital hi-res images to This email address is being protected from spambots. You need JavaScript enabled to view it. . Include angler's name, age (for children) and town of residence, fish species and size, body of water photographer's name and phone number (not for publication), and optional additional information.
Photos will be posted weekly at PG Rod & Gun Club. Winners of 2011 Trout Photo Contest are not eligible. Winning photos in categories Big Fish, Kid Stuff and Artsy Shots will be published in the print and web editions of the May 20 outdoors page.
---
Food & Flavor
April 12, 2012
As in a lot of Western Pennsylvania familes, trout fishing is a tradition in mine that goes back generations. Click the link below to see the essay and recipes that I wrote for the Post-Gazette's Food section, and try the bonus recipe below.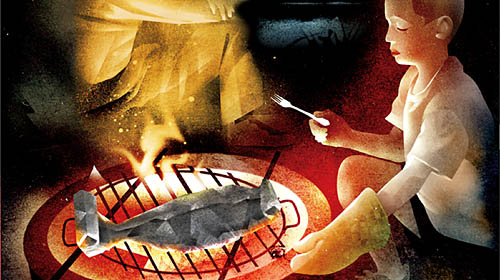 Time For Trout
Just before the opening day of the season, a lifelong angler reflects on the trout that swim through his family tradition.
Bonus recipe:
Trout Martini
2/3 cup dry vermouth
1 trout (field dressed or filleted)
4 Spanish queen pimento-stuffed olives
1/8 cup capers
1/2 lemon
Place one live trout in a martini glass, add gin and a splash of vermouth … Ha! Had you going. Wine is a common fish marinade. Another grape product, vermouth, works, too. In the refrigerator, marinate the trout in vermouth for 4 to 5 hours. Pour the marinade into a sauce pan or grill, and simmer over medium low heat. The alcohol will evaporate, leaving only the essence of vermouth. Slice the big, beefy olives into thirds, and cut several1⁄4 one-fourth-inch lemon slices. Simmer the olives, capers and lemon in the vermouth until the olives start to soften and the lemon meat begins to brown. For a field dressed trout, splay the sides and poach meat side down for about 3 minutes until it whitens and flakes easily with a fork. For a commercial fillet, poach meat side down, then flip. Scoop the olives, capers and lemon into the trout's body cavity and poach each side skin down for about 3 minutes (or place the cooked vegetables on top while poaching each side of the fillet). Serve with a rice or vegetable side and white wine or, you guessed it, a dry martini.
— John Hayes
More in this category: