Don't discount the ability of Cody Hawkins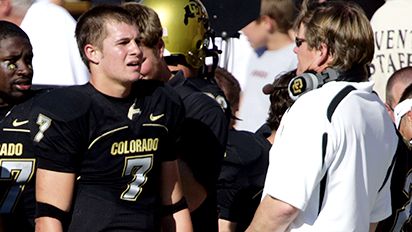 By Colin Dunlap | 12:42 a.m. Wednesday
West Virginia goes into tomorrow's game as the team many people -- and Vegas -- think is going to come out on top. That is totally understandable and, to be honest, my personal thought is also that the Mountaineers will win this game.
All that said, do not take lightly the kid wearing No. 7 on the other side. Quarterback Cody Hawkins -- son of Buffs head coach Dan Hawkins -- can absolutely play. The kid is a winner of the highest degree and the subject of my Wednesday feature in the Post-Gazette. Also, in a strange twist, turns out Cody Hawkins has a western Pennsylvania connection.
          > READ THE FULL CODY HAWKINS STORY HERE
A few more notes:
> Don't forget about the LIVE CHAT tomorrow (Thursday) at 2 p.m. I will be doing it from Morgantown. Remember, if you can't log in right at 2 p.m., you can begin dumping your questions into the room at 6 a.m. and I will see them when I log in. To submit a question, or join the live chat is very easy, and can be done here: http://www.post-gazette.com/chat/
> The story in the Thursday editions of the Post-Gazette is not your typical gameday, preview story. It is something much deeper, something that is a much better tale than just two teams playing football. I'm not going to give it away other than to say be sure you read it ... you will not be disappointed. I've worked hard on it.
> Don't forget about the GAME DAY THREAD all day tomorrow (Thursday). To make it work, you need to keep pumping me those photos from your tailgate parties. Email them to me from your cell phones to This email address is being protected from spambots. You need JavaScript enabled to view it.