Penguins cut 15 - 09-23-10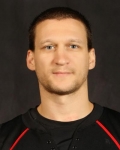 The Penguins cut 15 players from their training camp today.
Forwards Jesse Boulerice (right), Chris Collins, Joey Haddad, Nick Petersen, Ryan Schnell, Zack Sill, Alex Smigelski, Keven Veilleux and Geoff Walker, defensemen Jason DeSantis, Derek Peltier and Carl Sneep and goaltender Patrick Killeen were assigned to Wilkes-Barre/Scranton of the AHL.
Forward Tyler Brown (Plymouth, Ontario Hockey League) and goaltender Alex Pechurskiy (Tri-City, Western Hockey League) were returned to their junior teams.
EN Says: No surprises here.