Why you'll watch - October
Last summer, we did a game-by-game breakdown of the entire 2007-08 season when the schedule came out. We got some good feedback on it so we figured on doing it again. But this time we'll stagger it a bit by releasing it on a month-by-month basis for the next few days. That way we have something to anchor each day's post with and we can entice you to come back to EN every day (or for the next few days at least.) Plus if we stick too many YouTube clips in one post, the page tends to load a bit slowly.
Here's an in depth look at the Penguins' October schedule:
Oct. 4 - Senators (at Stockholm): Because Google Maps doesn't provide driving directions from Pittsburgh to Stockholm for some reason.
Oct. 5 -Senators (at Stockholm): Because the game starts at 2:30 p.m. Pittsburgh time and the Steelers won't get beat by don't play Jacksonville until 8:30 p.m.
(Photo: Chris McGrath/Getty Images)
Oct. 11 - Devils: Because if a home opener, a potential banner raising ceremony and the opportunity to see Miroslav Satan wasn't enough, you get to see the exciting Devils!
Oct. 14 - Flyers: Because of 1975.
(Photo: Legends of Hockey)
Oct. 16 - Capitals: Because if you're not a fan of Alex Ovechkin, you're not a hockey fan (or a unibrow fan.)
 [View:http://youtube.com/watch?v=cvh_5fpAfC0]
Oct. 18 - Maple Leafs: Because it's always interesting when the Maple Leafs and their fans come to town.
[View:http://youtube.com/watch?v=cq2vpi1qUcQ&feature=related]
Oct. 20 - at Bruins: Because Sidney Crosby can go to Round 2 with Andrew Ference.
[View:http://youtube.com/watch?v=hQKwh84-D84]
Oct. 23 - Hurricanes: Because the Staals will be brothers in this game about 302 times approximately.
(Photo: Associated Press)
Oct. 25 - at Rangers: Because you can be reminded of the tragedy that was the Markus Naslund for Alek Stojanov trade up to six times a season now that Naslund is in the Penguins' division.
Oct. 28 - At Sharks: Because the last time these two hooked up, a Zamboni died.
(Photo: Lisa Bohm)
Oct. 30 - At Coyotes: Because the last time the Penguins played in Phoenix, this happened:
[View:http://youtube.com/watch?v=Y4o6M7zO4s4]
Tune in Saturday for "Why you'll watch - November."
STUDENT RUSH SLOWLY FADING AWAY?
In this release by the Penguins which brags about how they had a renewal rate of 99 percent from their season ticket holders for next season, there's one little item that's somewhat buried.
"The club also plans to select four games for special "Student Rush" promotions. For those games, college and high school students will be able to purchase discounted tickets for $20. A total of 400 tickets will be available for each of the four games."
We wanted to contact a team official to find out if that absolutely means there will only be four games where student discounted tickets but we spent the better part of our day yesterday in a pool. Sorry, we're lazy. We'll try to get word by Monday.
But if that does mean Robert Morris students and others will only be able to get tickets to four games this season, that's somewhat depressing news. The class of fans who helped make this team the hottest ticket in town and helped the Penguins achieve that record of 67 consecutive sellouts they like to brag about is being priced out.
But that's simply good business. The Penguins need to find a way to pay the contracts they just signed with Sidney Crosby, Marc-Andre Fleury, Evgeni Malkin, Brooks Orpik and others. The NHL relies on ticket revenue unlike any of the other three "major" sports leagues because its advertising and television revenues are dwarfed by the other three.
It would be one thing if the team hadn't just reached the Stanley Cup final and didn't have a collection of some of the most dynamic entertaining talent in the league. But this isn't the 2003-04 Penguins of Sebastien Caron, Dick Tarnstrom, Rico Fata and Dan Focht. The Penguins could keep the doors open and let students buy $20 seats and have Fata, Focht, and Caron on the roster instead of Crosby, Orpik or Fleury. If that was the case, who would even bother going to the games?
The real cruddy part of this is going to be what games they pick for the student rushers. You know games against the Capitals or Red Wings won't be included. But games against the Panthers or Islanders surely will.
That all said, it's commendable on the Penguins end to keep this program alive in some fashion, even if it's in a scaled back version. The Penguins could sell tickets to ho-hum Tuesday night games on Tuesdays against the Thrashers for almost any price they want and turn a tidy profit. The fact they'll be making some available for deep discounts to students shows they still realize who helped make them the most popular team in hockey.
(Photo: Rebecca Droke/Post-Gazette)
EMPTY NETTER ASSISTS
Penguins
-The Penguins traded Wilkes-Barre/Scranton forward Tim Brent to the Chicago Blackhawks for defenseman Danny Richmond. Richmond is a puck-moving defenseman with some toughness (he had 30 fights the past two seasons) but is prone to mistakes. He only played in 47 games with the Blackhawks and their AHL affiliate in Rockford due to a ruptured spleen.
-A .pdf document of the Penguins' schedule.
-Taking One For The Team took a look at the Penguins' schedule.
Northeast Division
-The Canadiens signed 2007 first-round draft pick Max Pacioretty.
-The "Aud" in Buffalo will be torn down.
Southeast Division
-The Thrashers signed former Oilers forward Marty Reasoner.
-The Lightning hired former Flames and Red Wings goaltender Mike Vernon to hang out at the office or something.
-Only 82 percent of North Carolina residents polled realized the state has a NHL franchise.
-In other news, 100 percent of Post-Gazette hockey bloggers have yet to officially recognize the Whalers' demise.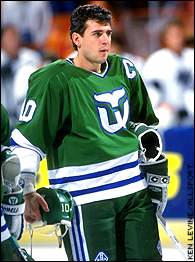 -Today's sign the NHL still doesn't get it:  The Panthers, the 25th team in the NHL in terms of attendance last season, are adding a $25 surcharge to games against "premium" opponents.
Central Division
-The Blues signed former Blackhawks defenseman Andy Wozniewski.
-It's looking like Gary Bettman and company allowed William "Boots" Del Biaggio to invest in the Predators despite the fact he was broke because it was too much work to check and see if he had any money.
-John Spano not impressed.
Northwest Division
-Turns out the reason the Wild put forward Stephane Veilleaux on waivers is because he's holding out for more money.
 Patrick Division
-We're a little late with this, but the NHL Tournament of Logos blog, one of the best hockey blogs on the Web, now has a new home. Check out Icethetics.