Empty Netter Assists - Western Conference - 11-30-08
Central Division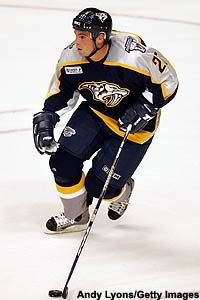 -Rick Nash had two goals and Steve Mason made 26 saves for the Blue Jackets in a 3-0 shutout of the Capitals.

-Nash stepped up big time last night.

-Predators forward Steve Sullivan (right) practiced with his team for the first time since February 2007.
Northwest Division

-Shawn Horcoff had a goal and two assists for the Oilers in a 4-2 win at St. Louis.

-Mikko Koivu scored two goals and an assist for the Wild in a 6-2 win at Nashville. Minnesota set a franchise record by scoring five power-play goals. This game had four fights.

-Two goals from Wojtek Wolski and three assists from Marek Svatos helped the Avalanche edge the Lightning, 4-3. Lightning forward Ryan Malone had a goal and an assists. He has a four-game goal-scoring streak and a five-game point-scoring streak. Fire Ray Shero.
-Miikka Kiprusoff made a "whopping" 17 saves for the Flames in a 3-1 win against the Canucks.

-Colorado captain Joe Sakic is out indefinitely due to a back injury. Additionally, defenseman Adam Foote (right) was put on injured reserve due to a neck injury and defenseman Aaron MacKenzie was recalled from Lake Erie of the AHL.

-The Wild is like France. It hates Americans.
Pacific Division

-Alexander Frolov, Patrick O'Sullivan and Jarret Stoll each had a goal and an assists for the Kings who thumped the Blackhawks, 5-2.

-Two goals by Joe Pavelski helped the Sharks edge the Coyotes, 3-2. San Jose has won seven consecutive games.

-The Ducks recalled defenseman Brett Festerling and demoted goaltender David LeNeveu to Iowa of the AHL.

-Anaheim defenseman Bret Hedican will return to Carolina today for the first time since leaving the Hurricanes in the offseason.

-The Coyotes demoted forward Garth Murray to San Antonio of the AHL.
-Stars defenseman and former Penguin Sergei Zubov is dealing with some sort of undisclosed ailment.

-Sharks forward Jonathan Cheechoo (right) is dealing with an "upper-body" injury. (That photo is from last season and isn't his current "upper-body" injury. As far as we know.)

-With Cheechoo out last night, Sharks forward Riley Armstrong, the brother of Thrashers forward and former Penguins forward Colby Armstrong, made his NHL debut.

(Photos: Sullivan-Andy Lyons/Getty Images; Foote-Jeff Gross/Getty Images; Cheechoo-Ronald Martinez/Getty Images)
Join the conversation: