Flyers 6, Penguins 3 - 12-13-08
PREGAME
-Dany Sabourin will start for the Penguins? Hmm...
-Right off the bat we are reminded of Petr Sykora's and Pascal Dupuis' hat tricks against the Islanders Thursday.
-Martin Biron will start in net for the Flyers.
-Tim Kerr reference by Bob Errey? Solid.
-There's something just not right about using Independence Hall as a background for a car dealership advertisement:
-The Penguins' scratches are Maxime Talbot and the great Mike Zigomanis.
-Connor James will smash his way into the Penguins' lineup and make his season debut.
-The Flyers will scratch Daniel Briere and Lasse Kukkonen.
-Philadelphia will sport its Creamsicle jerseys:
FIRST PERIOD
19:27: The Flyers are already running around trying to get something started. As Malkin is called for holding, Braydon Coburn and Scott Hartnell give him some shoves
19:01: Luca Sbisa's fires a wrister which Kris Letang knocks away with his stick.
17:57: Joffrey Lupul coasts down the left wing and zips a wrister on net. Sabourin eats it up. Hartnell is there digging for a rebound but no dice.
17:49: Pascal Dupuis breaks up a nice pass in the slot.
17:39: Jordan Staal tosses a puck into the crowd. Plays is halted. Somehow officials don't call Staal for anything but give Joffrey Lupul two minutes for hooking. The Penguins got a big break there. We'll have four-on-four for 12 seconds.
17:27: Malkin's penalty expires. The Penguins will have a power play for 1:48.
15:45: Hartnell rushes up ice and blasts a slapper which Sabourin kicks out.
15:40: Crosby carries the puck up ice and is "greeted" with boos.
15:05: Mike Knuble steals a pass by Petr Sykora, works it up the left wing, pulls up inside the Penguins' blue line and drives a slapper. Sabourin says no.
15:39: Lupul's penalty expires without much of a threat from the Penguins.
15:29: Matt Cooke is sent off for holding Matt Carle's stick.
14:45: Malkin and Crosby are each on for the penalty kill.
14:11: Kimmo Timonen tosses a wrister on net that's off the mark. It clunks off the backboards. Lupuls scoops it up, swoops behind the net and sneaks it in on the forehand with a wrap around. "Bro Hymn" from Pennywise is played. Timonen and Jeff Carter get assists. Flyers 1-0.
12:50: A shot by Harntell is deflected away.
12:32: Malkin moves towards the net allowing Ruslan Fedotenko to create a screen. Malkin's shot hits the side of the cage.
12:17: Fedotenko whips a wrister on net. Biron knocks it away with a glove. Hartnell is sent off for slashing.
11:55: Mike RIchards fires a wrister which Sabourin fights off.
11:10: Crosby fires a wrister off from in traffic. Staal accidently blocks it.
10:30: A pass is dished to Taffe in the slot. Biron juuust gets his stick on the puck and deflects it away.
10:10: Ossi Vaananen almost delivers the obligatory smashing of Connor James behind the Flyers' net.
9:49: Lots of penalties so far. Philippe Boucher is called for hooking. Coming back from commercial. 
-During it's replay of the game, FSN Pittsburgh pretty much jumped from this point of the game to roughly the three minute mark of the first period. Somewhere along the line, Mike Knuble scored again. Bro Hym was played. Richards and Timonen got assists. Flyers 2-0.
2:49: A backhander by Darryl Powe is fought off by Sabourin.
1:32: Fedotenko is seen on the bench getting a little blood on their face.
1:00: Biron tips away a slapper by Fedotenko.
0:25: Staal whips a wrister wide of the cage.
0:00: End of period. Flyers 2, Penguins 0.
FIRST INTERMISSION
The Flyers had a 13-6 advantage in shots after that period.
-Lupul and Richard each had three shots on goal.
-No Penguins player had more than one.
-A segment on Penguins' trainer Dana Heinze sharpening skates is shown. Why do they have a neon Bud Light Penguins' bar sign in their equipment room?
SECOND PERIOD
19:41: Crosby whips a wrister on net. Biron kicks it out. Miroslav Satan collects it and fires it on the cage. Biron is there again with the save.
18:21: Jeff Carter has a chance in front. He pushes a shot on net which Sabourin fights off.
16:59: Gagne jumps on on a puck on the right wing and blasts a shot which is off the mark.
16:22: A slapper by Coburn is blocked.
15:56: Carter sneaks in and fires a wrister from a bad angle Sabourin eats it up.
15:37: A shot of Sbisa is wide of the net.
15:15: Gagne blast a shot which
15:03: Taffe snaps a wrister on net from right wing. Biron kicks it out.
14:15: Brooks Orpik hits Hartnell to hthe ice.
13:37: Alex Goligosk fires a wrister which is off the mark.
13:30: Staal chops a loose puck in the slot. Biron is able to stand his ground.
13:05: Marc-Andre Fleury is shown on the bench and Errey mentions he was the first overall pick in the 2003 draft in a fashion to suggest it was some little known fact about him. Almost like, "You know, he's trained in CPR..." or "He collects model railroads..."
12:52: Wallace hammers Coburn to the ice at the Penguins' blue line. He then pushes it up along the boards to Fedotenko. Fedotenko works it into the offensive zone and slide a pass along the blue line to Goligoski. Goligoski directs the puck into the slot where Staal is able to tip it by Biron. Very pretty play. If they ever gave out third assists, Wallace should've gotten one there. Fedotenko and Goligoski do get assists. Flyers 2-1.
11:45: Crosby slides a pass to Satan in the slot. Satan pushes a shot wide.
10:25: Sykora moves in and snaps a wrister which Biron keeps out.
9:51: Dupuis makes a bad pass in the neutral zone. Gagne steals it. Richards ends up with it and rips a wrister that beats Sabourin. Orpik hammers Richards with a nice check just as he released the shot. "Bro Hymn." Carle gets the only assist. Flyers 3-1.
7:22: Carter controsl the puck behind the net and dishes backhanded pass to Carle. Carle then snaps a tic-tac-toe pass to Hartnell in the slot. Hartnell pounds the pass right by Saoburin. "Hot, Hot, Hot" by Buster Poindexter is played. Hartnell can be seen on the bench almost dancing. Carle and Carter get assists. Flyers 4-1.
6:42: A slapper by Crosby is turned away by Biron.
4:33: Errey implores the Flyers to poke Crosby in the nose.
4:12: Dupuis hacks Knuble in the face with his stick. Dupuis even broke his stick over Knuble's face.
2:56: Richards drives a slapper from the left point. Knuble's in the slot and re-directs it by Fleury. Great play by Knuble. "Bro Hymn." Richards and Timonen get assists. Flyers 5-1.
1:59: Cooke jumps in on a loose puck near the net and fires a shot. Biron fights it off.
1:33: Cooke drops a Flyers player in the corner.
1:08: Gagne generates a mini breakaway with Cooke on his back. Gagner is able to moves ot he bkachand but Cooke is able to separate him from the puck.
0:00: End of period. Flyers 5, Penguin 1.
SECOND INTERMISSION
The Flyers have an 19-18 edge in shots.
-Dan Potash interviews Scott Hartnell who might have the fattest face we've ever seen on a hockey player.
-We're not saying Hartnell's fat or anything. we just think it's funny how round and chubby his face is.
-Paul "The Butcher" Alexander calls Zdeno Chara, a pretty famous player by NHL standards, "Zu-Donna Chair-uh."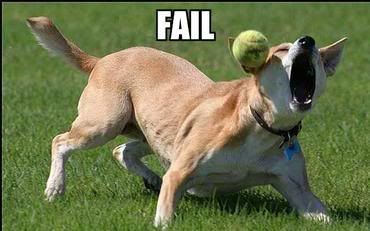 -Sabourin will play for the third period? Why wouldn't Michel Therrien put Fleury in at this point and help him get into game shape? This game's over.
THIRD PERIOD
19:21: The obligatory smashing by Connor James is delivered to Luca Sbisa. Actually, Sbisa fell over.
15:29: After a whole bunch of nothing, Scottie Upshall drives slapper from the right point. Sabourin knocks it down and covers the puck.
14:33: Carter runs over Fedotenko.
14:01: Lupul and Hartnell move in on a two-on-one. Lupul elects to shoot. Sabourin holds out the low wrister.
12:46: Knuble drives a slapper on net. Sabourin knocks it away with his glove.
12:25: Cooke hits Timonen along the boards. Richards takes exception and shoves Cooke. They stare at each other before a major scrum breaks out. Flayers fans begin chanting "CROS-BEE XXXX!" Cooke and Richards are sent off for roughing. Four-on-four.
11:09: Coburn drives a slapper from the top of the slot. Sabourin fights it off.
10:25: Richards' and Cooke's penalties expires.
10:15: Wallace punches a quick shot on net. Biron holds it out.
8:59: Malkin is booed as he carries the puck up ice. We guess he's that important he deserves the scorn of the Flyers' fans.
8:54: Dear Jim McKenzie!?!?! Eric Godard scores!?!? Malkin moves the puck into the Flyers' zone and slides it over to Sykora on the right wing. Sykora throws the puck into the slot where Godard re-directs it by Biron. Wow. Godard doesn't even celebrate given the score. Malkin and Sykora get assist. Flyers fans start more "CROS-BEE XXXX!" chants. Flyers 5-2.
7:18: Knuble is trying to get that hat trick. He drives a slapper on net. Sabourin fights it off.
5:53: Just as Errey refers to Wallace as "our" Alaskan, Hartnell and Godard drop the gloves? Huh? Hartnell must've done something because Godard really went after him. After they throw a few punches with the gloves on, they lock up and Godard wrestles Hartnell to the ice. Even after officials step in, Godard tries to land more punches which isn't proper fight etiqeitte. Hartnell skates to the penalty box and tosses one of Godard's elbow pads into the stands. Godard gets an extra two minutes for roughing so the Flyers will have a power play.
4:10: Lupul collects a puck on the right boards, circles around and snaps a wrister from the right faceoff circle. Carter is there on the door step to tip it by Sabourin. "Bro Hym" Lupul and Timonen get assists. Flyers 6-2.
3:34: Rob Scuderi tosses a wrister on net. It hits a body in front and bounces in the slot. Wallace tries to punch in the puck but Biron is able to keep it out.
3:29: Coburn is called for hooking.
2:57: The Penguins try for another tip in as Malkin zips a pass to Crosby in the slot. Crosby's shot goes wide.
1:39: A shot by Orpik is tipped away.
1:32: Taffe controls the puck near the left boards and moves it to Petr Sykora near the Flyers' red line. Sykora then moves it to the slot where Fedotenko kneels down and drives it by Biron. Flyers 6-3.
0:00: End of game. Flyers 6, Penguins 3.
POSTGAME
-Dany Sabourin didn't lose this game. The power play didn't lose this game. The defense didn't lose this game. The Penguins lost this game as a team. The failure was a complete effort on their end.
-We don't know how much the Penguins recent stretch of seven games in 11 days has worn them out, but the Penguins' effort was very flat today. Other than the likes of Wallace, Taffe, James and Godard, most of the Penguins just looked out of it.
-While we did say this was a team loss, Sabourin looked pretty bad. He's seemed to have hit the wall in terms of how many games he has played recently. He need a break and Marc-Andre Fleury can't get back into the lineup fast enough. Sabourin's a guy who is good in spurts but he always seems to wear out if he has to play long stretches, similar to what Ty Conklin did for the Penguins last season.
-After watching that game, we have really wonder how bad the Islanders are.
-Errey and Paul Steigerwald brought this up but what's kind of scary about this Flyers team is how good it is on the penalty kill. Usually, you could expect the Flyers to take dumb penalties and you could take advantage of them on the power play. Now, they almost have a green light to go to the penalty box because they're so good at killing penalties.
-The Flyers finished with a 27-26 edge in shots.
-Knuble led the game with seven shots.
-Crosby led the Penguins with four.
-Philadelphia led the Penguins in faceoffs, 29-23.
-Carter led the Flyers going 10-for-16 (63 percent).
-Crosby led the Penguins going 12-for-18 (67 percent).
-Timonen led the game with 26:00 of ice time.
-Malkin led the Penguins with 22:26.
-Eaton led the game with four blocked shots. Boucher and Scuderi were right behind him with three.
-Carle, Alberts and Sbisa led the Flyers with two.
Join the conversation: