About the Maple Leafs - 1-31-09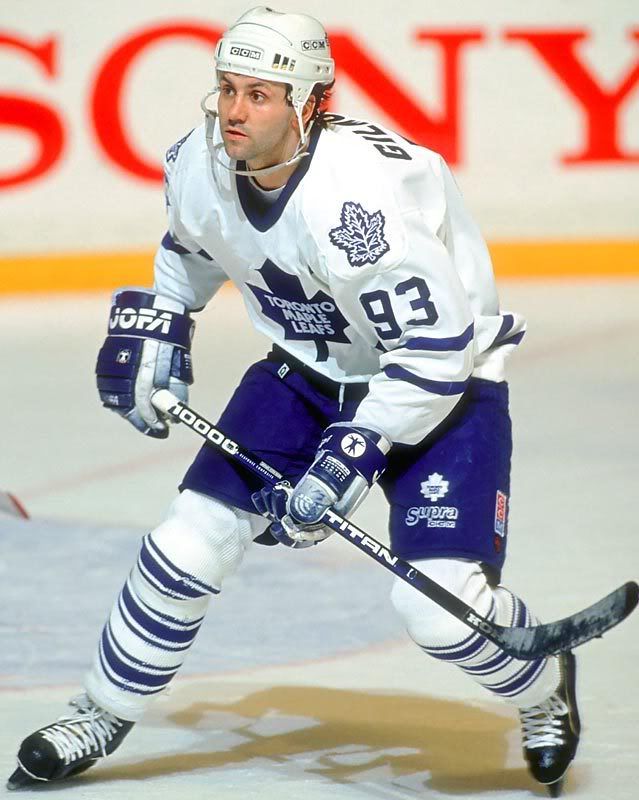 A preview of the Maple Leafs.
Record: 18-23-8, 44 points. Toronto is fourth place in the Northeast Division and 11th place in the Eastern Conference.

Leading Scorer: Nik Antropov, 36 points (14 goals, 22 assists).
Last Game: 7-4 road win at Colorado, Thursday. Former Penguins forward Dominic Moore had two goals and an assist for Toronto. Fire Ray Shero.
Last Game against the Penguins: 7-3 road win Dec. 20, 2008. Petr Sykora had two goals.

Maple Leafs Player We Would Bet Money On Scoring: Jason Blake. He has goals in three consecutive games.

Ex-Penguins on the Maple Leafs: Dominic Moore, C; Dennis Bonvie, pro scout.
Ex-Maple Leafs on the Penguins: Hal Gill, D; Tom Fitzgerald, director of player development.
Useless Maple Leafs Trivia: Doug Gilmour (above, right), who will have his No. 93 honored (or "honoured" if you're in Canada, eh) before tonight's game, holds the Maple Leafs' single-season record for points. He had 127 in 1992-93.

Best Maple Leafs YouTube Video We Could Find: What in the world was up with Gilmour's hair and his cummerbund when he won the Selke Trophy in 1993?
-Gilmour must've really been into Yahoo Serious back in the day.
Notes:
-Goaltender Mathieu Garon (6-8-0, 3.17 GAA, .895 SV%) will make his Penguins debut. Vesa Toskala (16-17-7, 3.31 GAA, .884 SV%) is expected to get the start in net for Toronto.
-The Maple Leafs have the worst team goaltending in the league this season.
-Toronto is deferring to its younger players.
-Doug Gilmour doesn't live in the past.
-Just a heads up, tonight's game is on NHL Network within the United States. If you are planning on watching it via Center Ice or Game Center, you may have to find alternate outlets to view it.
-Our live blog begins at approximately 7 p.m. Please tune in.
(Photo: Photobucket)