Empty Netter Assists - 4-30-09
Playoff Stuff
Penguins
-"Yeah, he's getting old." - Hal Gill on teammate Bill Guerin.
-Dan Bylsma has Evgeni Malkin in his Hart Trophy pool.
-Who should win the Hart Trophy?
-How much should the "V" in "MVP" matter?
-Should the Penguins have waited to make Dan Bylsma the full-time head coach?
-Stephen Brunt of the Globe and Mail goes out on a limb and suggests Sidney Crosby and Alex Ovechkin might be profiled a good bit in the second round.
-Someone over at LetsGoPens.com spotted a Sidney Crosby ornament in the 2009 Hallmark catalog: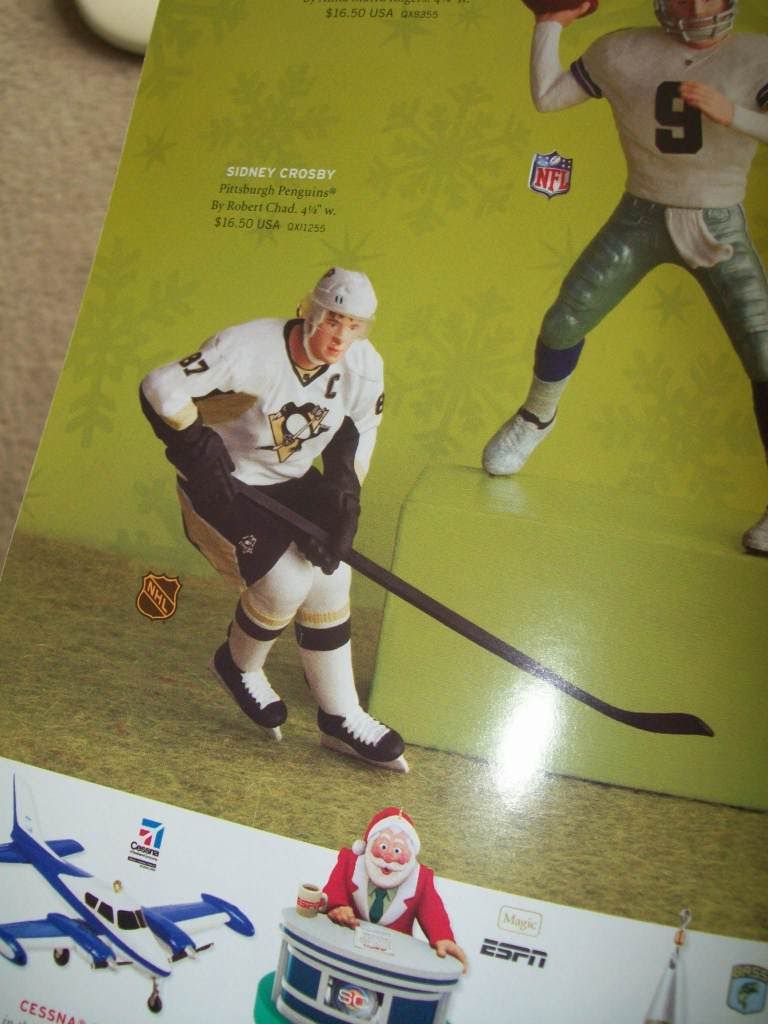 Bruins
-Boston defenseman and former Penguin Andrew Ference is expected to be in the lineup for Game 1 against the Hurricanes Friday. He has been sidelined since April 4 due to an undisclosed injury.
-The Bruins swept the Hurricanes this season and outscored them, 18-6.
Capitals-Rangers
-Capitals owner Ted Leonsis is trying to get President Obama to a game against the Penguins.
-Is Washington forward Sergei Fedorov (right) worthy of the Hockey Hall-of-Fame? (Kudos to Illegal Curve for the find.)
-"Pittsburgh won't allow us to play the kind of game we were playing against the Rangers. We have to play very focused, especially in our own zone without turning over the puck." - Sergei Fedorov.
-Is Washington goaltender Simeon Varlamov this season's Cam Ward?
-Everyone with a vested interest in the Penguins should know this, but we'll type it because we'll freely admit it feels good to reguritate. The Capitals have lost six out of seven playoff series against the Penguins.
-Will Penguins-Capitals become the NHL's biggest playoff rivalry since the Avalanche and Red Wings in the 1990s?
-Capitals coach Bruce Boudreau said the Penguins are not the same team that lost three games to Washington this season.
-If you're going to watch the Penguins-Capitals series near the Beltway, the Washington Post has Comcast SportsNet's broadcast schedule.
-The Rangers once against have a roster full of old, bloated, overpaid, underperforming talent.
-New York is facing a lot of changes this offseason.
Devils-Hurricanes
-Versus explained why it couldn't air the end of Game 7.
"However, VERSUS aired a live look-in of the Devils/Hurricanes game during the network's studio show, Hockey Central. For live look-ins, due to regulations, VERSUS cannot air more than two minutes of live game action nor can the network air the last two minutes of the game or overtime coverage. The network also extended its Hockey Central telecast to show Devils/Hurricanes highlights after they happened so that hockey fans were able to see the amazing finish to the Devils/Hurricanes game."
-Seriously, what kind of brain-dead arrangment is that? Anytime a baseball game has no-hitter going through three innings, ESPN has no issue whatsoever jumping in on the local FSN affiliate's coverage. But Versus, one of the national rights holders for the NHL, can't show the final minutes of an epic Game 7? Is it just us, or does the NHL make it almost a difficult chore to be a fan of the sport in this country?
-Hurricanes forward said his teams grueling seven-game series with New Jersey will be easy compared to what they'll have to go through in Boston.
-Unlike the Penguins with Dan Bylsma, the Hurricanes have yet to remove the "interim" from head coach Paul Maurice's title.
-Here are the calls of Hurricanes radio play-by-play guy Chuck Kaiton for the final goals in Game 7. Kaiton is the Hurricanes'/Whalers' version of Mike Lange.
-After only scoring one goal in 25 regular season games with Carolina, forward Jussi Jokinen (right) scored two huge goals in the first round.
-Did the collapse of New Jersey's Martin Brodeur in Game 7 put doubt in his status as the best goaltender of all time?
-A day later, Devils overlord Lou Lamoriello was still stunned by his team's defeat in Game 7.
-Lamoriello expects coach Brent Sutter to return next season. Sutter, a native of Alberta, has admitted to having feelings of home sickness.
-There was some good new out of the Devils' loss. They had their highest television ratings in 12 years.
-New Jersey has quite a few key unrestricted free agents to worry about this season.
Red Wings-Ducks
-Since 2003, no franchise has won more playoff series than the Ducks.
-Anaheim forward Corey Perry (right) isn't a fan of long layoffs between series.
-The Ducks need to be disciplined in order to beat the Red Wings.
-With the prospect of facing a physical Anaheim team, should the Red Wings recall a tough guy like Aaron Downey or Darren McCarty from their AHL affiliate in Grand Rapids?
-Anaheim defenseman James Wisniewski will be playing his hometown team.
Canucks-Blackhawks
-The last time the Blackhawks and Canucks hooked up, things got nasty.
-Chicago isn't exactly happy about having its games on Versus.
-With Rockford, their AHL affiliate, eliminated from the postseason, the Blackhawks recalled forwards Bryan Bickell, Evan Brophey, Jacob Dowell, Pascal Pelletier, defenseman Jordan Hendry and goaltenders Corey Crawford and Antti Niemi.
-The Canucks will have their hands full with Chicago's defensemen.
-"I'm 26 and I feel like an old guy." Blackhawks forward Adam Burish on his young teammates.
-"I will be running a lot of their players." Vancouver forward Darcy Hordichuk not exactly mincing words on how he'll play Chicago.
-In order to move on to the Western Conference final, Blackhawks defenseman Brent Seabrook (right) will have to defeat his hometown team.
-Blackhawks general manager and former Penguin Dale Tallon is making a return to where his NHL career began.
-Canucks goaltender Roberto Luongo is sick of being asked if he has had too much time off.
Adams Division
-Here are your officials for the second round.
Calder Cup Playoffs
-Wilkes-Barre/Scranton Penguins defenseman Deryk Engelland has seen both sides of his team's rivalry with the Hershey Bears.
IIHF World Championships
-An overtime goal by Blue Jackets forward Kristian Huselius gave Sweden a 6-5 win against the United States. Former Penguins defenseman Dick Tarnstrom recorded an assist for Sweden.
-Former Stars forward Niko Kapanen had two goals and two assists and led Finland to a 4-3 defeat of the Czech Republic.
-Edgars Masalskis made 21 saves and led Latvia to a 2-0 shutout of Austria.
-Tore Vikingstad, who might have the coolest name ever, had a goal and an assist for Norway which edged Denmark, 5-4, in overtime.
-Check out this insane but legal hit Denmark's Nichlas Hardt stuck on Norway's Erik Lars Lund:
-Stars forward and Canadian forward James Neal suffered an eye injury.
-Thrahsers and Swedish defenseman Tobias Enstrom needed surgery to repair some facial injuries suffered following a hit from behind into the boards.
Non-Playoff Stuff
Northwest Division
-Flames coach Mike Keenan expects to be back next season.
-Calgary forward Mike Cammalleri seems to be the only guy who thinks the Flames can re-sign him.
-If you're a fan of the Norris Trophy, this is your series.
Pacific Division
-The Coyotes denied a report that the NHL has taken over the franchise's operations.
-Sharks general manager Doug Wilson apologized to his fans for another quick playoff exit.
Patrick Division
-Leave it to White Sox manager Ozzie Guillen to be a proponent of fighting in hockey.
(Photos: Fedorov-Jim McIsaac/Getty Images; Jokinen-Kevin C. Cox/Getty Images; Perry-Harry How/Getty Images; Seabrook-Jonathan Daniel/Getty Images)
Join the conversation: