Empty Netter Assists - 8-31-09
Note: EN commentator Disgruntled Goat is awarded a permanent +1 for posting news updates in the comments during our vacation.
Penguins
-A nine-year-old kid attended Sidney Crosby's parade earlier this month with the Stanley Cup. He managed to get a hockey card signed by Crosby only to have that card stolen by a teenager. Guess who saved the day?
-No word yet on how Kris Draper blamed Crosby for the ordeal.
-Speaking of Crosby (above, at Team Canada's camp with Ottawa forward Dany Heatley), Rick Nash and Jarome Iginla are mighty fine linemates.
-Crosby also received the Order of Nova Scotia.
-Should Crosby get the "C" for Canada?
-Brooks Orpik and former teammate Rob Scuderi are doing their thing for Team USA.
-Marc-Andre Fleury discusses Team Canada:
-The Staals are brothers. And they're Canadian.
-Petr Sykora did his thing with the Stanley Cup Saturday.
-Miroslav Satan did his thing with the Stanley Cup in Slovakia recently as well.
-Check out his video of Satan driving a Zamboni down a public road in Slovakia.
-Penguins prospect Andy Bathgate Jr., grandson of the former Penguins forward of the same name, is trying to make a name for himself.
-Faceoff-Factor takes a look at defenseman prospect Alex Grant.
-It looks like forward Jean-Michel Daoust is leaving the Wilkes-Barre/Scranton Penguins.
-Former Penguins enforcer Dennis Bonvie has joined the Blackhawks as a scout.
-The Nailers signed defenseman Jon Ralph and Kevin Seibel.
-This is pretty awesome:
Atlantic Division
-Flyers forward Simon Gagne suffered a groin injury while working out with Team Canada.
-The Devils will dust off their old "Christmas" red and green jerseys when they host the Penguins St. Patrick's Day, March 17. No word yet if Chris Terreri will be dusted off and allowed to give up six goals.
-Rangers captain Chris Drury was inducted into the Little League Museum Hall of Excellence.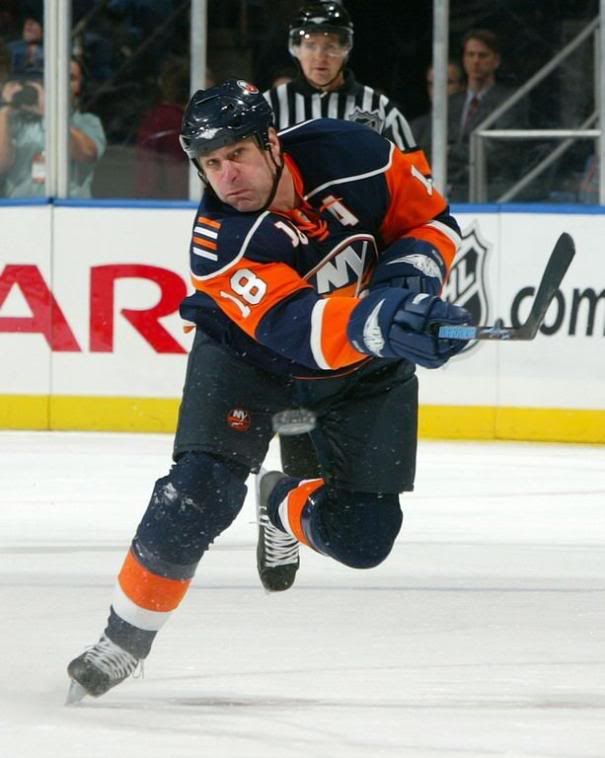 -Former Flyers defenseman Chris McAllister signed with the Wichita Thunder of the CHL.
-Islanders forward Mike Sillinger (right) retired after 17 seasons and 12 teams.
-The Islanders re-signed goaltender Nathan Lawson to a one-year deal.
Northeast Division
-What recession? The Bruins have raised ticket priced by approximately 15 percent.
-The Maple Leafs are giving former forward Jason Allison a tryout. He has not played in the NHL in three seasons.
-The Senators signed former Penguins goaltender Andy Chiodo to a one-year two-way deal. Chiodo spent the past season in the KHL.
-Former Canadiens coach Jacques Demers, who once admitted to being illiterate, was appointed to Canada's Senate.
Southeast Division
-The Lightning signed former Canadiens forward Alex Tanguay.
-Tampa Bay also re-signed defenseman Matt Lashoff to a two-year deal and forward Martin Karsums to a one-year deal.
-Road Trip Alert: We're a little late with this due to our vacation, but the Lightning has put single-game tickets on sale. The Penguins are in Tampa Bay Jan. 2 and March 14.
-What Would Steven Stamkos Do? Work out with former Lightning teammate Gary Roberts.
-The world "legend" must mean something different in Russia. Because that's what Thrashers forward Ilya Kovalchuk (right) called former Penguins forward Aleksey Morozov.
-Move over Evgeni Malkin and Alyonka Larionov. Capitals forward Alex Ovechkin is moving to the kitchen.
-Carolina signed former Bruins forward Stephane Yelle to a one-year deal worth $550,000.
-Hurricanes forward Scott Walker and new teammate defenseman Aaron Ward are tight. Even after that cheap shot in the playoffs last season:
-We don't have the stats in front of us, but we're pretty sure Capitals defenseman Mike Green spent more time posing for this stupid photo for his spiffy new Web site than he did playing actual defense last season:
Central Division
-Road Trip Alert: Blue Jackets single-game tickets go on sale Saturday. The Penguins travel to Columbus Oct. 30.
-Road Trip Alert: Red Wings single-Game tickets are now on sale. The Penguins travel to Detroit March 22.
-Blues defenseman and captain Eric Brewer (right) underwent athroscopic surgery on his right knee. He suffered the injury while rehabbing a back injury.
-Blackhawks forward Patrick Kane pled guilty to disorderly conduct in a case involving an altercation with a Buffalo cab driver.
-The Predators signed former Sharks forward Marcel Goc to a one-year two-way contract.
-The Red Wings re-signed forward Todd Bertuzzi to a one-year deal worth $1.5 million. Bertuzzi spent part of the 2006-07 season with Detroit.
-Red Wings defenseman Brian Rafalski is still bitter about "Handshakegate." Said Rafalski, "Last year, we didn't make them wait."
-Jordan Staal is still waiting for Ralaski to quit acting like a pylon in a shorthanded situation:
-We think.
Northwest Division
-Former Avalanche forward Peter Forsberg played in a preseason game for Modo of the Swedish Elite League.
-Former Avalanche captain Joe Sakic is no Brett Favre.
-Vancouver signed former Canadiens defenseman Mathieu Schneider and acquired defensemen Christian Ehrhoff and Brad Lukowich from the Sharks in exchange for prospects Patrick White and Daniel Rahimi.
-The Canucks will wear their third jerseys when they host the Penguins Jan. 16.
-Vancouver forward Mats Sundin ended his life got married.
-The Wild and defenseman Brent Burns (right) officially unveiled their new third jersey.
-The Flames have a logo commemorating their 30th year in Calgary.
Pacific Division
-Just when you thought the Coyotes' situation couldn't get more absurd, the NHL is now trying to buy the franchise so that it can sell it to an owner of its own choosing.
-The San Antonio Rampage, the Coyotes' AHL affiliate, signed forward Andrew Orpik, the brother of Penguins defenseman Brooks Orpik. (Kudos to Steel CIty Sports Fan for the heads up.)
Adams Division
-Versus, which has been a fairly underwhelming network since it got broadcast rights for the NHL wants more money from DirecTV. Like just about anyone else in the Western Hemisphere, DirecTV realizes Versus is a joke and isn't willing to pay more.
-The NHL released its national schedules of mediocre broadcasts for NBC and Versus.
-Stephen Walkom is stepping down as direct of officiating for the NHL and hopes to return as an on-ice official.
-Icethetics has a look at Team USA's new jerseys:
-Nike has a pretty sweet commercial for the 2010 Olympics playing up in Canada:
(Photos: Crosby-Jeff McIntosh/Associated Press/Canadian Press; Sillinger-Photobucket; Kovalchuk-Gregory Smith/Associated Press; Green-Mike Green; Burns-Minnesota Wild)