Empty Netter Assists - 9-3-09
Penguins
-Evgeni Malkin suited up for Mettalurg Magnitogorsk during his time with the Stanley Cup and "scored" a goal:
(Kudos to The PensBlog for the find.)
-Adam Gretz of Fanhouse has a pretty solid interview with Ray Shero.
-The Penguins' training camp officially begins Sept. 12.
-Maxime Talbot speaking in French. Feel free to translate if you want.
(Kudos to LetsGoPens.com for the find.)
-Penguins prospect Robert Bortuzzo knows what to expect from former teammate Maple Leafs prospect Nazem Kadri when the teams take part in a rookie tournament this weekend.
-The Wheeling Nailers signed forwards Derek Kitti and Jeff Martens.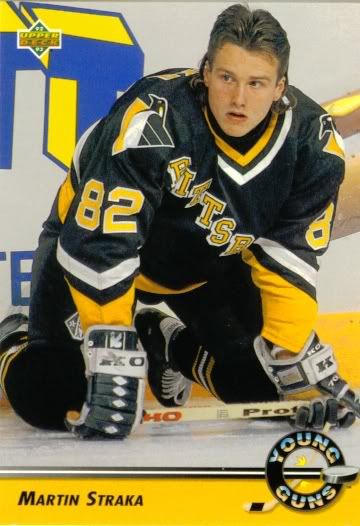 -Happy 37th birthday to former Penguins forward Martin Straka (right).  He is the eighth-leading scorer in franchise history with 442 points.
-Happy 31st birthday to former Penguins defenseman Michal Rozsival. He led all Penguins defensemen with 29 points during the 2001-02 season.
-Today would've been the 60th birthday of former Penguins forward Brian Spencer. Along with Jean Pronovost, Spencer led the team in games played during the 1977-78 season with 79.
Atlantic Division
-"For those of you who are booing, I'll hit you one by one." - New Rangers enforcer Donald Brashear speaking at a team rally in which he was booed.
-Devils forwards Jay Pandolfo and Brian Rolston might be the only people excited about Jacques Lemaire being back in New Jersey.
Northeast Division
-Senators defenseman and former Flyers captain Jason Smith announced his retirement. Smith, who also once served as the Oilers' captain, appeared in 1,008 games over 14 seasons.
-We don't care what team you root for. If you're a hockey fan, Smith's retirement should sadden you a bit. He was a hockey player. He was one of the toughest players around and just simply played the sport the right way.
-The Senators actually needed Smith to retire in order to get under the salary cap. His retirement takes $2.6 million off of Ottawa's cap number and puts them under the limit of $56.8 million.
-Leave it to Philly.com to use this photo on its Flyers' page in correlation with its Smith story:
-Check out these pictures of Senators goaltender Pascal Leclaire's new lid.
-For the first time in his career, Tim Thomas enters a season as the Bruins' clear-cut No. 1 goaltender.
Southeast Division
-Former Thrashers forward Eric Perrin has joined with Avangard Omsk of the KHL. That is the same team former Penguins forward Jaromir Jagr currently plays for.
Northwest Division
-The Flames (below with former captain Jim Peplinski and current player Craig Conroy) unveiled a new/old third jersey:
-Dear Joel Otto! Are those things magnificent!
Pacific Division
-The Coyotes signed former Canucks goaltender Taylor Pyatt to a one-year deal.
-The Sharks pulled a page out of the Penguins' book and made some home deliveries for their season ticket holders:
Norris Division
-It looks like Paul Kelly was canned as the NHLPA's boss because he might've been snooping in on some confidential documents.
-Team Russia had a pretty interesting fan at a recent practice in Prime Minister Vladimir Putin.
-Versus claims its spat with DirecTV is over positioning and not pricing.
-Today would've been the 102nd birthday of forward Cliff Barton, a member of the NHL's Pittsburgh Pirates.
-Happy 67th birthday to former Pittsburgh Hornets forward Gary Jarrett.
(Photo: Straka-Photobucket; Smith-Yong Kim-Philadelphia Daily News; Flames-Calgary Flames)