Empty Netter Assists - 9-18-09
Penguins
-Forward Ryan Bayda could be the next Adam Hall.
-Sam Kasan of the Penguins had a solid live blog for last night's Black-Gold Scrimmage. Check out Dan Bylsma riding on a military vehicle with the Stanley Cup.
-Check out Sidney Crosby and Pascal Dupuis sporting some Wilkes-Barre/Scranton Penguins jerseys to the right:
-The game got a little physical late.
-We're a little late with this, but we found some clear highlights from Tuesday's win against the Blue Jackets complete with Mike Lange's calls. (We can't embed it since Community Server won't let us play with videos from the NHL's Web site.)
-The Pensblog examines the fates of several recent defending Stanley Cup champions.
-The Wilkes-Barre/Scranton Penguins hired Scott McConnell, the grandson of former Penguins' coach Bob Johnson, as video coordinator.
-Happy 43rd birthday to former Penguins forward Tom Chorske. He had six points (one goal, five assists) in 33 games in the 1999-2000 season.
Atlantic Division
-It's looking like the Flyers will team defensemen Chris Pronger and Matt Carle together.
-The groin injury of new Rangers forward Marian Gaborik will keep him out of the lineup for tonight's game against the Red Wings.
-The Rangers demoted forwards Andres Ambuhl, Daniel Bartek, Devin DiDiomete, Brodie Dupont, Dan LaCouture, (a former Penguin) Matt Maccarone, Justin Soryal, Dale Weise, defensemen Trevor Glass, Brent Henley, Sam Klassen, Mike Sauer, David Urquhart, Nigel Williams and goaltender Miika Wiikman to Hartford of the AHL and returned forwards Ryan Bourque, Roman Horak, Ethan Werek, goaltender Scott Stajcer and defenseman Tomas Kundratek to their junior teams.
Northeast Division
-The Bruins and forward David Krejci unveiled their Winter Classic jersey:
-Eh. It might be a classic traditional look, but we're not feeling it. It's way too banana-ish. And when you combine the fact the Flyers will be wearing these Creamsicle-lite jerseys:
...The Winter Classic is going to have this pastel Easter feel to it.
-With starter Ryan Miller expected to be on the United States' Olympic roster, the Sabres expect former Penguins goaltender Patrick Lalime to see a heavy workload.
-Buffalo returned forwards Zack Kassian, Luke Adam, Marcus Foligno, Jacob Lagace and defensemen Nick Crawford and Brayden McNabb to their junior teams.
-Senators rookie defenseman Erik Karlsson is shacking up at the house of captain Daniel Alfredsson.
-New Senators forward Milan Michalek realizes there will be pressure in Ottawa.
-Ottawa demoted defensemen Drew Bannister, Tomas Kudelka, forwards Erik Condra, Denis Hamel, Jim O'Brien and goaltender Chris Holt to Binghamton of the AHL.
-Forward Christian Hanson, a Pittsburgh native, scored a goal for the Maple Leafs in a 4-0 defeat of the Flyers.
-Toronto forward Jay Rosehill went at it in a spirited bout with Philadelphia's Riley Cote:
-Forward Mike Cammelleri had a goal and an assist for the Canadiens who edged the Panthers, 3-2.
Southeast Division
-The Thrashers have brought in former Sabres forward Maxim Afinogenov on a tryout basis.
-After getting 33 points (13 goals, 20 assists) in 38 games with the Thrasher last season, what can forward Rich Peverly do for an encore?
-The Hurricanes added some toughness on their blue line.
-The Lightning demoted Kevin Quick, Scott Jackson forwards Mitch Fadden and Chris Lawrence to Norfolk of the AHL.
-Defenseman Brian Pothier's overtime goal gave the Capitals a 4-3 win at Buffalo. Pothier also added an assist.
Central Division
-The Predators unveiled their new third jerseys:
-Those are pretty sharp except for this checkerboard around the waist:
-The Red Wings need forward Tomas Holmstrom to have a rebound season.
-Detroit forward Henrik Zetterberg is excited to have forward Todd Bertuzzi on his wing.
-Blue Jackets defenseman Marc Methot suffered a shoulder injury in Tuesday's loss to the Penguins.
-Columbus released forward Tim Miller and goaltender Andrew Loverock from their tryout contracts.
-Things like this are why we love doing Empty Netters. During Tuesday's game blog, we mentioned that Blue Jackets general manager Scott Howson looked like Fox broadcaster Joe Buck. The next day, we got this e-mail:
"funny, you mentioned Howson looks like Joe Buck.  Here in columbus we refer to him as Niles Crane."
-You tell us: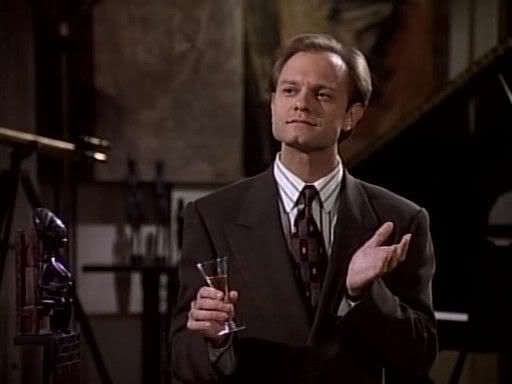 -Blues rookie defenseman Alex Pietrangelo has matured quite a bit since last year's training camp. He is a cousin of former Penguins goaltender Frank Pietrangelo.
-St. Louis demoted forwards Adam Cracknell, Mitch Love, Chris Morehouse, Anthony Peluso, defensemen T.J. Fast, Adrian Veideman, Justin Fletcher, Alex Hellstrom, Ryan Turek and goaltender Sebastian Dahm to Peoria of the AHL and returned forwards James Livingsto, Tyler Shattock, defensemen Mark Cundari and Brett Ponich to their junior teams.
-Forward Colin Wilson had a goal and two assists for the Predators who beat the Thrashers, 5-0.
Northwest Division
-Unlike his predecessor Jacques Lemaire, new Wild coach and former Wilkes-Barre/Scranton Penguins coach Todd Richards (right) won't rotate his team's captaincy.
-Minnesota's sell-out streak of 365 games, the longest active one in the NHL, could be in jeopardy.
-The OIlers demoted forwards Jamie Bates, Kelly Czuy, Riley Emmerson, Colton Fretter, Bryan Lerg, Ryan MacMurchy, defensemen Cody Wild, Jordan Bendfeld, Jesse Dudas, Matt Nickerson and goaltenders Andrew Perugini to Springfield of the AHL and returned defensemen Dalton Prout and forward Philipe Cornet to their junior teams.
-Check out these pictures of Colorado goaltender Craig Anderson's new mask.
-The Avalanche demoted defensemen Matt Clarke, Ray Macias, forward Codey Burki and goaltender Billy Sauer to Lake Erie of the AHL and returned defensemen Tyson Barrie, Joel Chouinard, Stefan Elliot and forward Kelsey Tessier to their junior teams.
-A shootout goal by forward Theo Fleury, yes... that Theo Fleury... gave the Flames a 5-4 win against the Islanders. Forward Olli Jokinen had two goals and an assist while Nigel Dawes added a goal and two assists for Calgary. Former Penguins prospect Matt Moulson scored two goals for New York. Fire Ray Shero.
-Check out the nifty move Fleury scored on:
-"I never miss those. Never have. Never will."  - Fleury.
-From the "That-Didn't-Take-Long" department, we have our first questionable hit all of four days into the preseason. Flames defenseman Dion Phaneuf popped Islanders forward Kyle Okposo last night. Then Islanders forward Pascal Morency jumped off the bench and attacked Phaneuf touching off a near line brawl:
-It's kind of difficult to tell if Phaneuf hit him with an elbow based off that one replay off a fuzzy YouTube video, but it's pretty clear Phaneuf left his feet. But he's a star player so we're sure the NHL won't even think about suspending him.
-We're not sure what the difference between "dirty" and "illegal" is, but Phaneuf hit a Okposo as he was engaged with the player who shoved him from behind.
-That said, Okposo can't carelessly cruise through the neutral zone like that.
-Morency should be suspended for a long, long time. You can't leave the bench. This isn't "Slap Shot."
-"I definitely thought it was a clean hit." - Phaneuf.
-Okposo, who was carted off on a stretcher, was officially diagnosed with a mild concussion.
-Two assists from forward Milan Hejduk helped the Avalanche beat the Stars, 3-1.
-Forward Kyle Wellwood had two assists for the Canucks who won at Anaheim, 3-0.
Pacific Division
-Anaheim forward Bobby Ryan (right) will finally get a chance to play a whole season at the NHL level.
-According to TSN, former Ducks forward Rob Niedermayer is negotiating with CSKA Moscow of the KHL.
-The Coyotes returned defenseman Mathieu Brodeur, Michael Stone and forward Jared Staal to their junior teams. Staal? Hmm... that name sounds familiar...
-Maxime "Superstar" Talbot might have a challenger. Presenting Sharks forward Joe Thornton's commercial:
-The Sharks demoted forwards Dan DaSilva, Dean Strong and T.J. Trevelyan to Worcester of the AHL.
-Forward Jason Demers' shootout goal gave the Sharks a 2-1 win against the Kings.
Norris Division
-Greg Wyshynski of Yahoo! has an update on the Versus/DirecTV negotiations.
-Today would've been the 76th birthday of former Pittsburgh Hornets defenseman Jack Bionda.
(Photos: Crosby and Dupuis-Mark Moran / The Citizens' Voice; Krejci-Steven Senne/Associated Press; Flyers-Philadelphia Flyers; Howson-James Mirtle; Crane-Photobucket; Predators-John Russell/Getty Images; Richards-Andy King/Associated Press; Ryan-Jim McIsaac/Getty Images)