Canadiens 4, Penguins 3 - 9-21-09
PREGAME
Greetings from the Post-Gazette's lovely offices and out attempt at a live blog of tonight's game. The reason we say "attempt" is because this is our set up:
-One decent laptop and two really awful, fuzzy monitors. This will be a tough one.
-TSN is carrying the game tonight with NHL Network picking it up for United States viewers. This is a rare chance for American hockey fans to see what a real hockey broadcast looks like.
-John Curry gets the start for the Penguins. Carey Price goes for Montreal.
-Pierre McGuire is already making us wish we could suffer some sort of ear-related trauma.
FIRST PERIOD

20:00: As McGuire points out, Dan Bylsma has given Quebec natives Pascal Dupuis and Simon Despres a chance to start in Montreal.
19:39: Crosby falls to one knee as he approaches the net and backhand swats a puck on net. Price fights it off.
18:06: Ben Lovejoy whips a puck on net from the right point. Price appears to fight it off.
17:49: Luca Caputi centers a puck into the crease. Craig Adams is there and directs it on net. Price holds it out.
17:47: Off a faceoff, Josh Gorges blocks a shot by Kris Letang.
16:45: Curry fights off a wrister by Brian Gionta from the right wing.
16:05: TSN's Gord Miller mentions that Luca Caputi's first NHL goal came in a game last season in Montreal:
13:45: Lovejoy tosses a wrister on net from the left wing. Price makes the stop. Ryan Bayda jumps on the rebound and tries to jam it by Price. The Montreal goaltender holds it out. A small scrum develops. Lovejoy looks a lot better so far tonight than he did Friday against Toronto.
13:29: Gionta hacks a loose puck in the slot and is denied by Curry.
12:29: Malkin dishes a pass to Chris Kunitz who is trailing. Kunitz grips a rips a wrister from the left faceoff circle. Price hangs on an freezes play.
12:19: Malkin sets up Kunitz again. Kunitz rips a wrister again. Price fights it off.
11:53: Miller and McGuire reference Eric Tangradi starting near-riot during the World Junior Championships last season:
11:13: Tim Wallace gets  shot off in tight. Price hangs on for the save. Price has been sharp so far. He needs to be. No one else on his team is.
10:03: McGuire drops a Tony Hrkac reference. Awesome.
9:33: Curry denies Max Pacioretty on a prime chance just left of the cage. That was Montreal's best chance all night.
6:30: McGuire talks about the trademarks of Jacques Martin, Montreal's coach. McGuire says "structure in the neutral zone." Translation: "Trap."
5:04: Curry covers a puck that slides towards the net. This games has slowed down a bunch after the Penguins controlled the first five minutes or so.
4:08: Andrei Kostitsyn sneaks in from the left wing and rips a wrister. Deryk Engelland leans down and blocks it.
3:36: Letang snaps off a wrister fromt he slot. Price kicks out his right leg and knocks the puck down. He covers it to freeze play. Price continues to be sharp.
2:25: Brooks Orpik blocks a shot. A Habs player jumps on the rebound and punches a shot on net. Curry fights it off. Curry's had a few nice saves tonight.
1:48: Jaroslav Spacek fires a slapper from the right point. It rattles off a few bodies. Curry has trouble collecting the puck because Gionta is banging away at it. Engelland loses track of Gionta and watches the former Devil slam the puck by Curry on the stick side. Great effort by Gionta. Terrible plays by Curry and Engelland. Engelland needs to account for Gionta. And Curry needs to control that rebound Spacek and Andrei Markov get assists. Canadiens 1-0.
0:11: Sergei Gonchar gets a shot through traffic. Price fights it off. Adams fishes the puck out of a cluster of bodies in front and pokes a backhander wide.
0:00: End of period. Canadiens 1, Penguins 0.
FIRST INTERMISSION
-That was kind of an odd period given that the Canadiens have a lead after watching the Penguins control the majority of play.
-We're watching the game on a fuzzy monitor as opposed to live in person, but no one for the Penguins really distinguished themselves.
-Kunitz and Malkin looked sharp together. We won't be surprised if those two get teamed up on a line at some time this season.
-Eric Tangradi and Luca Caputi were not very noticeable.
-Carey Price looks fantastic considering he's playing what is a fairly strong lineup by preseason standards.
-We didn't think it was possible, but Pierre McGuire is quite tolerable on TSN. We suppose since he's calling a game for a Canadian audience, he's seems to be less condescending. When he works for NBC, it's almost like he's talking down to the "dumb" American audience.
-The Penguins have a 14-13 edge in shots.
-Gionta leads the game with five. We imagine he picked up the bulk of those on that little scramble he scored on.
-Kunitz, Wallace and Malkin each have two.
-Spacek leads the game with 8:46 of ice time.
-Gonchar leads the Penguins with 7:41. Orpik is right behind him with 7:31.
-Faceoffs are even, 9-9.
-Dustin Jeffrey is 3 for 3.
-Maxim Lapierre is 2 for 2.
-Engelland, Lovejoy, Crosby, Gorges, Shawn Belle and Mathieu Carle each have two blocked shots.
-NHL Network runs a commercial with Billy Mays:
-Are we the only ones creeped out by the fact his commercials still run despite the fact that he died a few months ago?
SECOND PERIOD
18:11: Kostitsyn has a chance on a wrap-around but Engelland makes a nice play by pokechecking the puck off his stick.
17:36: Wallace centers a pass to Dupuis working his way down the slot. Before Dupuis can get shot off, a trailing Montreal player lifts his stick and breaks up the play.
16:42: A blast by Gonchar is blocked by Gorges.
16:33: Gonchar gets this shot through traffic and through to the net. Gonchar controls the puck at the left point and rosses a wrister on net. It gets through a ton of bodies and appears to be tipped by Price by Bayda. For the moment, Gonchar is given credit for the goal and the assists go to Orpik and Adams. Canadiens 1, Penguins 1.
15:04: Mike Cammalleri feeds a puck on net that gets tipped on net. Curry is juuuust able to kick it out.
14:45: We get our first penalty as Lovejoy tosses a puck out of play. That's two minutes for delay of game. Dupuis, Adams, Letang and Despres are on for the penalty kill.
14:17: Dupuis forces the puck up ice up the left wing allowing his team to make some line changes. He fires a wrister that gets blocked wide.
13:33: So much for hoping to avoid injuries for your star players. Dan Bylsma has Crosby and Malkin killing the penalty.
12:45: Lovejoy's penalty is killed.
12:32: That looked way too easy. Lovejoy comes out of the box, controls the puck in the right faceoff circle and pulls up. He spots Malkin trailing on the right wing and sends a cross-ice pass to him. Malkin takes the pass and blows a sick wriste by Price on the stick side. What a sick shot. Give Lovejoy a lot of credit for setting that up. Lots of guys in his position would've just put the puck on net. He had the composure to wait for the play to develop and to get it across the ice to Malkin. He gets the only assist. Penguins 2-1.
11:04: Markov cranks a slapper from the left point. Curry fights it off despite traffic.
10:03: Scott Gomez dishes a little pass his old New Jersey teammate Gionta in the right faceoff circle. Gionta snaps off a wrister to the far side. Curry stretches out and makes a nifty glove save.
9:51: Malkin gets behind the Montreal defense and from a tough angle he sails a wrister over the Habs' net.
8:11: After a brutal turnover by Crosby, Spacek blasts a slapper from the slot wide of the cage.
7:36: Malkin chips a puck down ice and retrieves his own dump-in by outworking Josh Gorges. Malkin comes around the side of the net and dishes a backhanded pass to Tangradi in the slot. Tangradi immediately gets a shot off. Price is able to knock it down and smothers the rebound to freeze play. Just a marvelous play by Malkin.
5:37: Yannick Weber enters the offensive zone and hammers a slapper on net. Curry gloves it and hangs to freeze play.
5:19: Brooks Orpik runs over Pacioretty in the neutral zone in front of the penalty boxes.
5:12: Caputi is nabbed for holding. That's two minutes. Adams, Despres, Letang and Dupuis are on for the kill.
4:29: Gionta takes advantage of some space in the Penguins' zone and dishes a feed to Cammalleri in the slot. Cammalleri kneels down and snaps off a wrister just wide. He's got to bury that in a game of consequence given the money the Habs spent on him this offseason.
3:12: Caputi's penalty is killed. Not a lot going on for Montreal.
2:46: Despres blocks shots by Gionta and Belle.
2:32: Matt D'Agostini gets behind the defense and moves in on Curry alone. He goes with the forehand and clunks his shot off the post.
1:05: Bill Guerin comes down the left wing and forces a pass to Crosby in the slot. Weber breaks it up with his stick. Spacek hooks Crosby by his face and Crosby falls into the net dislodging it. Spacek gets four minutes for drawing blood on Crosby. The Penguins' top power play unit of Letang, Malkin, Guerin, Gonchar and Crosby is on the ice.
0:54: Letang hammers a one-timer from the left point. Price hangs on for the save.
0:00: End of period. Penguins 2, Canadiens 1.
SECOND INTERMISSION
-NIce period for the Penguins. Especially on the penalty kill. It was just an all-around complete 20 minutes.
-We still can't describe how mature Lovejoy looked on the goal he set up for Malkin. You would expect someone like Gonchar, Nicklas Lidstrom or Scott Niedermayer to have that much composure with the puck deep. Not a raw player with all of two games of NHL experience.
-Curry looked a lot better. He might realize Brent Johnson is the No. 2 goaltender, but he's not playing like it.
-Despres continues to look a lot more mature than an 18-year-old.
-The Penguins have a 22-19 lead in shots.
-Gionta leads the game with six shots.
-Malkin leads the Penguins with three.
-Markov leads the game with 17:18 of ice time.
-Orpik leads the Penguins with 15:14.
-Montreal has a 19-18 edge in faceoffs (51 percent).
-Maxim Lapierre is 6 for 8 (75 percent).
-Crosby is 9 for 14 (64 percent).
-Carle leads the game with four blocked shots.
-Lovejoy, Carle and Crosby each have three blocked shots.
-Montreal still has 2:52 of penalty time to kill.
-Malkin, Crosby, Gonchar, Letang and Guerin begin the period.
THIRD PERIOD
19:05: Spacek's first penalty is killed.
19:00: McGuire take to the defense of crosby on "Handshake-Gate" as he explains Crosby tried to delay things so the Penguins' scratches such as Petr Sykora and Eric Godard could get dressed in their gear for the team photo and other postgame festivities.
18:20: Mike Yeo is biting his fingernails as the Penguins give up a shorthanded goal. That Gionta-Gomez connection is working. Gomez pushes the puck up ice and sends a cross-ice pass to Gionta on the right wing. Gionta dishes it back to Gomez in the crease. Gomez is able to tip it by Curry. Put that one on Gonchar. He couldn't keep the puck in the offensive zone and failed to keep track of Gomez in the crease. Gionta gets the only assist. Canadiens 2, Penguins 2.
17:05: Spacek's second penalty is killed. That was a complete waste of time for the Penguins.
16:30ish: Orpik tags Gionta with a rough hit behind the Penguins' net.
14:40: Malkin and Kunitz have a nifty give-and-go ongoing in the Montreal zone. They make one too many passes and fail to get a shot on net.
13:32: Cammalleri gets a chance in deep and tries to deke to his backhand. Curry juuuust gets a piece of the puck with is stick and knocks it away from Cammalleri.
12:38: Kostitsyn blasts a slapper wide of the cage. It riccochest off the backboards and comes to Lapierre in the slot. Lapierre pokes it on net. Curry is sprawled out in the crease and stops that shot. Gillaume Latendresse is right there on the doorstep and chips it up over Curry's glove for the easy goal. Curry didn't exactly play that puck well, but his teammates didn't give him any help there. Lapierre and Kostitsyn get the assists. Canadiens 3-2.
10:13: Cammalleri and Gionta pick apart the Penguins' defense once again. The new teammates play hot potato with the puck in the slot. Gionta finally rips a wrister by Curry. Deryk Engelland looks like he's never skated before in his life as he falls over. Lovejoy was totally out of place on that play as well. Curry's teammates owe him a beer as they totally failed him there. Cammalleri and Markov get assists. Canadiens 4-2.
8:47: Kunitz chips a pucks into the crease. Malkin jumps on it and chops it high of the net.
7:57: Lovejoy cranks a slapper from the right point. It hits Bayda's stick and breaks it in half and drops the player as well.
7:22: McGuire reveals that the Penguins will actually take a bus to Columbus Thursday. Unavailable for comment: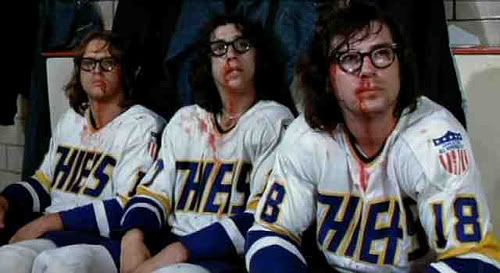 6:39: Eric Godard is nabbed for hooking Gomez. Kunitz, Jeffrey, Orpik and Gonchar are on for the penalty kill.
4:39: Godard's penalty is killed. The Penguins didn't really allow the Canadiens too much there.
4:07: Kunitz blasts a slapper from the right point that misses the net and clunks off the glass.
3:33: Cammalleri moves in from the left wing and shoots a wrister low. Curry kicks it out. Cammalleri follows up on the rebound and ends up running over Curry.
3:24: Cammalleri is shown to the penalty box for interfering with Curry.
3:14: Well that was quick. Guerin doesn't waste time cashing in the power play. Letang controls the puck at the left point. He dishes it to Guerin just above the right faceoff circle. Guerin takes the pass and shoots a wrister by Price on the glove side. McGuire describes the shot as an "off speed pitch" in that the shot was slow and fooled Price's timing. Veteran players can do that. That was a nice rebound performance for the Penguins' power play after it virtually wasted the four "minuter" (/errey) earlier this period. Letang gets the only assist. Canadiens 4-3.
1:32: Gonchar gets a chance in the left faceoff circle but fans on the shot.
1:14: Ben Maxwell comes in from the left wing cutting towards the crease. He gets denied by Curry.
0:51: Curry leaves the net for an extra attacker.
0:45: With a faceoff in the Penguins' zone, Curry returns to net. Dan Bylsma calls a time to organize a night everyone can come over watch "The Iron Giant." We think.
0:39: Curry is pulled once again.
0:12: Guerin blows a one-timer wide of the cage from the left faceoff circle.
0:00: End of game. Canadiens 4, Penguins 3.
POSTGAME
-Not really too much to make note of in that game for the Penguins. You rarely really look at preseason games from a team perspective because you usually aren't dealing with a complete lineup. And individually, few of the Penguins "bubble" players really distinguished themselves.
-Other than Gionta's first goal, it's hard to really give Curry too much grief. He didn't have a lot of help.
-Lovejoy was, as EN commenter Blackblood said, up and down. He was very composed on the play to set up Malkin's goal. But he was totally out of place on several plays in the defensive end.
-Engelland did not look good at all.
-After having pretty solid games last week, Tangradi and Caputi were very quiet tonight.
-Despres isn't really going to get any consideration for this season's roster, but he continues to look really mature.
-Bayda and Jeffrey were invisible for the most part.
-Cammalleri, Gomez and Gionta look like they're poised to do some amazing things this season.
-NHL Network must really be trying to tick off Penguins fans. First they show a Penguins preseason loss then they follow it up with Game 1 of last seasons' Stanley Cup final, a 3-1 loss in Detroit.
-The Penguins had a 31-28 lead in shots.
-Gionta led the game with seven shots.
-Guerin and Malkin each had four shots.
-Markov led the game with 25:03 of ice time.
-Gonchar led the Penguins with 24:48.
-Faceoffs were even, 27-27.
-Lapierre was 9 for 13 (69 percent).
-Crosby was 15 for 25 (60 percent).
-Lovejoy, Gorges and Carle each had four blocked shots.