5 things to pay attention to during West Virginia-Syracuse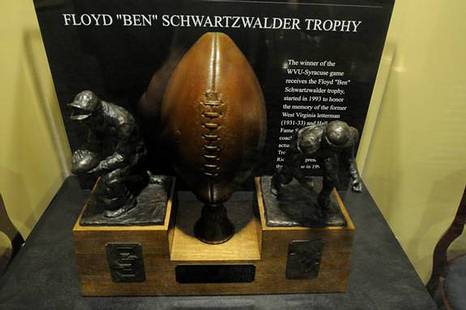 This game should be interesting, as we should find out which is the "real" Syracuse team, and also, to a degree, which is the "real" West Virginia offense. Is it the Syracuse team that started 4-1, or the one that Pitt slammed? Is it the WVU offense that likes to muscle up and sit on a lead (if it gets one) or the offense that likes to play a bit risky?
We will see.
Anyhow, pay particular attention to these five things as you nestle into your seats at Mountaineer Field -- or watch at home on ESPN2 -- on what is supposed to be a splendid, postcard day in Morgantown. 
+++++++++++++++
1. Tunnel vision: After I asked Bill Stewart about the screen game in his Tuesday news conference, it seems lots of writers who cover the team jumped on the "tunnel" and "bubble" screen angle in the passing game. The story I wrote on the subject is running in Saturday's Post-Gazette. Anyway, look no further as evidence on West Virginia's reliance on the short passing game than Jock Sanders' numbers from last week (10 catches/31 yards). While many complain, this is something that probably isn't leaving the playbook anytime soon. Is this the week, though, that Sanders or Tavon Austin hits one of these plays for a long home run?
2. Mr. Versatility: Seems everyone wants to talk about RB Delone Carter or QB Ryan Nassib when it comes to the Syracuse offensive attack. Believe me, those are not the men who can hurt this West Virginia defense the most. The guy who can inflict the most harm is the "other" back, junior RB Antwon Bailey. He is averaging 5.5 yards per carry and 12.1 yards per catch and is the type of player who, if he is out there running with a linebacker, could catch a pass and turn it into a decent-sized gainer. There is no question West Virginia defensive coordinator Jeff Casteel knows a lot more football than me (and probably anyone reading this), and I'll bet he realizes how important it will be to limit Bailey.
3. Twinkle toe: Is Noel Devine 100 percent yet? The vibe I am getting is "no." That injury he sustained when he got hit late out of bounds against LSU on Sept. 25 is something that has lingered on and on. It is something that he just cannot shake. There is absolutely no question it has deeply impacted the offense and, in some regard, playcalling. Devine, obviously, has not been the take-it-to-the-house threat (UNLV doesn't count) since then. Pay special attention not to his straightline speed, but if he is able to cut and juke like the Devine that Mountaineer fans have grown accustomed to. 
4. The right side: What is that you hear? Ahh, yes, it is the sound of silence. That's right, didn't hear the griping, the bellyaching and whining about the offensive line following the South Florida game. Actually, I didn't get one email that wanted Dave Johnson fired and banished to some obscure quality control coach at an NAIA school somewhere. You know why? Because the line played well --- more to the point, the right side of the line (which had been the problem) played better than it had in the past. The reason comes down to personnel: Eric Jobe at guard and Jeff Braun at tackle might not be the best in the Big East, but they are the best options on this team, by far, at those positions.
5. In a rush: The West Virginia defense has grabbed all the headlines, and rightly so. They are among the finest in the country. The reason they are good is what they do on first and second down, as they have a penchant for allowing minimal gains there, permitting them to go with that third-down rush package. That has been the key so far this season, that they have put teams in predictable third down, must-pass distances. It will be intriguing to see if the Mountaineers can continue to have that sort of early-down success, making it so much easier for those pass rush specialists. A team such as Syracuse would seem one that could be susceptible to West Virginia's pass rushers.
More in this category: