Pregame Vikings-Steelers
11:32 p.m.: Sunny. Forty-eight degrees on its way to 50, if not more. Perfect day for football. The fellas are on the field, running and warmng up -- except no sign of The Legend. (No, not Garrett Jones. . . that's another blog.) Brett Favre, who if I remember my history correctly arrived with Leif Ericson and the original Vikings, isn't on the field throwing. His counterpart, Ben Roethlisberger, already has performed his pregame routine. Jeff Reed is on the field, so, no, he wasn't suspended or rendered inactive or handed any visible game-day penalty from last Sunday's incident.
11:38 p.m.: Inactives for today include, once again, WR Limas Sweed for the Steelers though ailing Vikings dangerous rookie WR Percy Harvin (shoulder) is active despite not practicing all week. As expected, Minnesota's Pro Bowl CB Antoine Winfield (foot) is inactive, and the Vikings list either Karl Paymah or Benny Sapp as his replacement. The inactive list also means Minnesota's banged-up safeties, and every single one was limited in practice due to various injuries, are playing. Steelers TE David Johnson once again is listed as the starting FB. 
Steelers -- Sweed, CB Keenan Lewis, FB Carey Davis, LB Andre Frazier (thigh, although he returned to practice Friday), G Kraig Urbik, T Tony Hills, DE Sunny Harris and Dennis Dillon as No. 3 quarterback.
Vikings -- Winfield, RB Albert Young, LB Erin Henderson, C Jon Cooper, WR Darius Reynaud (hamstring), DE Jayme Mitchell (DE), DT Letroy Guion and Sage Rosenfels as No. 3 quarterback.
High noon: Hmm, isn't that Favre, hanging off ol' Leif's vessel?
12:15 p.m.: Favre takes the field! What, you expected him to skip Start No. 276 In A Row?
12:17 p.m.: Mike Tomlin is making the rounds of pregame warmups, shaking hands with fellow former Vikings ranch-hands, posing for photo ops. These ought to look strange to you, circa 2006: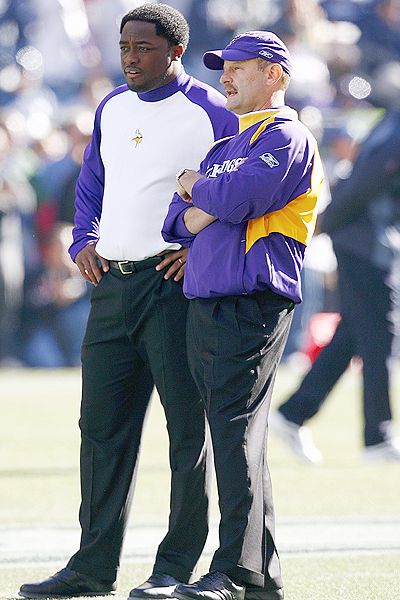 12:21 p.m.: Mike T. had an interesting conference call with his old pals in the Minnesota media earlier this week. Some snippets:
Question: About Roethlisberger changing terminology on him.
Answer: "First of all, Ben is a jokester. He tries to change a few tag words week-in and week-out. Trying to stay a step ahead of me, but you guys know that is hard to do."
Q: About Minnesota coach Brad Childress, who hired him as defensive coordinator and gave him a coordinator's job for the first time in his 12-year coaching sojourn. 
A: "We stay in pretty good contact as far as coaches go. I am not much of a phone guy, and he is not much of a phone guy during the season. Of course, there is not much of that during the season, but we stay in pretty regular contact in the offseason. Brad has been a good friend to me, and I will always appreciate the opportunity that he afforded me."
Q: About how his life has changed.
A: "It really hasn't at all. I wouldn't allow it to. I am a simple guy. I am blessed with a great family. I enjoy this job and what I do at this job. I try to stay focused on those things. All the other things that come with this business or industry or success doesn't move me and I am not attracted to it. So really, my life hasn't changed at all."
Q: About Dan Rooney's feelings on the grind-it-out Steelers becoming Air Arians. (Or would that be Air-ians?)
A: "Mr. Rooney likes to win."
12:55 P.M.: The stripe of sod down the middle of Heinz Field, from college hashmark to college hashmark (which includes the skinnier NFL hashmarks, if you don't recall), looks pretty good. From above, or on television, it might look a tad greener. . . which isn't a bad thing.
The Steelers' offense was introduced, a bit of a change.
And, in the coin toss, The Legend is being a nice guy and shaking the hands of all the youth-football kids, who get to play on the field at halftime.
Onto the game. . . .