Some items that fell off my laptop.
Streaking has become popular in WPIAL baseball this spring, and nobody has taken off their clothes.
This blog has documented impressive streaks of Blackhawk's Brendan McKay and Norwin's J.J. Matijevic. McKay hasn't allowed a run in 37 innings dating back to last season. Matijevic has hit a home run in six consecutive games and is riding a string of 10 consecutive hits.
Add Canon-McMillan's Teagan Piechnick to those who have had a memorable streak. Piechnick, a senior center fielder, also had a streak of 10 consecutive hits. He had 16 plate appearances in the streak that included six walks, which meant he reached base 16 consecutive times. The streak ended Monday with a flyout against Peters Township.
During the streak, Piechnick had four home runs, three doubles and three singles. He had 12 runs and 10 RBIs during the streak.
For the season, he is batting .633 (19 of 30) with an on-base percentage of .744. He has six home runs and 17 RBIs. He has helped Canon-McMillan to a 7-2 record.
***** Weather-wise, this is starting to look like a bad year for spring sports. Baseball and softball teams are starting to get behind in games played. This is only year after this area had one of the best springs for sports. There were very few bad weather days last year.
***** It was interesting to see one of the MVPs in Saturday's Roundball Classic all-star basketball games. It was Elijah Cottrill of Beaver Falls. He got the MVP for the Class AA team.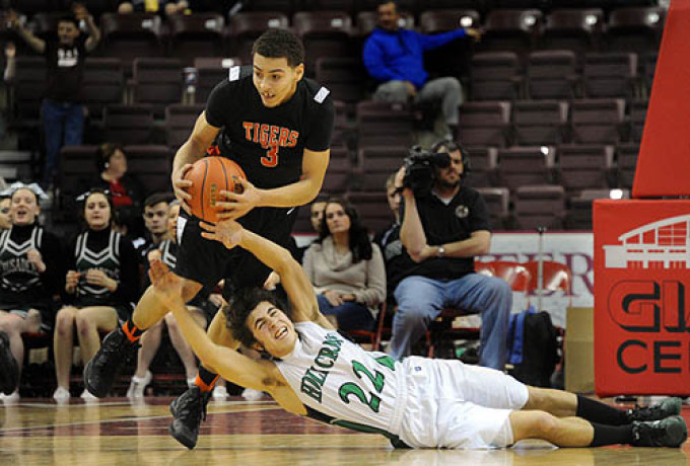 Cottrill didn't play for Beaver Falls from mid-January on - because of a knee injury. Cottrill also missed most of football season because of an injury to the same knee.
The Roundball was Cottrill's first game since he sustained the injury. Cottrill was considered a Division I college prospect and made the Post-Gazette Fabulous 5 as a junior. Creighton offered him a scholarship during his junior year. He accepted a football scholarship from Akron last summer, but the two eventually parted ways.
Cottrill (pictured) might still have Division I basketball in the future, but only after a year or two. Academic issues will force him to either a prep school or a junior college. There is a chance he might attend Polk, a junior college in Florida. Polk is coached by former Robert Morris coach Matt Furjanic. Former Beaver Falls star Sheldon Jeter is attending Polk this school year, but not playing basketball. Jeter played as a freshman at Vanderbilt, left after one year and will play for Pitt next year.
Lance Jeter is another Beaver Falls player who played at Polk before signing and playing at the University of Nebraska.
***** Will former Plum star Nolan Cressler be the next WPIAL player who wasn't heavily recruited in high school but makes a name for himself at the big-time college level? Cressler played at Cornell of the Ivy League the past two seasons before deciding to leave the team after this school year. He accepted a scholarship from Vanderbilt last night.
Notre Dame, Dayton and Rutgers also had offered scholarships and a number of other teams were interested in him. Plum coach Ron Richards said Michigan might have offered a scholarship any day. All of those big-time schools don't show interest or offer a scholarship to a marginal player.
A few former WPIAL/City League players did very well this season after transfers. Chartiers Valley's T.J. McConnell transferred from Duquesne to Arizona, and Schenley's DeAndre Kane transferred from Marshall to Iowa State.
Cressler is a shooting guard who led Cornell in scoring this past season at 16 points a game. This should tell you how much Vanderbilt wanted Cressler: After Cressler got his release from Cornell, Vanderbilt's entire staff flew to Cornell to meet with him.