Duquesne at Saint Louis 2/27/10 -- LIVE GAMEDAY THREAD
By Colin Dunlap | 7:07 p.m. Saturday
Like many of you, I will be watching on channelsurfing.net.
But, as we are now less than an hour away from tip off, I ask something to get the ball bouncing tonight:
Do you now feel different about the Dukes' upcoming game at St. Bonaventure because of what the Bonnies did today -- beating URI, 81-74?
Let's get started with that question, I want to know how you feel about that. Post your thoughts...to register, click here: http://community.post-gazette.com/CreateUser.aspx
UPDATE 7:29 p.m.: Also, forgot to mention something. In that little preview box I do with the stories each game day in the paper, did the following item blow all of you away in the same way it did me?:
The Dukes are looking to become the first team in school history to win three consecutive Atlantic 10 road games.
7:45 p.m.: I am looking at the channelsurfing feed right now, it is working masterfully, showing the Billikens warming up.
Remember, here is the link: http://www.channelsurfing.net/watch-saint-louis.html
7:55 p.m.: OK, avgargano, I didn't take a photo of my pregame meal, but I just did the next best thing for you. Here is a snapshot of what will be devoured at my next meal. It will be at breakfast tomorrow morning, sometime around 7 a.m. 
It is a piece of homemade cheescake (my mom dropped off yesterday) and the latest edition of Basketball Times (the postman dropped off today):
Does that work for you, in lieu of the media room spread????
8:03 p.m.: Big Morakinyo getting the start again.
8:06 p.m.: No sound on the channelsurfing feed? Am I alone there or not?
8:10 p.m.: Lucas Newton. Why? 7-2 Billikens.
8:11 p.m.: The video is grainy, there is no sound and the viewing window is small. But, I think I can make something out very clearly (and avgargano will love this):
 LOOKS TO ME LIKE JOE DEMAYO IS ON THE GAME!!!!
8:15 p.m.: Nice kid, hard worker, good citizen, all of that. But I hold steadfast to something: Newton should not be in the game -- unless the disparity in points is at least 20 points and there are fewer than 4 minutes left.
8:20 p.m.: GM, here you go: http://en.wikipedia.org/wiki/Billiken
By the way, the Dukes are making a bit of a charge at 19-12 right now with 11:07 left. But if they don't guard the shooters, this one might be over in a hurry.
8:23 p.m.: Did the guy in the chicken suit just run up to the roof? Seems like an insurance liability to me, you know, having a man in a cumbersome suit run through the crowd. 
Dukes slowing the pace a little. And it looks like that is their ticket back into this one.
8:30 p.m.: Dukes cutting it now -- 20-16. Look in much better shape now.
By the way, Frank Scagliotta is one of the other officials working the game. He is a tremendously nice man and, down at GW told me he was running for office (I think state rep or magistrate or something of the such) where he lives in the Philly area. I'd vote for the guy, seems very honest.
8:34 p.m.: ****Program alert**** If you guys are bored tomorrow between 6-10 p.m., I am doing the first day of my new show on 93.7 The Fan.
Thought I would pass that along.
8:37 p.m.: Bill Clark, whack! 23-21 Billikens. But Mitchell came right back and hit one.
Again, why Lucas Newton? This must mean Chase Robinson is good as gone.
8:39 p.m.: Seems astounding the Dukes are down just a bucket -- really.
8:41 p.m.: Dukes take their first lead with 2:52 left in the half at 29-28.
Monteiro is now down, and this is after Saunders went down.
OK, Monteiro is up, looks OK.
8:43 p.m.: GW beat UNC-C?????? Good call by me on Karl Hobbs, huh?
I take everything back. I need to re-do those rankings from a previous post.
8:47 p.m.: Why the heck would Bill Clark take that deep 3 with the shot clock off? He did a lot of good things, but that decision hurt the Dukes.
As such, a 33-33 tie has to be seen as a major victory right now.
8:50 p.m.: OK, let's play a game. If you had to name the SLU dance team, what would you call them?
Billkettes?
Billekicks?
Love-a-Bills?
I want your suggestions.
9 p.m.: OK, Greg Amodio just said it, on the air. They are taking out the bleachers this summer and replacing the existing chairbacks.
So, do all of you now believe what I reported on this blog awhile ago about the upgrades to the AJP?
9:05 p.m.: They might think about guarding these Australians.
Also, in terms of that game with Penn State, I think I mentioned it on one of my video Q&A sessions. From what I knew, the deal wasn't done yet -- and I am still not certain the deal is signed.
9:08 p.m.: Bolding, again, not looking anything like himself. I am quite certain it has nothing with him not liking the 10-40. Game tied 37-37 with 17:15 left.
9:11 p.m.: The Dukes announcers just made a big deal about Morkinyo being "undercut." Have to disagree. He was boxed out, big difference. It was a clean, legal play. Very poor choice of words. Williams was simply on the receiving end of a very good box out. Tied at 37 .... still.
9:14 p.m.: Is Von Benko doing a Deuce Skurcenski? He just said, "If he lays another brick, he will have to get his stone mason licence." .... terrible.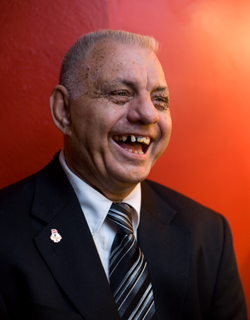 9:21 p.m.: Dukes up 3 with 13:14 left. Amazing they are winning this game. Bill Clark just drew a very big offensive foul.
9:24 p.m.: Per that AJP upgrade...this was written Dec. 7 (just sayin'):  http://community.post-gazette.com/blogs/dukesblog/archive/2009/12/07/the-deal-about-palumbo-upgrades-straight-from-amodio.aspx
9:25 p.m.: The more misses happen here -- and there have been a lot of misses both ways -- the more this should scare Dukes fans. You know why? That means it could funnel into a FT shooting contest. That's something the Dukes probably don't want (although the Bills are terrible from the line, too). 45-42 Dukes right now.
9:29 p.m.: Terrible turnover by Monteiro and an equally bad decision by Duty to foul and allow the shot to go up. Dukes now down, 48-45.
9:32 p.m.: Saunders' fourth foul in the back court was a terrible decision. Predictably, the announcers remember where their paycheck comes from and say, "questionable if it was a good call or not." Um, it was a terrible decision, that's what it was.
The announcers have yet to hit on the biggest factor -- all of Duquesne's empty possessions when they were up 3, with a chance to put some distance between them and the Bills.
7:11 left, Dukes down 50-47.
9:37 p.m.: Dukes down 8, might as well be 80. Just the way this game has been going, seems like it is over.
55-47 with 5:56 left.
Again, that span of time when they were up 3 and had all those empty trips is when Duquesne frittered this one away.
9:39 p.m.: Last thought on Lucas Newton. If he really is worthy of getting on the floor for this team (and in my opinion in the Atlantic 10 at all), how come he never plays in crunch time in the second half? How come they don't have the confidence to go to him in the last 10 minutes? Just asking.
I have no idea what he does that Chase Robinson cannot do better.
9:42 p.m.: Dukes down 10 with 3:37 remaining. Huge trouble.
9:46 p.m.: Has Bolding scored tonight?
9:49 p.m.: Hate to harp on it, but this was a case of a team being unable to step on another's throat. Had Duquesne even gone up 5 or 6 points, had they just made one or two shots, this would have been different.
By the way, Kwamain Mitchell sure has killed the Dukes in the second half of games this season.
1:30 left, this one is done -- has been for a little while.
9:53 p.m.: 69-59 Final.
Ok, we have to talk about it: What did you think about Saunders' steal and windmill dunk at the very end, with a few seconds left?
When the winning team calls off the dogs and there is that time at the end of the game when both teams stand around counting the down the final seconds, I don't think you should probably do that. Just my opinion -- but let the clock run down, the horn blow and shake hands.
Join the conversation: