The rail winners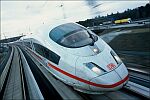 President Obama announced $8 billion in grants for high-speed rail projects today, and the big winners were California, Florida, Chicago-St. Louis and Wisconsin.
Pennsylvania got very little, relatively speaking, and Western Pennsylvania just $750,000 for a study into what it would cost to expand and speed up service from Pittsburgh to Harrisburg, a corridor that has one daily train and doesn't even have air service right now.
The grant list shows that the administration took the advice of some experts who warned against spreading the money too thin and risking that no projects would quickly advance. Four projects ate up $5.4 billion of the $8 billion. But the allocation also bowed to political reality, and the rest of the money was well spread out to keep as many constituencies as possible (and members of Congress) happy.
California got the biggest prize, $2.25 billion toward a high-speed rail system that it hopes will someday stretch from Sacramento to San Diego and cover 800 miles. The state's high-speed rail authority had boasted that it was farthest along in preparations -- it expects to break ground on the first segment, possibly Los Angeles to Anaheim, next year. Voters in the state have approved billions in state financing toward the system.
The other big winners: a Tampa-to-Orlando line, $1.25 billion; Chicago-to-St. Louis, $1.1 billion; and Madison to Milwaukee, $810 million.
As reported in today's PG, most of Pennsylvania's $26.4 million award will go to the Harrisburg-to-Philadelphia corridor. Ohio, pushing hard to develop better rail service linking Cleveland, Columbus and Cincinnati, got $400 million for that effort.
Photo: eriksrailnews.com