Forget the "Script" call them the "Pitt Condors"!!!!
 The Pitt athletic department offered vouchers worth the face value of the ticket which could be put towards the price of one of the discounted season-ticket packages to all of those fans who bought a single-game ticket to Saturday's opener versus Bowling Green.
   The idea was simple --- give fans a chance to take in the game-day experience and look at the product once before committing to the full season ticket plan. It was a solid plan with one flaw -- in order for it to work, the actual team on the field needed to cooperate.
    Luckily for the athletic department, the reviews of the tailgate party on the "Great Lawn" as well as the "World's Largest Family Bash" on Art Rooney Ave. have been extremely positive because any fan who is basing their decision on the actual game and the performance of the Panthers offense is more than likely not only not going to buy a season ticket – they are asking for a refund of their $25 for Saturday's game as well.
    Based on the overwhelming feedback in e-mails, on fan message boards and fan blogs, that is not necessarily just because Pitt lost to another Mid-American Conference team – the Falcons prevailed 27-17 – it is because the Panthers played a very stale, very boring, very antiquated style of football that frankly just isn't very interesting.
    Simply put, the Panthers aren't very creative and they aren't very fun too watch.
    And given that they are not a winning program right now, either -- nor have they been since 2004 -- there is no amount of slick marketing and packaging that can overcome the deadly combination of boring football being played poorly.
    Marty Blake, who, as general manager of the defunct Pittsburgh Condors ABA, said it best when he was asked about why it was so hard to get fans interested in the team, which eventually folded because of money problems:
   "You can sell a lot of things in this world," Blake told the Post-Gazette in a 2000 interview, "but you can't promote a funeral."
   In other words, bad football is a bad thing but boring bad football is the death of a program and given that the Panthers under Wannstedt are one of the most boring teams on the planet this is shaping up to be a very, very long season for the team, the fans -- and especially the school's marketing guru....
   Blake, also, incidentally, renamed that ABA team the Condors (they were originally named the Pipers) because "the Condors were a dying bird and that was a dying franchise...."
  Are you thinking what we're thinking?
  A few more offensive performances like Saturday and the marketing department might want to consider another logo change for the Panthers to something which resembles this: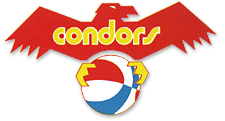 Join the conversation: