Redshirt Diaries Bowl Game Picks! Christmas week games ...
The first weekend of bowls are in the books and the Redshirt Diaries gentlemen are off to a rather in auspicious start. The guys took a beating, but the standings thus far have Paul Zeise and Ray Fittipaldo tied for first place and Ron Musselman and Chuck Finder tied for last. This week though, the quality of the bowl games picks up a little, and hopefully too, the quality of our prognosticators' picks. The standings thus far:
Fittipaldo: 2-3
Zeise: 2-3
Musselman: 1-4
Finder: 1-4

———
Tuesday, Dec. 23

Poinsettia Bowl: Boise State (12-0) vs. TCU (10-2), 8 p.m.

FITTIPALDO: Pop quiz: which Steeler from the 1980s went to Boise State? That's right, No. 22 Rick Woods. By the way, who was the better Steelers DB of the '80s, Woods or Lupe Sanchez? While you ponder that, I'll pick Boise State to finish the season unbeaten.

ZEISE: TCU has a great, great defense and has played two BCS teams, Utah and Oklahoma, and lost them both but were competitive in both. Boise State has played, well, they did play, and uh, there was that win over, umm … an Oregon team going through some quarterback issues? Take TCU.

MUSSELMAN: Don't expect a flowery finish. Pick: Boise State.

FINDER: Believe it or not, this may be the most intriguing bowl before New Year's. TCU's defense vs. the Broncos' offense is key, and Boise State's bowl experience puts it over the top here.

Over/under on the number of times this moment in Boise State athletics is referenced: 722

———

Wednesday, Dec. 24

Hawaii Bowl: Hawaii (7-6) vs. Notre Dame (6-6), 8 p.m.

FITTIPALDO: Which would please you more? Charlie Weis coaching the once proud Fighitng Irish to another losing season or Bill Belichick and the Patriots not making the playoffs? Here's hoping both happen. Hawaii wins.

ZEISE: Let's see if I get this correctly? Notre Dame stunk too bad to take the bowl games from other teams in other conferences -- so they get punished by being sent to Hawaii? The Rainbow Warriors aren't great, but they aren't ten hours and four time zones away from home either and frankly, it doesn't take "great" to beat Notre Dame. Heck for that matter, it doesn't even take "slightly less than mediocre" to beat Notre Dame. Hawaii wins but the game will be so close that Notre Dame administration will give Charlie Weis another ten-year extension to make sure they don't lose him.....

MUSSELMAN: Irish riding NCAA-record nine-game bowl losing streak. It continues. Hawaii is the pick.

FINDER: Fear, fear, for Old Notre Dame. … If Charlie Weis' offense fails to keep up with the Rainbow Warriors' points, will Irish fans try to push him off Diamond Head? Take Hawaii.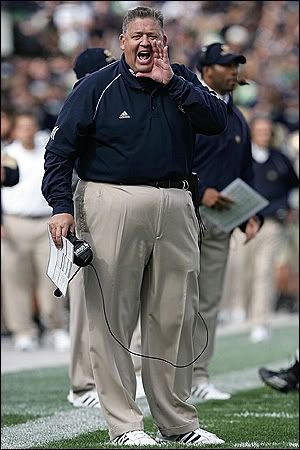 Would you like to see this man shirtless and in a grass skirt? Us neither.

———

Friday, Dec. 26

Motor City Bowl: Florida Atlantic (6-6) vs. Central Michigan (8-4), 7:30 p.m.

FITTIPALDO: Wonder if Howard Schnellenberger had his team vote on whether to accept this bowl bid. Would you rather spend the day after Christmas in West Palm Beach or Detroit? OK, the wise old coach didn't have a vote, but maybe he should have. Central Michigan wins.   

ZEISE: The Chippewas are in this game because they had an outstanding season (by MAC team standards) and because they deserved the postseason. Florida Atlantic is in this game because there are too many bowls and not enough quality teams to fill all the spots and, well, someone had to fill this spot. Pick: Central Michigan.

MUSSELMAN: The day after Christmas in Detroit. Yuck. At least Central Michigan will feel at home.

FINDER: Former West Virginia assistant Butch Jones cannot lose in his own state of Michigan. Not to a bunch of Owls who lost to Texas, Michigan State and Minnesota earlier by a combined 103 points. Go with Central Michigan.

The Motor City Bowl winner replaces the Lions as the city's NFL franchise; losers can't leave town until they design a fuel-efficient and marketable car for GM.
Join the conversation: