Stewart press conference notes - 11/03/09
By Colin Dunlap | 2:11 p.m. Tuesday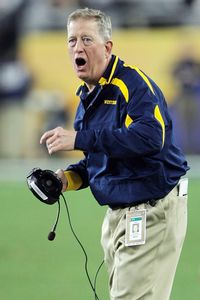 MORGANTOWN, W.Va. --Well, because I am an idiot, there will not be the full audio of the press conference today. I recorded it, but as I was going to upload it, in my infinite wisdom I mixed up the bright red button that says 'ERASE' with the silver one that says 'PLAY.' 
So, there you go -- I'm an idiot. You knew that already, though.
All is not lost. Here are some notes from Stewart's press conference.
He said the team, although the USF game was tremendously disappointing, is relatively healthy. The only injury, and he didn't go into detail, was that Sidney Glover was "nicked up."

The kicking situation looks to be very, very much up in the air. Josh Lider and Tyler Bitancurt will slug it out this week in practice to see who is the kickoff man for the game on Saturday against Louisville. Lider had been the kickoff guy, but it would appear the job is slipping away from him, as Bitancurt kicked off a few times at USF after Lider hit it low and hard, out of bounds, on the opening kickoff down in Tampa.

Keith Tandy is still the starter at cornerback, after getting beaten a few times at USF. The way Stewart said it -- and let me say I HATE this term -- was that he was not going to throw him "under the bus." Stewart also gave the impression, though, that he wasn't going to tolerate this sort of play forever and Tandy will be the starting corner until cornerbacks coach David Lockwood comes to Stewart and says that Tandy needs to be taken out.

I guess it is minor consolation, but Robert Sands played well at USF. 
Stewart says Louisville is a team with nothing to lose. And those kinds of teams really scare him.

With Louisville's quarterback situation in doubt -- the Cardinals are juggling three guys right now -- it makes Stewart's prep pretty interesting going into this game. He spoke of how that is a factor, but, more to the point for his team, "We are worried about what we do."