Draft 2009: The Centers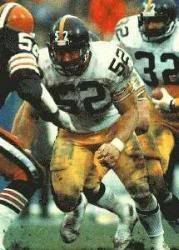 No position has been more widely talked about as a potential first-round pick for the Steelers in 2009 than center, and with good reasons: 
The Steelers offensive line, usually a strong suit, has been shaky at best over the last three years
Steelers fans are waiting for the next true heir to the Mansfield-Webster-Dawson-Hartings o-line anchor lineage to emerge
Most importantly, top caliber centers can be gotten near the end of the first round (where the Steelers pick) or even later in the draft.
Max Unger of Oregon and Alex Mack of Cal are two such guys who have continually emerged in mock drafts as potential Steelers. Mack is widely regarded as the top-overall prospect at the position and Unger is particularly enticing because he also can play guard. Check 'em out ...
Unger:
Mack:
Despite the obvious talent of these gents, BNG however, is of the opinion that the need for a center is colored mostly by emotion -- owing namely the afforementioned legacy of Steelers greatness at the position and the bad taste left by the Sean Mahan debacle of 2007.
At the start of the 2008 season, the Steelers offensive line might as well have been 5 Guys Named Moe for all the time they had played together as starters. But by the time the playoffs rolled along, Hartwig was probably the most consistent member of the line. There is little reason that he couldn't start there for at least another season (or 2).
For that reason BNG is of the opinion that the Steelers should not select a center in round one, and instead look for local product via Moon Twp. and Penn State, A.Q. Shipley, who will certainly be around in round two, or perhaps even three.
At 6' 1" and 304 pounds, he's a bit smaller than Mack or Unger, but he's a smart player who was once a defensive lineman for the Nittany Lions, so he has some insight into those across the ball from him. In 2008 he beat out Mack and Unger for the Dave Rimington Trophy -- awarded to the top center in college football -- while playing in the Big Ten, a division not exactly known for diminutive defensive lineman. Read Shipley's bio and check out this video of him destroying the 225-lbs. bench press at a Penn State charity event: