Penguins sign Beech, Stone and Thomas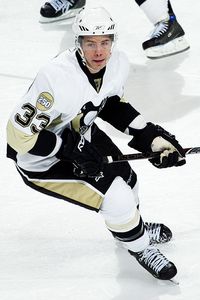 The Penguins re-signed forwards Kris Beech and Ryan Stone and signed former Coyotes forwad Bill Thomas.
EN Says: Stone is a guy the Penguins will probably seriously consider for time as the fourth-line center. He brings some toughness to the ice as he had nine fights between Pittsburgh and Wilkes-Barre/Scranton last season.
Beech is a depth signing at best.
Thomas is a native of Fox Chapel. He has been with the Coyotes organization since 2005 spending time mostly with Phoenix's AHL affiliate in San Antonio. He's a player who can get shots on net, but has been largely inconsistent in his career. In 75 games with San Antonio last season, he had 24 goals. He fullfills the Penguins' quota of one Western Pennsylvania player on the roster.
[View:http://youtube.com/watch?v=Hw9iTb5amoM]
(Photo: Bruce Bennett/Getty Images)
Join the conversation: