Do the math - 10-27-08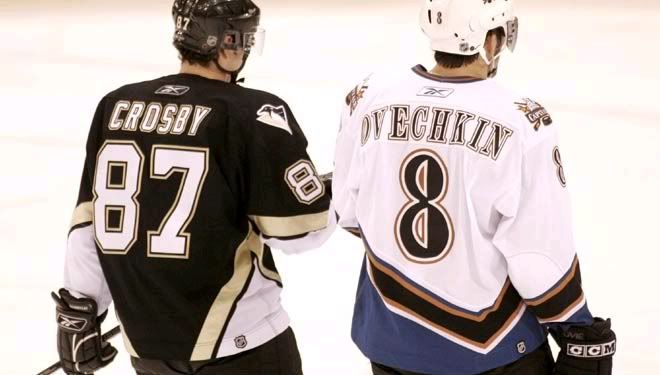 A popular question for hockey fans in the late 1980's and early 1990's was who was a better player: Wayne Gretzky or Mario Lemieux?
There were viable arguments to either side of that debate. Gretzky had all the records. Lemieux had lesser teammates to work with. Etc.

Either way, it was a simple argument that only had two choices.

Things are a little bit more complex in this day and age. There are three potential choices to that argument.

Sidney Crosby, Evgeni Malkin or Alex Ovechkin.

All three have been at least a finalist for the league's Hart Trophy within the past two seasons. All three were at least a finalist for the Calder Trophy in their rookie campaigns. All three are among a handful of players who have hit the 100-point mark within the past three seasons.
There might not be any simple answer to the question. There might not actually be an answer to the question.

But there's always math. Ah good old-fashioned mathematics that we always managed to get no better than a C in during high school.

Well EN reader Parmeet Grewal of Mississauga, Ontario apparently got something a little bit better than a C in whatever arithmetic courses he took in high school because he sent us a pretty interesting statistical comparison of the three great players on Saturday.
While some of the numbers Parmeet presented hurt our heads a bit, we're kind of like moths to a porch light when it comes to statistics. We can't look away.

All these statistics are through Saturday's games. There were no games yesterday:


Alex Ovechkin
Season
Games
Goals
Assists
Points
PPG
Shots
Shooting
Percentage
+/-
2005-06
81
52
54
106
1.31
425
12.24
+2
2006-07
82
46
46
92
1.12
392
11.73
-19
2007-08
82
65
47
112
1.37
446
14.57
+28
2008-09
8
2
3
5
0.63
41
4.88
+4
TOTAL
253
165
150
315
1.25
1,304
12.65
+15
Evgeni Malkin
Season
Games
Goals
Assists
Points
PPG
Shots
Shooting
Percentage
+/-
2006-07
78
33
52
85
1.09
242
13.64
+2
2007-08
82
47
59
106
1.29
272
17.28
+16
2008-09
9
3
11
14
1.56
32
9.38
+4
TOTAL
169
83
122
205
1.21
546
15.20
+22
Sidney Crosby
Season
Games
Goals
Assists
Points
PPG
Shots
Shooting
Percentage
+/-
2005-06
81
39
63
102
1.26
278
14.03
-1
2006-07
79
36
84
120
1.52
250
14.40
+10
2007-08
53
24
48
72
1.36
173
13.87
+18
2008-09
9
3
9
12
1.33
36
8.22
+2
TOTAL
222
102
204
306
1.38
737
13.84
+29
82-Game Averages
Player
Goals
Assists
Points
Shots
Shooting
Percentage
+/-
Ovechkin
53
49
102
423
12.65
+5
Malkin
40
59
99
265
15.20
+11
Crosby
38
75
113
272
13.84
+11
Here is the goal-per-game averages of each player if each player averages as many shots as Ovechkin:
| | |
| --- | --- |
| Player | Goals |
| Ovechkin | 53 |
| Malkin | 64 |
| Crosby | 58 |
If each player averaged as many shots as Ovechkin per 82 games, Malkin would lead the pack with a whopping 64 goals. Meanwhile, Ovechkin would be last, finishing 11 back of Malkin with a total of 53.
Rankings
Shooting
Percentage
Goals
Assists
Points
+/-
1.
Malkin
Ovechkin
Crosby
Crosby
Crosby/Malkin
2.
Crosby
Malkin
Malkin
Ovechkin


3.
Ovechkin
Crosby
Ovechkin
Malkin
Ovechkin
EN-While we certainly won't argue with the math here, we will say plus/minus is a category we throw out quite a bit in any conversation. Jordan Staal was the Penguins' worst player in that regard last season with a minus-5 but no one would dispute he's one of their best defensive forwards.

But like we stated earlier, there probably isn't a right or wrong answer to this question. It might be all preference. If you're a left-brain type of person, Ovechkin is probably your guy. If you use the right side of your noggin more, you're a Crosby fan most likely. And if you're a little bit of each, chances are you have a Malkin jersey.
One thing is for certain, it's certainly nice to have two of those three on your team's roster.
(Update: Apparently we got a C in that new media class also as we screwed up Crosby stats. They've been fixed. Thanks to the several readers who gave us a heads up.)

WE'RE DANY SABOURIN TODAY


Shelly Anderson will be making that long cross-country trip to San Jose today so we'll be playing Dany Sabourin to her Marc-Andre Fleury in today's Penguins chat at 2:30 p.m. You can log in here to chat with us this afternoon.

EMPTY NETTER ASSISTS

Penguins

-The Penguins defense is holding up without Sergei Gonchar and Ryan Whitney.

-Will the Penguins ever learn about this third period most teams tend to play in NHL games?

-Did the Penguins have the most disappointing loss this weekend among Pittsburgh sports teams? Vote on it here.
-Tommy Goebel recorded a hat trick and an assist for the Wheeling Nailers in a 5-3 defeat of the Trenton Devils.

Atlantic Division

-In a shocking development, it turns out Islanders goaltender Rick DiPietro might really be hurt.

-The Devils have a lot of injury issues at their forward position.

-The Flyers are mad about that smoke bomb fiasco.

Northeast Division


-Maple Leafs forward Jason Blake (right) was embarrassed by being a healthy scratch recently.

-New Sabres defenseman Craig Rivet is digging Buffalo.

-The Senators are off to their worst start since the 1994-95 lockout.

Southeast Division

-Panthers defenseman Cory Murphy is dealing with a shoulder injury.

-Hurricanes defenseman Joni Pitkanen is dealing with a knee injury.

-Are the struggles of Lightning rookie forward Steven Stamkos similar to those experienced by Sharks forward Joe Thornton as a rookie?

-Lightning coach Barry Melrose went all Herb Brooks on his team yesterday.

Central Division

-The Blue Jackets demoted defenseman Kris Russell to Syracuse of the AHL. With goaltender Pascal Leclaire injured, the Blue Jackets recalled goaltender Dan LaCosta from Syracuse.

-With forward Johan Frazen on the shelf with a knee injury, the Red Wings wanted to recall forward Ville Leino from Grand Rapids of the AHL. Only one problem. Turns out they don't have enough salary cap room at the moment to make that move. Trade Hossa.

-The Blackhawks set an attendance record when they hosted the Red Wings Saturday night.

-Blues rookie forward T.J. Oshie isn't happy with his rankings in NHL '09.

Northwest Division


-Is Oilers forward Sam Gagner (right) in a sophomore slump?

Pacific Division

-The Stars are depending on their goaltending coach, former Bruins star Andy Moog, to shore up their goaltending.

-The Iowa Chops, the AHL affiliate of the Ducks, presented Republican vice presidential candidate Sarah Palin with her 203rd personalized hockey jersey.

Norris Division

Mark Herrmann of Newsday took the NHL to task over the Reebok Edge-Super-Duper-Mega-Ultra-Awesome-Humungo-Women-Will-Want-You Uniform System jerseys.
(Photos: Sabourin-Dave Sandford/Getty Images; Blake-Harry How/Getty Images; Gagner-Stanley Leary/Associated Press)
Join the conversation: