Wild 2, Penguins 1 - 11-18-08
PREGAME
You are reading live from a freezing night at Pittsburgh. We pulled out the big overcoat for the first time for our trek up to Mellon Arena this evening. It's not a good night to be outside. It's one of those nights that a Pittsburgh television station would take advantage of to scare the tar out of old people with their Super Mega Snow and Ice Destruction Squad weather reports.
The ice:
-Not that the ice at Mellon Arena has been an issue as of late, but we have a feeling there aren't going to be any problems with the quality of the rink tonight given the conditions outside.
-With goaltender Josh Harding nursing a "lower-body" straing, former Wilkes-Barre/Scranton Penguins goaltender Nolan Schaeffer was recalled from Minnesota's AHL affiliate in Houston. He will back up Niklas Backstrom tonight.
-Minnesota put defenseman Tomas Mojzis on waivers this afternoon.
-A few jerseys we have seen:
-We almost hugged this guy in a North Stars jersey:
-Alex Kovalev:
-Sidney Crosby Rimouski Oceanic:
-John LeClair. Sometimes you need to admit defeat and buy a new jersey:
-The jerseys were kind of disappointing tonight. Not a lot of depth.
-Cotton candy heeeee!!!! Cotton candy heeee!!!
-Warm ups:
-There won't be a showdown with Derek Boogaard and Eric Godard tonight. Boogaard is scratched with Minnesota along with Craig Weller, Mojzis and Harding. That's disappointing.
-Mark Eaton and Marc-Andre Fleury are the Penguins' scratches.
-Dany Sabourin and Backstrom will start in net.
-Philippe Boucher's inclusion to the Penguins lineup brings a cheer.
-Does anyone else find it ironic the Penguins would take advertising from BlackBerry?
-That very cool presentation set to The Who's Baba O'Riley to acknowledge the Penguins' blue uniforms is played:
-Jeff Jimerson dominates like no other.
FIRST PERIOD
19:06: From the left point, Brooks Orpik tosses a wrister wide of the cage.
18:42: Jordan Staal streaks in on the left wing and tosses a wrister on net that Backstrom easily gloves.
18:06: Tyler Kennedy fires a wrister from the left boards. Kim Johnsson knocks it down with his stick. Backstrom covers it in the crease.
16:34: Miroslav Satan corals a puck on the left wing, has about 32 minutes to shoot it but his shot is deflected away from an open net.

15:14: Pierre-Marc Bouchard drops a pass for Eric Belanger on the left wing. Belanger fires a wrister that Sabourin knocks down and covers.

14:13: Orpik crashes into Andrew Brunette behind the Penguins' net.
13:55: We get our first stoppage. Perhaps the prospect of a rather boring opponent in the Wild has capped the energy in Mellon Arena, but the crowd here has been rather sedate.
13:29: Sidney Crosby leaves a drop pass for Maxime Talbot in the right faceoff circle. Talbot whiffs on the shot.
12:47: Cal Clutterbuck (a really cool name by the way) slams Alex Goligoski with a nice check behind the Penguins' net.
12:07: Right off a faceoff in the Penguins' zone, the Wild score. The great Mike Zigomanis appears to win the faceoff and then accidently directs it back to his net. The pucks gets under Sabourin and goes in for a goal. Ugh. That was ugly. Andrew Brunette gets credit for the goal. It's unassisted. Wild 1-0.
11:53: The Penguins get it back almost immediately. Jordan Staal brings it into the Minnesota zone, loses it for a moment and tosses a backhander into the crease. It hits a body. Matt Cooke is there to backhand the rebound by a prone Backstrom. Staal and Rob Scuderi get assists. The "Hey Song" is played. Penguins 1, Wild 1.
10:34: The ever dangerous Hal Gill brings the puck up ice and tosses a wrister on net that Backstrom fights off.
9:46: Mikko Koivu tries to jam a loose puck in the crease by Sabourin. Sabourin says no. Scuderi shoves Koivu to the ice for his trouble.
9:29: Boucher shows off one of his skills as he kneels down to block a shot by Stephane Veilleux.
8:00: Staal muscles his way off a check in the corner and drives to the net with a power move. Backstrom knocks out his wrister.
6:37: Kris Letang toses Brent Burns into the boards with a check.
5:47: "LET'S GO PENS! LET'S GO PENS!"
4:46: Johnsson blasts a slapper from the left point that misses the mark.
3:02: Burns chops a slppaer from the point that gets delfected

2:48: Benoit Pouliot blasts a slapper from the left point. A Penguins player blocks it and is a partially stunned after the fact.
2:39: Letang is nabbed tripping.  The great Mike Zigomanis, Staal, Gill and Scuderi are on for the penalty kill. The announcing crew from Versus is welcomed to Mellon Arena by public address announcer John Barbero. The fans at Mellon Arena faithful "welcome" Versus with some booing. Good. To heck with Versus.
1:53: Marek Zidlicky bombs a slapper from the point. It misses the net but hits off the back boards and bounces into the slot. Owen Nolan tries to jump on the rebound but Gill holds him at bay.
0:36: Just as Letang's penalty expires, Koivu drives to the net with the puck but is denied.
0:29: Evgeni Malkin gets behind the defense and streaks on net from the right wing. He shoots low with a wrister that Backstrom kicks out.
0:03: Nick Schultz blasts a slapper from the left point. Sabourin makes the save despite traffic but gives up a rebound. Before any Wild player can do anything with it the clock expires.
0:00: End of period. Joe Satriani's "Crowd Chant" is played. Penguins 1, Wild 1.
FIRST INTERMISSION
-That was a very slow period for each team. The WIld goal happened by accident while Cooke's was a garbage goal. Neither team really pressed the issue.
-This is a very quiet crowd tonight. This is almost 2003-04 season quiet. It's almost as if they gave everyone a shot of Nyquil and said, "The Wild are going to put you to sleep anyway."
-Shots are tied, 9-9.
-Staal, Burns and Koivu all lead the game with two each.
-The Penguins have a 10-6 advantage in faceoffs.
-The great Mike Zigomanis is 4-for-6.
-Gill leads the game with 7:58 of ice time.
-Zidlickly leads the Wild with 7:47.
-Letang leads the game with four blocked shots.
-EN Reader Nick Porto informs us that the Versus announcers have reminded everyone that Jordan Staal is tall three times.
-A scoring change on Minnesota's goal was made. Mikko Koivu was credited with it. It is still an unassisted goal.
-An EN reader needs some help:
"Do you know of any sites streaming the game? My normal fall back of channelsurfing.net is linked to some game that is dubbing over most of the play by play in Spanish. "- Katherine
-If anyone is aware of any sites, can you post them in the comments? Thanks.
SECOND PERIOD
19:38: Staal upends Martin Skoula behind the Wild net.
19:13: Staal gives the puck to Tyler Kennedy on the right wing. Kennedy tosses it into the slot for Cooke who tries to re-direct it on net. He was tangled up with a Wild defender and couldn't get it on net.
18:15: Ruslan Fedotenko fights for the puck with two Minnesota players and manages to get it out to Petr Sykora. From in tight, Sykora snaps a wrister off that Backstrom is able to deny.
18:06: Sabourin scoops up a bouncing puck in the crease that looked a little too "jumpy" for comfort.
17:16: Crosby feeds a puck into the slot for Talbot who puts a wrister on net that Backstrom gloves.
17:14: Right off a faceoff, Zigomanis wins the draw, slides it to Pascal Dupuis who rips a wrister that is gloved by Backstrom.
16:52: Godard crunches Veilleux into the boards.
16:36: Attendance is announced at 16,971. It is a standing room only sellou
16:25: Backstrom covers a loose puck in the crease.
15:53: Cooke pops Colton Gilles along the boards.
15:33: Erik Reitz slams Cooke to the ice behind the Wild net.
15:26: Staal jumps to the aid of his teammate and battles Reitz. We'd tell you more about it but Versus couldn't be bothered to show a clean replay of the fight. They were probably setting up a "Sports Soup" promo. That show is terrible by the way. Good idea, horrible execution. That was Staal's second career fight. The first was last season against Washington's Matt Pettinger:
14:20: Satan sets up a pass for Malkin in the slot for a big one timer. Malkin's blasts totally misses the net though.
13:39: Belanger rips a wrister form the slot that beats Sabourin on the glove side but hits the post. Nolan lunges at the loose puck to try an poke it in. Alex Goligoski appears to interfere with the puck a little bit. The shot hits the other post. Nolan and Goligoski crash into the net and knock it off. Bouchard is there to punch in the rebound but can't since the net is out of place. Crazy little sequence there.
13:36: Right off a faceoff, Schultz blasts a slapper from the right point. Sabourin fights it off.
13:06: Sabourin eats up a wrister from the left wing.
11:35: Malkin swoops behind the Minnesota net and slides a pass through the crease that no one picks up.
10:46: Dupuis slide a pass into the slot for Malkin. Malkin's one-timer flies out of play. It was tough to tell if a Wild player deflected that or not.
10:16: Kennedy works the puck up ice and leave a drop pass just inside the Wild's blue line. Letang steps up and blasts a slapper from the right point that Backstrom eats up.
 9:56: The Penguins turn over the puck in their own end. The Wild pick it up, zip a few passes around. Bouchard is set up with a nice one-timer but whiffs a bit on the shot.
9:23: Cooke passes the puck to the great Mike Zigomanis streaking down the right wing. Zigomanis fires a heavy wrister that clunks off the back boards.an
9:09: Steelers linebacker James Harrison is shown in the stands and gets a nice ovation.
8:49: The WIld get called for too many men on the ice. Cal Clutterbuck (we love that name) serves the penalty. Crosby, Staal, Satan, Goligoski and Malkin are on for the power play.
7:34: Goligoski collects the puck at the left point. Despite traffic Backstrom makes the save.
7:16: Boucher gets his first shot on net as a Penguin. He tosses a wrister on net from the right point. It sneaks through a cluster of bodies up front and gets on net. Backstrom is able to make the save.
6:49: The Wild's penalty expires.
6:26: Koivu chops a puck in the corner towards the net. It rises on him and hits Malkin in the face. Malkin falls to the ice immediately holding his face. Play is halted. Trainer Chris Stewart runs out to attend to him. Malkin lays on the ice for a few seconds before getting to his face. He skates off with a towel on his face. A little blood on the ice is scraped away by an official's skate. 
4:59: The Wild make a poor play playing th epuck out of their own end. Talbot ends up with the loose puck and whips a wrister that Backstrom fights off.
4:40: Orpik tosses a puck at the net. It bounces around before Backstrom covers it. Talbot digs for a rebound. Backstrom takes a swipe at him. Koivu shoves Talbot. Talbot shoves back before officials break it up.
4:20: Talbot winds up and fires a slapper that Johnsson deflects out of play.
3:55: From the slot, Letang snaps a wrister on net that Backstrom fights off.
2:45: "LET'S GO PENS! LET'S GO PENS!"
1:49: Some nifty tic-tac-toe passing out of the Penguins' zone results in Talbot feeding a pass to Crosby in the slot. Crosby snaps a wrister that Backstrom knocks away.
0:47: Brunette blasts a slapper from the slot that Sabourin easily gloves.
0:33: Cooke smacks Schultz along the boards. Cooke has been active with the hits tonight.
0:18: A wrister by the great Mike Zigomanis is deflected away.
0:02: Burns swoops behind the net with a puck and feeds it into the crease. No one is there to take it but Reitz is able to pick it up and fire a wild wrister from the right point that juuust misses the cage.
0:00: End of period. Penguins 1, Wild 1.
SECOND INTERMISSION
-Both teams pressed the issue a bit more that period, but each still seem a little hesitant to really open it up.
-Thank goodness the Penguins only have to play this team once during the regular season. Thank goodness we have teams like the Devils who play wide open hockey to watch multiple times in the Atlantic Division... wait...
The Penguins have an 18-17 edge in shots.
-Koivu leads the game with three shots.
-Dupuis, Staal, Sykora, Cooke, and Letang each have two.
-Faceoffs are even, 19-19.
-The great Mike Zigomanis is 8-for-11.
-Johnsson leads the game with 16:42 of ice time.
-Orpik leads the Penguins with 13:37.
-Boucher is showing off his game already. He leads the game along with Letang and Johnsson with four blocks.
 -We hate to point out someone else's mistakes, we certainly make more than a few with EN, but this is too much to pass up. Apparently someone at Yahoo! feels Dany Sabourin is playing goal without any equipment tonight:
(Kudos to EN commenter "WendyC" for the heads up)
-Who new Darryl Sydor meant so much to the Penguins' defense?
-Since Versus couldn't offer a replay, someone already has a video of Staal's fight up on YouTube:
-As the team's emerge from their locker rooms, Malkin steps on to the ice to cheers. The video we had wasn't clear, but it looked like he had a little stitch-work on his upper lip.
THIRD PERIOD
19:41: Antti Miettinen plays a puck to Veilleux who directs it on net. Sabourin has a little trouble with it. The puck bounces in the crease before a teammate plays it away.
18:27: Nolan whips a backhander on net from the left wing. Sabourin scoops it up.
18:07: Skoula tosses a puck on net from the left point. It appears to hit a body and deflects away.
17:38: Satan directs a puck into the slot. Crosby is there to re-direct it towards the net but puts it wide.
16:51: Schultz strikes a shot from the right point. Backstrom gloves it.
16:20: Cooke drives Gilles into the boards with another check.
16:01: Brunette is called for hooking. Sykora, Crosby, Malkin, Fedotenko and Goligoski are on for the man advantage.
14:47: Goligoski zips a shot/pass to Sykora. Sykora tries to re-direct it on net but it misses the mark.
14:19: Malkin blasts a slapper from the left point that gets deflected into the netting.
14:01: Brunette's penalty expires. The Penguins did a nice job controlling the puck that power play but did little to get any shots on net.
13:25: Marc-Andre Bergeron blasts a slapper that hits Letang and drops the Penguins defenseman. He's stunned for a bit but recovers to his feet.
13:16: Sabourin is called for delay of game. Kennedy will serve the penalty. Gill Scuderi, the great Mike Zigomanis and Staal are on for the kill.
12:15: Boucher has been impressive in his debut. He has a few blocks and now he's taken out an official. Attempting to clear the puck, he rifles a wrister that hits linesman Steve Miller in the leg... err... "lower body." Miller is on the ice in pain for several minutes. Stewart comes out to attend to him. He's been a busy man tonight. Miller recovers to his feet and gets a polite applause from the fans in attendance. Very classy. Miller appears to shake it off and resumes his duties. He's a gamer. Hopefully that won't hurt his ability to play "The Joker:"
11:15: Sabourin's penalty expires. The WIld have very little going on that power play.
10:25: Bouchard blasts a slapper that Talbot squares up on and deflects away.
10:30: Goligoski rips a wrister from the slot that hits a body in front and deflects a way.
9:41: Goligoski blasts a slapper from the left point. Backstrom makes the save and hangs on to dear life to prevent a rebound. Satan is there hoping for a rebound but Backstrom isn't giving one up. A few fans chant, "Baaaaack-Strummmm.... Baaaaacckk-Strummmm..."
9:30: We're going to go out on a limb here and proclaim that the next goal wins.
9:14: Koivu snaps off a wrister from in tight. Sabourin kicks it out.
8:36: Is it us or does Owen Nolan give you a little David Morse, the actor who played George Washington in "John Adams?"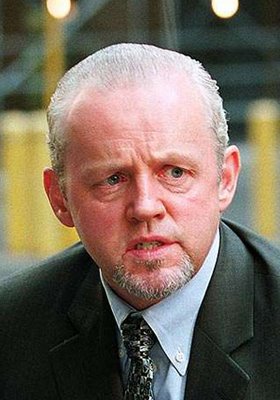 8:03: Staal cruise down the left wing and whips a wrister on net. Backstrom easily gloves it.
7:11: While we were looking up a picture of David Morse, Zidlicky did something that apparently deserved him going to the box for two minutes for interference. Crosby, Malkin, Staal, Goligoski and Boucher are on for the power play.
6:25: Off a rebound Malkin does a "back kick" to Staal who can't quite put a shot by Backstrom. Nifty play by Malkin there.
5:06: As Zidlicky's penalty expires, Cooke throws another check. This time he catches Schultz behind the Wild's net.
4:44: With a stoppage, lots of folks begin to head to the exits. Granted, this has been rather boring, but it's a tie game with less than five minutes left. Why even buy the ticket?
3:58: The ever dangerous Rob Scuderi collects a loose puck at the right point, fakes a slapper and dishes a feed to Malkin on the side of the cage. Malkin can't handle it cleanly and the puck gets away from him.
3:02: Nolan steals a puck in the Penguins' zone and pushes a wrister wide of the cage. He needs to get that on net at least.
1:57: Crosby glides down the left wing and tosses a pass into the crease for Satan. He can't get a stick on the puck.
1:25: Dupuis blasts a slapper from the left wing that Backstrom fight off.
1:03: Malkin hammers a slapper from the right wing that hits the side of the cage.
0:16: Koivu gets a pass in the slot and rifles a wrister that Sabourin kicks out with his right leg. Huge save there.
0:00: End of period. Penguins 1, Wild 1.
THIRD INTERMISSION
-The Penguins have a 24-23 edge in shots.
OVERTIME
4:50: The period begins with "Baaaackkk... Struuummm... Baaaaccckkk...Struuummm..." chants.
3:48: With Goligoski trapped up ice, Koivu gets behind the defense, fights off a poke check from Boucher and rips a wrister that Sabourin kicks out. A Penguins defender sweeps the rebound away.
3:24: Malkin comes up ice one-on-one with a defender and attempts a shot or a pass. He whiffs a bit on it and Backstrom shuffles it away.
1:37: Skoula tosses a wrister on net from the left wing. Sabourin knocks it down and covers it.
1:28: Burns is called for high sticking. He actually got his blade up on two Penguins there. It's still one penalty. Boucher, Crosby, Maklin and Staal are on for the power play.
0:50: Crosby directs a shot on net from the top of the slot. Backstrom kicks it out despite traffic.
0:32: Crosby controls the puck at the top of the slot again and zips a pass to Staal by the side of the cage. Staal's re-direct is off the mark.
0:00: End of period. Penguins 1, Wild 1.
FOURTH INTERMISSION
-Van Halen's "Right Now" is played:
SHOOTOUT
-Sykora is first. He glides in, dekes a few times and puts a backhander on that Backstrom holds out.
-Zidlicky comes down the middle, dekes to forehand and slides it by Sabourin on the glove side.
-Goligoski weaves down the middle, dekes a few times and is denied on the forehand.
-Miettinen comes right down the middle, shoots a wrister and is stopped by Sabourin's glove.
-Crosby needs to score to keep this going. He comes up ice and shoots a rather unimpressive wrister on the stick side that Backstrom easily kicks out. End of shootout. Wild 1, Penguins 0. End of game. Wild 2, Penguins 1.
POSTGAME
-Bruce Hornsby's "The Way It Is" plays disappointed Penguins fans off to the streets:
-Well that was horrible to watch. There really isn't any other way to put it. The Wild are boring team to watch. But they're good at what they do. They play defense about as well as anyone else in the league. They were able to come in here and really put the clamps down on a potent Penguins offense.
-Watching this team in person for the first time ever puts us in awe of the Wild's fan base. They have sold out pretty much every game in that franchise's existence and have done so despite watching this ugly brand of hockey. We don't care if they've been a pretty winning organization for a few seasons now, this is not entertaining to watch. The Wild might have the most loyal fans in all of the NHL.
-We're not putting down the Wild's ability to win mind you. It's very effective. We're just saying it's not very entertaining.
-Backstrom and Sabourin were solid, but it would be stretch to say they were tested a great deal.
-Boucher looked very solid in his debut. He didn't look out of place and seemed very comfortable with his new teammates. That said, the Penguins are 0-0-1 in the Philippe Boucher era. Fire Ray Shero.
-Cooke had a pretty solid game. Even without the goal, he was very active in terms of throwing his body around.
-Staal also had a very strong game. He just seemed very active if that makes sense.
-Staal's assist pushed him past the immortal Milan Kraft for 89th place on the franchise's scoring list. Each player has 82 points but Staal has 48 goals to Krafts' 41.
-Even before his facial injury, Malkin seemed off. His shots were missing the mark and the Wild seemed to be able to deflect quite a few of them.
-Malkin's 13-game point-scoring streak came to an end.
-As a commenter mentioned below, did anyone see Petr Sykora or Miroslav Satan?
-Shots were even, 25-25.
-Staal and Koivu led the game with five each.
-Boucher and Letang led teh game with six blocked shots each.
-Johnsson led the Wild with four.
-The Penguins controlled faceoffs, 32-24.
-Pouliot was tops going 5-for-6.
-The great Mike Zigomanis was 10-for-14.
-Johnsson led the game with an impressive 29:56 of ice time. That's a Lidstromian total. (Does that makes sense?)
-Crosby led the Penguins with 24:02.
-If you thought the Penguins' power play was having trouble, the Wild managed only one shot with a man advantage tonight.
-The Penguins' last loss while wearing blue was a 6-4 loss to the Bruins, Jan. 26, 1980.
-Highlights. (So to speak.)