About the Canucks - 11-22-08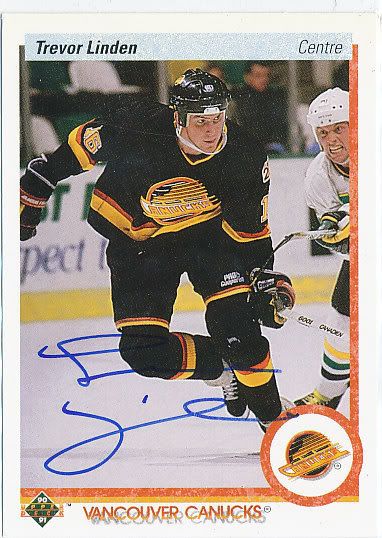 NOTE: We are having massive technical problems this afternoon and are unable to post anything live. We are maintaining a "live" blog on a Word document and will post it ASAP. Our apologies for the mishap.
A preview of the Canucks.
Record: 12-6-2

Leading Scorer: Henrik Sedin, 18 points (3 goals, 15 assists). His twin brother, Daniel, is second with 16 points (8 goals, 8 assists).

Last Game: 3-2 road win against the Wild Thursday.

Last Game against the Penguins: 2-1 home shootout loss, Dec. 8, 2007. Shootout goals by Erik Christensen and Kris Letang won the game.

Canucks Player We Would Bet Money On Scoring: Can we pick Roberto Luongo? Arguably no other player in this league means more to his team.

Ex-Penguins: Nolan Baumgartner, D.

Useless Canucks Trivia: With 309 career points as a Canuck, Mattias Ohlund is 13 points away from passing Jyrki Lumme (321) as the franchise's all-time leader in points by defensemen.
Bonus Useless Canucks Trivia: The term "Canuck" is slang to describe a native of Canada. Ironically enough, a Canuck hasn't led the Canucks in scoring since the 1991-92 season when Trevor Linden (above, right) had 75 points. Since that time, two Russians (Pavel Bure and Alexander Mogilny) and three Swedes (The Sedins and Markus Naslund) have all led Vancouver in scoring.

Best Canucks YouTube Video We Could Find: Current Penguins forward Matt Cooke scoring a game-tying goal with five seconds left against the Flames in Game 7 of a first-round playoff series in 2004:
NOTES:
-Our live blog begins at approximately 1 p.m. Please tune in.
-The Penguins are off to their second-best start in team history.
-Ryan Whitney has resumed practicing.
-Matt Cooke is playing his former team for the first time since being traded to Washington last season.
-Some have begun calling the Canucks' top line of Pavol Demitra, Henrik Sedin and Daniel Sedin, the "phD Line.
-We have a feeling "The Sedins are twins" is the "Staals are brothers" of the Northwest Division.
-Canucks assistant coach Rick Bowness is neighbors with Sidney Crosby in the offseason.
-Canucks defenseman Sami Salo was sent home due to a groin injury.
-Is this game about Roberto Luongo (right) vs. Sidney Crosby?
-If a 2 p.m. start is a bit of a shock to your system, just think of what it's like for the fans in Vancouver who will be watching the game at 11 a.m. PDT.
EMPTY NETTER ASSISTS
Penguins
-Former Penguins defenseman Peter Taglianetti get nervous watching his son playing football for Pitt.
-Ray Shero likes penguins.
-Shootout goals by Mark Letestu and Janne Pesonen gave the Wilkes-Barre/Scranton Penguins a 3-2 win at Grand Rapids. Adam Berkhoel made 35 saves in the win.
-Berkhoel had his shutout streak end at 202:44, 47 minutes short of the AHL record.
-EN contributor Eric Politowski put together a highlight package from this game:
-Nick Johnson had two goals for the Wheeling Nailers in a 4-3 shootout loss at Cincinnati.
-Do the Penguins still need a scoring winger? This guy named Aleksey Morozov, considered by some to be the highest paid player in the world, had five goals yesterday for his KHL team, Ak Bars Kazan.
Atlantic Division
-Three assists each by Jamie Langenbrunner and Zach Parise helped the Devils top the Islanders, 5-2. Kevin Weekes made 25 saves and recorded his 100th career win.
-Check out this shot to the head New Jersey's Mike Mottau stuck on New York's Frans Nielsen last night:
-Islanders forward Bill Guerin called for Mottau's suspension. He's right. It's a blow to the head. The NHL has made it pretty clear those won't be tolerated.
-Devils forward John Madden is dealing with a foot injury.
-With Madden hurt, forward Barry Tallackson took his place. It was Tallackson's first game since having heart surgery Sept. 26.
-Martin Biron made 40 saves for the Flyers in a 3-0 win at Buffalo. Jeff Carter had two goals and one drowned puppy for Philadelphia.
-Flyers forward Mike Knuble isn't exactly sold on the idea of free agent forward Brendan Shanahan joining his team.
-Shanahan is still looking for work.
-After watching this commercial, it's become obvious that the Penguins needed some Islanders Ice Girls on hand when their Zamboni bled to death last season:
Northeast Division
-Patrice Bergeron and Marc Savard each had a goal and an assist for the Bruins in a 4-2 win against the Panthers.
-Sabres coach Lindy Ruff benched forward Maxim Afinogenov and defenseman Henrik Tallinder last night. Forward Mark Mancari was recalled from Portland of the AHL and was inserted into the lineup along with defenseman Nathan Paetsch.
-Montreal defenseman Mike Komisarek will miss at least another month due to a shoulder injury.
-The Canadiens will retire the jersey of former goaltender Patrick Roy (above) tonight.
-The 10 most colorful moments of Roy's career.
-Not to be outdone, the Maple Leafs will honor the number of former forward Wendel Clark tonight as well.
-Senators forward and former Penguin Jarkko Ruutu wants to be a crocodile hunter. Mick Dundee not impressed.
Southeast Division
-Hurricanes forward Eric Staal broke an eight-game goal drought and recorded his fifth career hat trick in a 5-2 defeat of the Coyotes.
-Former Penguins forward Rick Tocchet got his first win as the Lightning's coach in a 4-1 defeat of the Predators. Vincent Lecavalier (right) had two goals for Tampa Bay. Former Penguins forwards Ryan Malone (three assists) and Mark Recchi (one goal) also contributed.
-The Thrashers put goaltender Kari Lehtonen on injured reserve and recalled forward Joey Crabb from Chicago of the AHL.
-Crabb was basically recalled to replace forward Todd White who had his bell rung by Penguins defenseman Kris Letang Thursday.
-Capitals owner Ted Leonsis broke Facebook.
-Just in case there were any doubts, James Mirtle explains Washington forward Alex Ovechkin isn't a fighter.
-The NHLPA filed a grievance against the Capitals after one of it's members was denied access to the team's locker room.
-Lightning forward and former Penguin Gary Roberts is dealing with an "upper-body" injury.
-Steve Downie or the Norfolk Admirals, the Lightning's AHL affiliate, was suspened by the AHL for three games for hitting Worcester Sharks defenseman Kyle McLaren from behind.
Central Division
-Lee Stempniak's overtime goal gave the Blues a 3-2 win against the Ducks.
-As you can see, Stempniak (right) and the Blues debuted their new third jerseys last night.
-The Predators aren't exactly happy with forward David Legwand.
-Red Wings coach Mike Babcock is a good human being.
-Blackhawks forward Ben Eager is getting more playing time.
-The Blue Jackets are getting some offense from their blue line.
-Columbus forward Raffi Torres isn't happy with his play.
Northwest Division
-Avalanche forward Marek Svatos is dealing with an abdominal injury. Also Colorado reclaimed forward Jesse Boulerice off waivers from the Oilers.
-Wild forward Pierre-Marc Bouchard is having trouble scoring goals.
Pacific Division
-Because things have gone so well already for the Stars this season, captain Brenden Morrow, arguably the team's best player, will miss the rest of the season due to a knee injury. To replace Morrow, Dallas recalled former Penguins forward Landon Wilson from Grand Rapids of the AHL.
-The Coyotes put forward Daniel Winnick on injured reserve due to a midsection injury and recalled forward Enver Linsin from San Antonio of the AHL.
-The Sharks unveiled their new third jersey:
-Remove that stupid "SJ" on the shoulder and that's a halfway decent jersey.
-That said, the Sharks have pretty much gone down hill every since they abondoned this look:
-And we move one step closer to advertising on jerseys. The Sharks have actually sponsored the name of their third jersey.
-Kinds of odd statistic of the day: The Capitals have never beaten the Sharks in the 21st century.
-Assuming he starts tonight, there's a good chance San Jose goaltender Brian Boucher will probably not give up a more spectacular goal to Washington's Alex Ovechkin than the one he did three seasons ago:
-Ducks forward Bret Hedican played in his 1,000th career game last night. Ironically enough, it was against his first NHL team, the Blues.
-Anaheim forward Bobby Ryan hates Iowa.
Adams Division
-Former Ducks coach Gordon Bombay apparently jacked a Subway in Maryland.
-Which is more popular: The NHL or NBA?
-Sean Leahy of Yahoo! rounded up the greatest NHL commercials of all time. Our favorite might be this one involving Penguins goaltending coach Gilles Meloche while he was a Minnesota North Star:
(Photos: Linden-Photobucket; Luongo-Kim Stallknecht-Getty Images; Roy-TSN; Lecavalier-Doug Benc/Getty Images; Stempniak-Jeff Roberson/Associated Press; Sharks-San Jose Sharks)