Picture this - 11-25-08
We've stated this before, but one of the more satisfying aspects of doing EN is the eagerness of readers to do our work contribute.
Today's post is perfect evidence of that as several readers have sent us some photos from this past weekend.
First up is Tony Napoleone of Baltimore who made the trek north to catch Saturday's Penguins game against Vancouver:
-Tony had a good view of Matt Cooke's fight with Vancouver's Jannik Hansen:
-Rick Riegler of Akron, Ohio went to Sunday's Wilkes-Barre/Scranton Penguins game against the Lake Erie Monsters in Cleveland a was kind enough to send some photos our way as well:
-Not to be outdone, Lisa Bohm, who has pretty much established the art of EN photo contributions, was also in Cleveland for Sunday's game:
Since quite a few of you have asked, you can send us your photos to srorabaugh (AT) post-gazette.com. If that doesn't work, hit us up at empty_netters (AT) yahoo.com.
EMPTY NETTER ASSISTS
Penguins
-Marc-Andre Fleury is still dealing with whatever is wrong with him.
-Michel Therrien switched up the power play.
-Does Dany Sabourin deserve a long-term deal?
-With a three-day break, Brooks Orpik apparently took the initiative to hunt wild turkeys on his own and distribute them to young children:
-Loans are being pursued to cover the increase in expenses for the new arena.
-The Pensblog spotted the latest episode of Yinz Luv 'Da Guins:
-Experiencing the Evolution spotted some new wallpapers on the Penguins' Web site.
-Jonathan Bombulie of the Wilkes-Barre Citizens voice has a new home for his AHL Penguins blog. Check it out.
-Speaking of new Web homes, a few of you have contacted us with new address for old blogs or new blogs in general for our blogroll. We have been very lazy in maintaining that and we are putting out a public call for any updates or additions. Hit us up at either of the e-mail addresses listed above.
Atlantic Division
-Shootout goals by Bill Guerin and Richard Park gave the Islanders a 4-3 win at Montreal.
-The only reason the Islanders even tied this game was this goal Montreal's Ryan O'Byrne "scored" for the Islanders on a delayed penalty:
-Wow. Is that brutal. Even Nicklas Backstrom is impressed.
-New York's Bill Guerin officially got credit for the goal.
-Nikolai Zherdev had three assists for the Rangers in a 4-1 defeat of the Coyotes. Scott Gomez returned the lineup after missing five games due to an ankle injury and scored a goal. Phoenix has lost six games in a row.
-Mike Knuble's two goals helped the Flyers edge the Stars, 4-3. The Flyers have won five consecutive games.
-The Rangers recalled forward Patrick Rissmiller from Hartford of the AHL.
-The Patrik Elias-Brian Gionta-Dainus Zubrus has been clicking for the Devils.
-Gionta (right) likes his Metallica.
-New Jersey goaltender Scott Clemmensen has already matched his career-high for wins.
-The Finnish government officially recognized the Flyers for having the most players from that country on an NHL roster. And for puppy-drowning.
-We're hardly kind to the Flyers in this forum, but you have to give Flyers overlord Ed Snider props for stepping in to fund some rinks in Philadelphia that the city threatened to close.
Northeast Division
-The Maple Leafs acquired forward Lee Stempniak from the Blues in exchange for defenseman Carlo Colaiacovo and forward Alexander Steen.
-Maple Leafs coach Ron Wilson wasn't exactly a fan of Colaiacovo or Steen.
-Toronto is having trouble with its goaltending.
-The Bruins officially unveiled their new third jerseys:
-We've said this before, but if this were any other team, that's a fine jersey. The logo is solid. But the Bruins need to have the Hub on their chest. It's just one of those things in life that just have to be. Like gravity pulling things down and water being wet. Just ask Cam Neely and Ray Bourque: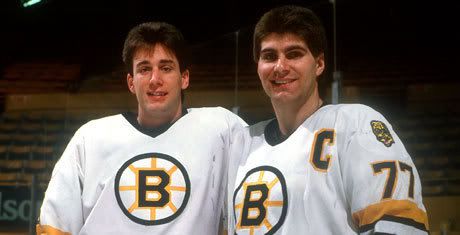 -On a related note, can anyone explain why we got this warning from Photobucket when we did a search for "Cam Neely?"
-And why is "DOES NOT" surrounded by quotation marks?
(Kudos to EN commenter "scottauth" for showing us how to capture screen shots.)
-Bruins forward Marco Sturm is dealing with an "upper-body" injury.
-Sabres forward Mark Mancari is showing the Sabres he's ready to be in the NHL.
-When exactly did the Senators become a bad team?
Southeast Division
-Ville Peltonen had a goal and an assist for the Panthers who edged the Hurricanes, 3-2.
-Josef Melichar actually hurt someone with a check. No really. The Hurricanes defenseman and former Penguins pylon injured the arm of Panthers forward Richard Zednik last night.
-With forward Patrick Eaves dealing with an "upper-body" injury, Carolina recalled Patrick Dwyer from Albany of the AHL on an emergency basis.
-Former Hurricanes and Penguins forward Matt Murley was "officially" cleared to play in the KHL by the IIHF.
-Panthers forward Wade Belak (right) cleared waivers and rejoined his team. Additionally, defenseman Nick Boynton is dealing with a concussion.
-Wild owner Craig Leipold wants President-elect Obama to get Capitals tickets. And to sell them to Penguins fans we assume.
-Capitals coach Bruce Boudreau was selected for enshrinement into the AHL Hall of Fame.
-Washington forward Chris Clark is trying to regain his scoring touch.
-Capitals defenseman Jeff Schultz is dealing with a broken finger.
-The Thrashers need to get more shots on net.
-Lightning coach Rich Tocchet said he learned how to manage a game from former Penguins coach Scotty Bowman.
Central Division
-Some folks in St. Louis aren't exactly thrilled with the Stempniak trade.
-Blue Jackets rookie forward Jake Voracek is dealing with the daily grind in the NHL.
-The Predators survived what was possibly the toughest part of their schedule winning record.
-Nashville recalled forward Antti Philstrom from Milwaukee of the AHL.
-Do the Red Wings need to give goaltender Chris Osgood (right) more rest and use Ty Conklin more often?
Northwest Division
-Sami Salo's overtime goal gave the Canucks a 3-2 win against the Red Wings. Backup Canucks goaltender Curtis Sanford made 32 saves filling in for the injured Roberto Luongo. Vancouver has four consecutive wins.
-Luongo was officially diagnosed with an adductor muscle strain and is week-to-week.
-Cal Clutterbuck's two goals helped the Wild hold off the Capitals, 3-2.
-As if he hasn't had enough injury problems this season, Colorado forward Joe Sakic is dealing with a root canal.
-Colorado defenseman and former Duck Ruslan Salei, played his first game in Anaheim since leaving there in 2006.
-Forward Curtis Glencross is making an impact on the Flames' third line.
Pacific Division
-Teemu Selanne's two goals helped the Ducks beat the Avalanche, 4-1.
-Kings forward and Pittsburgh native John Zeiler was suspened three games for checking Colorado forward Adam Foote from behind. Three games? Colin Campbell, the NHL's discipline czar, should be wearing clown shoes when he doles out these "punishments." We guess the NHL is back to waiting until someone's career is really ended like Colorado's Steve Moore's until it gets serious with suspensions.
-Just what the Stars need: Another injury to a key player. Forward and antagonist Steve Ott will be out at least a month due to a hand injury. Is it too early to start printing those John Tavares jerseys?
-Stars forward and former Penguin Landon Wilson scored his first NHL goal since the 2003-04 season last night. Another former Penguin, Darryl Sydor had the assist.
-The last NHL game that saw Wilson score a goal was a 4-1 Penguins win against the Capitals at Mellon Arena, March 16, 2004. Ric Jackman and Lasse Pirjeta each had two assists. Sebastien Caron made 20 saves in the win.
-The Coyotes are relying on Wayne Gretzky to make the great.
-Despite being among the league leaders in scoring, Sharks forward Devin Setoguchi (right) isn't taking his opportunities for granted.
-San Jose goaltender Evgeni Nabokov is expected to return to the lineup Wednesday after missing nearly three weeks with an apparent leg injury.
Federal League
-Slap Shot 3?!?! Dear Lord no.
-Another of Patrick Roy's kids was suspended for assaulting an opponent.
-Dave Stubbs of the Montreal Gazette put together a pretty good piece on vintage goaltenders masks.
(Photos: Orpik-Andy Starnes/Post-Gazette; Gionta-Bruce Bennett/Getty Images; Bruins-Boston Bruins; Neely/Bourque-Photobucket; Belak-Doug Benc/Getty Images; Osgood and Setoguchi-Christian Petersen/Getty Images)

Join the conversation: