Penguins 4, Sabres 3 - 12-22-08
You are reading live from our locker room. Seeing the weather in Buffalo, we'll gladly take the bitter cold here in Pittsburgh over tons of snow.
-We're expecting that cruddy Drambouie booze to win out over Sports Soup in terms of number of commercials tonight.
-We've never had Drambuie, but given that we've only ever seen it advertised on Versus, we're not expecting to to be top shelf type of stuff.
-Martha Stewart interviews Sidney Crosby:
-The Penguins will scratch Ryan Stone and the great Mike Zigomanis. What ever happened to Zigomanis' injury not being serious?
-Buffalo's scratches are Paul Gaustad, Patrick Kaleta and Nathan Paetsch.
-Marc-Andre Fleury and Ryan Miller are the starting goaltenders.
-We're sensing that Bod body spray commercial will be old by the first commercial stoppage.
 FIRST PERIOD
19:00: Off a faceoffs, Daniel Paille whips a wrister from the right point that appears to deflect off Philippe Boucher's left skate and behind Fleury. Yuck. What a terrible way for the Penguins to start. Teppo Numminen and Adam Mair get assists. Sabres 1-0.
18:10: Miller fights off a deflection by Petr Sykora.
17:50: Miroslav Satan, a former Sabre, gets booed as he touches the puck.
16:47: Mark Eaton tees up a slapper from the left point. His shot gets deflected away.
15:29: Fleury collects a loose puck near his net.
14:13: Teppo Numminen makes a terrible pass into the slot to... Matt Cooke. Cooke takes it, winds up and hammers a slapper that's off the mark. It hits the back boards and bounces out towards the net where Miller covers it up. The Sabres got away with one there.
13:15: Crosby dishes a pass to Satan in the slot. Satan rifles a one-timer which Miller is in perfect position for. He eats it up. Coming back from commercial, Versus shows video of the Penguins doing a hospital visit for sick kids. Amazing enough, the Versus announcers don't point out how much better the Flyers are at visiting sick kids.
10:40: Miller covers a loose puck in the slot after a few minutes of slow play.
9:52: Crosby zips a cross-ice pass to Eaton at the left point. Eaton pushes a shot on net. Miller makes the save. Satan is right there for the rebound but Miller kicks out his shot.
9:24: Miller covers another deflection by Sykora. "The Spirit" seems like a pretty cool movie, but we're getting the feeling we'll be sick of it just based on the 40,923 we're bound to see tonight. Martha Stewart interviews Sabres coach Lindy Ruff with some guy in an ugly aqua-colored striped shirt looking on in the background:
7:16: Eaton loses the handle on a puck at the left point. Maxime Afinogenov takes it off him and pushes it up ice. Eaton and Kris Letang converge on him and deny the Sabres forward a breakaway.
7:03: A shot by Derek Roy is blocked by Eaton.
6:57: Fleury denies a shot from in tight.
6:00: Brooks Orpik is called for interference. Good call. The puck was loose and he pinned Clarke MacArthur against the boards.
5:37: Thomas Vanek dishes a great pass to Roy on the other side of the crease. Roy has an empty net to punch it into but he can't control the puck.
5:05: Staal pushes the puck up ice and gets a shorthanded shot on net. Miller says no.
4:00: Orpik's penalty expires.
3:25: Orpik lobs a wrister from the left point. Miller punches it away with his blocker.
3:10: During a commercial break, the NHL's fine Winter Classic commercial is played:
2:45: Drew Stafford hammers a slapper from the right wing. Fleury kicks it out. Rob Scuderi plays away a rebound before a Buffalo player can jump on it.
1:05: Ruslan Fedotenko fires a quick slapper. Miller eats it up.
0:11: Afinogenov grabs a loose puck at the Penguins' blue line and tosses it towards the net. It hits a body and deflects away.
0:00: End of period. Sabres 1, Penguin 0.
FIRST INTERMISSION
-Other than a lucky goal by Buffalo, that was a pretty even period. Neither team really pushed the issue a great deal  which is kind of surprising given the offensive talent on each squad. The effort was a lot better for the Penguins compared to Saturday's game.
-The Jordan Staal-Cooke-Maxime Talbot line looked pretty sharp.
-We edited it up above, but Numminen and Mair eventually got assists for the Buffalo goal.
-The Penguins had a 11-7 edge in shots.
-No player has more than two.
-Faceoffs are even, 11-11.
-Crosby leads the Penguins going 7-for-8 (88 percent).
-Mair is tops on Buffalo going 3-for-4 (75 percent).
-Jaroslav Spacek leads the game with 8:20 of ice time.
-Eaton leads the Penguins with 8:00.
-Orpik leads the game with two blocked shots.
-Martha Stewart interviews actor Josh Lucas: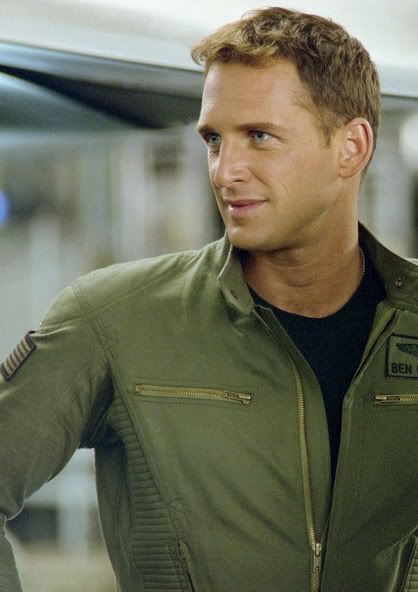 "Lucas" mentions that the ice is a little choppy.
SECOND PERIOD
19:39: Satan is sent to the box for tripping.
19:21: The Sabres run their own version of the "Whitney Play" to Spacek on the back door. Fleury is able to slide over and deny Spacek.
18:50: Vanek accidently blocks a high slapper by Roy.
18:40: Vanek is robbed by Fleury. We'd love to tell you more about this save but Versus felt it would be better to show a promo for "The Contender."
17:40: Evgeni Malkin steals a puck at the Penguins' blue line and pushes it up ice. Andrej Sekera chases him down to prevent a breakaway.
17:15: Philippe Boucher fires a slapper wide of the cage.
16:12: Tim Wallace outworks a Sabres player for a puck behind the net. That results in a scoring chance. Wallace fires a shot just wide of the cage.
14:37: Ales Kotalik gets set loose with a pass at the Penguins' blue line and creates a breakaway. He bears down on net and rips a wriste rby Fleury on the glove side. That was some awful defense. Paille and Mair get assists. Sabres 2-0.
13:42: The Penguins' get it back almost immediately. Orpik clears the puck around the boards to Satan. Satan dishes a pass from right wing into the slot for Dupuis who burns Miller with a rising wrister. Nifty pass and nifty shot. Satan and Orpik get assists. Sabres 2-1.
12:46: Fleury pushes away a shot by MacArthur. Malkin is called for tripping.
12:18: Sekera tosses a shot on net. A body in front deflects it away.
11:58: Fleury comes up with two big saves on Vanek. Versus again fails to show a replay.
11:40: A shot by Roy is blocked by Eaton and deflected out of play.
11:06: A blast by Jason Pominville hits Jochen Hecht in front of the cage. Hecht immediately leaves the ice and heads to the locker room.
10:46: Malkin's penalty expires.
9:48: From the corner, Malkin dishes a pass to a trailing Sykora. Sykora moves in and tries to jam a puck by Miller. Miller holds the door shut.
9:42: Off a faceoff, Satan throws a wrister wide of the net.
9:18: Crosby dishes a pass to Letang in the slot on a three-on-two. Letang rifles a wrister that's off the mark. He needs to get that on net. Of course Versus shows a replay of that. A missed shot. Solid saves don't garner replays but a missed shot does? We suppose it's better than a Sports Soup promo.
7:37: From the right wing, Malkin slides a pass to Goligoski at the left wing. Goligoski rips a wrister though traffic that appears to perhaps tipped by Miller on the far side. It's a fantasic shot either way. For the moment, it's Goligoski's goal while Malkin and Fedotenko get assists. Penguins 2, Sabres 2.
6:36: Fleury keeps a shot by MacArthur out with his stick.
6:25: Fleury fights off a wrister by MacArthur.
6:45: Journey's "Any Way You Want It" is played during a stoppage:
5:25: Miller denies Wallace in tight.
5:14: Andrew Peters and Eric Godard decide to "fight." All that goes on is more hugging than at your family's Christmas party. A few punches are thrown but it ultimately ends when Peters pretty much bodyslams Godard. Lame fight. These two had a much better tilt a few seasons ago when Godard was a member of the Islanders:
-Godard gets two minutes for boarding as well.
4:02: Kotalik tosses a shot on net from the slot. Fleury makes the inital save. MacArthur is right there on the doorstep untouched. He collects the rebound and punches it behind a helpless Fleury. Fleury could've maybe managed the rebound better, but his defense completely failed him there. That's the second consecutive games the Penguins have given up goals following penalties by Godard. Kotalik and Numminen get assists. Sabres 3-2.
2:47: Kotalik rips a wrister high off the mark.
2:13: Letang is shown on the bench in some pain. Replays show him getting hurt possibly while blocking a shot in the slot.
1:25: Goligoski clears a puck up ice around the boards. The Penguins were looking sloppy and chasing the Sabres for about 30 seconds in their own end.
0:50: Miller covers a loose puck in the slot.
0:43: A shot by Malkin is blocked by Tallinder and sent out of play.
0:28: Letang slams Roy against the boards at the red line.
0:20: After denying a wraparound, Fleury snags a wrister from in tight by Matt Ellis. Where was the defense on that play?
0:00: End of period. Sabres 3, Penguins 2.
SECOND INTERMISSION
-The Penguins were a little bit more aggressive offensively the but their defense was really poor that period. They allowed the Sabres far too many uncontested opportunities.
-The Penguins still need to push the issue on offense a bit more. There's a reason they haven't had a power play in this game. They aren't challenging Buffalo's defense and potentially drawing penalties.
-Oprik was eventually given an assist for Dupuis' goal.
-Buffalo has a 22-17 lead in shots.
-MacArthur leads the game with five shots.
-Letang leads the Penguins with three.
-Buffalo has a 24-23 edge in faceoffs.
-Mair leads Buffalo going 5-for-7 (71 percent).
-Crosby is tops on the Penguins at 11-for-15 (73 percent).
-Spacek leads the game with 15:45 of ice time.
-Dupuis is tops on the Penguins with 15:20.
-Eaton and Orpik lead the game with three blocked shots.
-Spacek, MacArthur and Tallinder lead Buffalo with two each.
THIRD PERIOD
18:37: Dupuis leaves his feet to hit a Sabres player behind the Buffalo net. No call.
18:11: Boucher is sent off for hooking Roy.
17:01: Dupuis tips away a pass to the point and out of the Penguins' zone.
16:39: Fleury fights off a shot by Roy.
16:22: Pominville blasts a slapper on net. Fleury makes the save. Vanek, Roy and Stafford have about 104 chances at the rebound before Fleury covers it. Where's the defense?
16:15: Fleury fights off as hot by Tallinder.
16:11: Boucher's penalty expires.
15:48: Malkin hammers a slap-pass for Crosby. Crosby can't quite get a stick on the puck.
15:24: Fleury denies Stafford again.
14:34: Chris Butler dumps Wallace with a nice check along the boards.
13:36: Cooke steals a pass and whips a shot on net. Spacek is there to block it away.
12:58: Paille generates a scoring chance but appears to fan on the shot.
12:09: Miller covers a shot in the slot. These Bod commercials need to go.
10:44: Pominville dumps Sykora in the corner with a nice check.
9:47: Goligoski works the puck into the corner and dishes it to Satan in the slot. Satan's shot  goes wide.
9:25: Paille socks Goligoski in the face in the Penguins' zone. That's two minutes for roughing. The Penguins could use a goal here obviously.
8:51: A deflected shot by Staal bounces to Crosby in the slot. Crosby snaps a shot which Miller punches away.
8:43: Goligoski is playing pretty strong tonight. He takes a pass at the top of the slot and fires a bullet that beats Miller high. There was a fantastic screen set up in front. The Penguins' needed that. Malkin and Staal get assists. Penguins 3, Sabres 3.
7:36: Spacek hammers a slapper from the left point which is off the mark.
7:20: Ellis works off a check from Staal and throws a wrister on net. Fleury covers it up.
6:50: Stafford has a nice chance in the slot but his wrister is wide.
6:36: Crosby drops a pass for Malkin who hammers a one-timer off the mark.
6:34: Boucher and MacArthur wrestle for a puck. Boucher clips him up high with a stick. That's two minutes. Big opportunity here for Buffalo. Lindy Ruff calls time out to organize a horseshoes tournament. We think.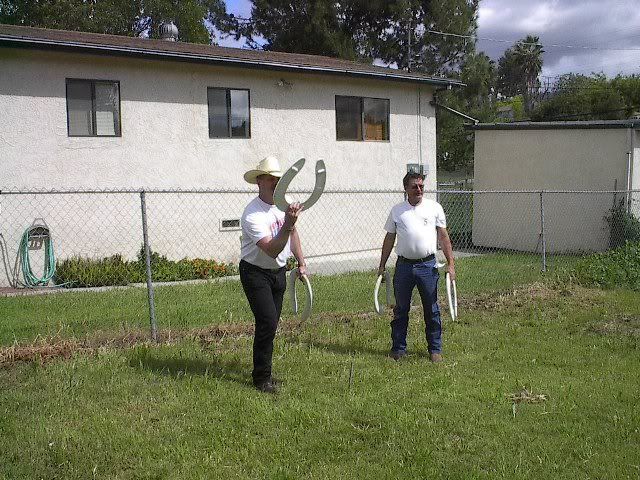 6:05: Fleury eats up a wrister by Pominville from the left point.
5:48: Spacek blasts a slapper from the left point. Fleury stops it witha "thud."
5:40: Vanek attempts a behind-the-back re-direct. No dice.
5:21: Stafford drives to the net and tries to chip one high by Fleury. Someone fights it off.
4:39: Malkin works his way down the right wing and sweeps a backhander toward the cage. Miller keeps it out.
4:34: Boucher's penalty expires. Fleury was huge during that two minutes.
4:11: Crosby drives to the net but Toni Lydman makes a nice play to fight him off the puck.
4:02: Fleury covers a loose puck near the net. Is it us, or does the Heineken Christmas Gift Stealer Guy kind of look like Pascal Dupuis?
2:06: Miller gloves a shot by Eaton.
1:32: Crosby moves towards the net but is fought off the puck by Stafford.
0:05: Cooke sticks a shoulder into Lydman's chest.
0:00: End of period. Penguins 3, Sabres 3.
THIRD INTERMISSION
-Buffalo is dominating shots, 35-20.
OVERTIME
4:22: Crosby tries to punch in a backhander from in tight. Miller fights it off.
4:17: Goligoski slides a pass along the blue line to Malkin who doesn't quite make complete contact with the puck and chips a shot high. Crosby is in front and appears to tip it in with a high stick behind Miller. The Penguins jump off the bench to celebrate. Officials rule it a goal on the ice but indicate right away they're going to review it. The overhead view appears to show Crosby tipping it. After a lengthy delay, referee Justin St. Pierre explains Crosby did not have a high stick on the play. Wow. That's a surprising call. Malkin and Goligoski get assists. End of game. Penguins 4, Sabres 3.
POSTGAME
-What an odd win for the Penguins. They had an improved effort throughout compared to Saturday night, but Buffalo was far more aggressive. Additionally, the Penguins' defense was really spotty tonight. And in order to win the game, they review many will question to get credit for the winning goal.
-How good was Alex Goligoski tonight? Even if you forget the two goals, he seemed to be everywhere for the Penguins tonight. He generated more than few scoring opportunities and helped create the team's only power-play. Perhap the pending return of Ryan Whitney has him motivated to prevent a demotion to Wilkes-Barre/Scranton. Either way, he was huge for the Penguins.
-Fleury rebounded well after a poor outing Saturday. His defense let him down quite a bit during the game, but he kept the Sabres from running away with this game.
-Buffalo ended up with a 35-22 lead in shots.
-Vanek led the game with eight blocked shots.
-Goligoski and Letang led the Penguins with three shots.
-The Penguins had a 33-32 edge in faceoffs.
-Crosby led the Penguins going 16-for-23 (70 percent).
-Jochen Hecht, who didn't play at all in the third period or overtime, was tops for the Sabres going 7-for-10 (70 percent).
-Roy led the game in ice time with 25:25.
-Somewhat surprisingly, Scuderi led the Penguins with 22:13.
-Eaton and Orpik led the game with four blocked shots each.
-Spacek and Tallinder led Buffalo with three blocked shots each.
-Versus was terrible as usual but at least they have "Caddyshack" coming on at 10 p.m. But it's edited. So... we guess that's a loss too.
-Abe Vigoda was named the player of the game by Versus: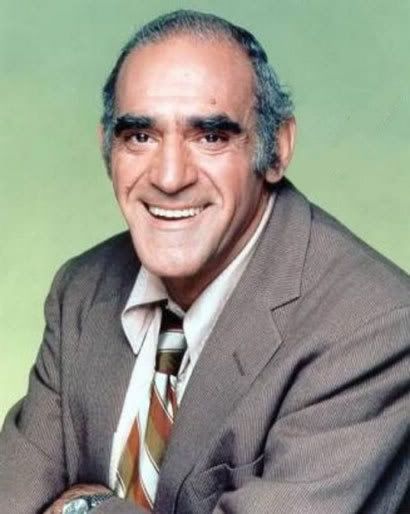 -Orpik moved pass Ab McDonald and Dale Tallon for 148th place on the team's all-time scoring list. Orpik now has 44 points to McDonald's and Tallon's 43. Michel Briere also has 44 points but has 12 goals to Orpik's six.
Join the conversation: