Empty Netter Assists - Eastern Conference - 12-30-08
Penguins
-Is Dany Sabourin an adequate backup goaltender?
-Ryan Whitney hit the million vote mark in All-Star Lame Game balloting.
-The Sweater Ted picked out the 10 biggest Penguins moments of 2008.
-The Buffalo News wants to know who the best forward in the NHL is: Sidney Crosby, Evgeni Malkin or Alex Ovechkin?
-EN reader Terry Stanton noticed something odd about actress Kim Darby from the movie "True Grit:"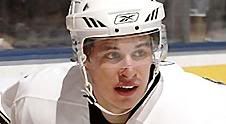 -She kind of looked like she needed a scoring winger back in the day.
-Someone buy Jeff Taffe a beer. He is your AHL player of the week.
-EN contributor Eric Politowski put together a video of Paul Bissonnette's highlights this season:
-Who exactly is "Moondog" and why are the Wheeling Nailers giving out his bobblehead?
Atlantic Division
-Scott Gomez had a goal and an assist and helped the Rangers edge the rival Islanders, 5-4. Teammates Brandon Dubinsky and Chris Drury each added two assists. Mike Comrie led the Islanders with a goal and an assist.
-Rangers goon Colton Orr and his Islanders counterpart Mitch Fritz beat the daylights out of each other last night:
-In a shocking development, Islanders goaltender Rick DiPietro is dealing with a groin injury. Goaltender Yann Danis was recalled from Bridgeport of the AHL to replace him. New York forward and former Penguin Andy Hilbert is dealing with a foot injury.
-The Rangers demoted defenseman Corey Potter to Hartford of the AHL.
-Russian officials ruled that late Rangers prospect Alexei Cherepanov took performance-enhancing drugs. He died during a KHL game in October.
-Devils defenseman Colin White is dealing with an "upper-body" injury.
-The Flyers are having troubles on the road.
Northeast Division
-Maxim Lapierre's first career hat trick helped the Canadiens become the first NHL team to reach 3,000 wins with a 5-2 victory at Florida.
-Canadiens legend Jean Beliveau (right) was released from a hospital after suffering from an illness.
-Sabres goaltender Ryan Miller offered a little advice on the Winter Classic.
Southeast Division
-Carolina put defenseman Frantisek Kaberle on waivers.
-Former Penguins forward Dan LaCouture officially left the Carolina organization and will play in Russia this season.
-Jose Theodore is trying to become the Capitals' top goaltender again.
-Capitals defenseman Karl Alzner is dealing with a hand injury. Also, the team recalled forward Chris Bourque from Hershey of the AHL and demoted goaltender Simeon Varlamov.
-Thrashers forward Ilya Kovalchuk hasn't scored a goal in eight games.
-The Lightning is giving former Penguins forward Adam Hall a chance to do some things on offense. FIre Ray Shero.
-Tampa Bay forward Martin St. Louis took a puck to the face in practice.
(Photos: Darby-Movieactors.com; Crosby-Photobucket; Beliveau-Photobucket)
Join the conversation: