Rangers 4, Penguins 0 - 1-5-09
Greetings from our living room. Since we don't care to watch too much of the Extreme World Cup of Bull Riding or whatever garbage Versus usually shows, we watched some of Savran on Sportsbeat prior to tonight's game. This has nothing to do with hockey, but former Steelers offensive tackle Tunch Ilkin was on and we couldn't help but notice but he gives you a little Michigan football coach Rich Rodriguez: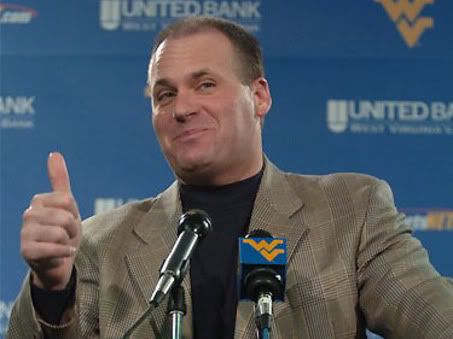 (Photobucket)
-Greg Wyshynski of Yahoo! found this gem: The Staal Brothers drinking game. Your liver would forfeit if it was smart.
-Speaking of which, we're giving an over/under of "The Staals are brothers" at  eight. It seems when the Rangers' Marc is involved, the Staal mentions seem to decline. Maybe it's because's a defensive defenseman and not as notable, but Marc and Jordan are no Eric and Jordan.
-If that makes sense.
-We'll go ahead and guarantee you'll see more Jose Cuervo commercials tonight than "Staals are brothers" mentions.
-"Sports Soup" will get about 15 plugs.
-Joe Beninati gets the call. We seemingly say this every time his voice pierces our ear drums, but he just seems better suited for being a volleyball play-by-play guy. Or just some sort of sport where he can say "dude" a lot.
-Marc-Andre Fleury and Henrik Lundqvist will start in net.
-Hal Gill, Alex Goligoski and Tim Wallace are the Penguins' scratches.
-We can't say we really agree with Goligoski's benching, but on a team struggling on the Penguins, is anyone other than Sidney Crosby or Evgeni Malkin really untouchable?
-New York will scratch Dan Fritsche and Lauri Korpikoski.
-Martha Stewart interviews Sidney Crosby:
-Hey, what do you know! The Staals are brothers!
-Brian Engblom, who still looks odd without his mullet, sort of mentions that the Staals are brothers. And he does so with a come hither look:
-Keith Jones says Miroslav Satan is due to break out. That might be kind of tough to do on the fourth line.
FIRST PERIOD
19:28: Almost immediately we get a disturbance. Maxime Talbot smacks Ryan Callahan to the ice from behind near the boards. A scrum develops. Talbot is called for boarding. We're not too sure about that call. Either way the Rangers have an early power play.
19:25: Off the faceoff, Fleury denies a wrister.
19:00: Well that certainly wasn't the start the Penguins were looking for. Following a failure by Mark Eaton to clear the puck, Nigel Dawes clunks a shot off Rob Scuderi's stick that deflects by Fleury on the stick side. What a lucky goal. Paul Mara and Michal Rozsival get assists. "Let's Go Rangers!" or whatever the name of that stupid song is is played. Rangers 1-0.
16:33: Petr Prucha tries to deke by Brooks Orpik but clips him up high drawing blood. That's four minutes for high sticking. The Penguins need a goal badly here. Not only for the game, but the confidence of the team. Ryan Whitney, Kris Letang, Tyler Kennedy, Crosby and Malkin are on for the power play.
16:18: After Whitney blasts a slapper from the right point, the puck bounces right to Crosby on the right side of the cage. He has a wide open net but Lundqvist makes a dazzling save with his right leg. Wow.
15:51: Crosby gets another lucky bounce and rips it off the post.
15:37: Crosby gets yet another chance. As he's hauled down he whips a wrister on net which Lundqvist kicks out. Dmitri Kalinin is nabbed for hooking. That's a bad call. Crosby just fell over. The Penguins will get a two-man advantage for a full two minutes. They must score here. Officials review one of Crosby's shot just to make sure he didn't score. It's a confirmed non-goal. Malkin joins Whitney on the point with Jordan Staal, Crosby and Kennedy up front.
15:15: The Staals are brothers.
14:52: Malkin blasts a one-timer from right point which hits off the post.
14:44: Lundqvist is able to deny Crosby on a deflection attempt.
13:59: A shot by Kennedy is deflected out of play by Lundqvist.
13:38: As Crosby tries to move a pass intot he crease for Sykora, Jordan Staal is called for interference. It was against his brother as Ed Olczyk reminds us. We'll have four-on-four for 1:04. The Penguins were a little more aggresive on that power play than usual. Lundqvist made some big saves.
12:52: The Staals are brothers.
12:33: Prucha's second penalty expires. The Rangers will have a power play for 52 seconds.
12:15: Markus Naslund clunks a shot off the post from the slot.
11:38: Jordan Staal's penalty expires.
11:34: Callahan takes a feed in the slot and sweeps a shot on net. Fleury is in perfect position, knocks down the puck and covers it.
10:55: Nikolai Zherdev rips a wrister over the net.
10:45: Lundqvist easily denies a wrister by Talbot. A small scrum develops. Brandon Dubinsky and Matt Cooke are each sent off for roughing. The officials are calling this game tight tonight. Four-on-four.
10:43: Crosby manages to take a shot
9:46: Whitney blocks a shot by Callahan.
9:35: Malkin pushes a pass to Jordan Staal on a two-on-one. Staal hammers a one-timer which is off the mark. Someone needs to get that on net.
9:25: The Staals are brothers.
8:26: Callahan slides a backhander into the crease which Fleury kicks out.
6:46: Pascal Dupuis chops a wild shot on net which is off the mark.
6:25: Letang is in deep in the Rangers' zone and gets tagged by Wade Redden in the corner.
5:44: After a chance by Petr Sykora is kicked out, Fedotenko jumps on a rebound and pushes it wide.
4:52: Colton Orr is called for hooking. And how long ago do those highlights from the Stanley Cup final seem in that Center Ice commercial?
4:24: Malkin appears to get away with a high stick against Rozsival.
3:52: Crosby makes a fantastic pass to Kennedy in the slot. Lundqvist pokes the puck away from Kennedy. That was a big opportunity there.
3:44: Lundqvist covers up a chance in tight.
2:59: Satan get dumped near the net.
2:52: Orr penalty expires. Other than that chance for Kennedy in the crease, the Penguins didn't have a lot going on there. They had trouble getting it into the offensive zone even.
2:46: Philippe Boucher kneels down to block a shot from the right wing.
1:09: Fleury makes a bad play behind the net and zips the puck to... Aaron Voros. Voros immediately shoots it on net. Fleury is able to recover and eat up the shot.
0:58: Crosby whips a wrister on net from the left wing on a two-on-one. Lundqvist fights it off.
0:22: Voros is sent off for roughing. How many chances are the Penguins going to get before they cash in on the power play?
0:01: Blair Betts pushes the puck up ice. Fleury slides waaaay out of his crease to break up a potential power play.
0:00: End of period. Rangers 1, Penguins 0.
FIRST INTERMISSION
-All things considered, that was a solid period for the Penguins. They played fairly even with the Rangers. If it's not for a lucky goal, this is a 0-0 game.
-The power play continues to be an issue for the Penguins but give credit to Lundqvist. He's been sharp so far.
-The penguins have a 12-8 edge in shots.
-Someone must've said something to Crosby after Saturday. He leads the game with four shots. Kennedy is second with two.
-No one on the Rangers has more than one.
-The Rangers have a 12-8 lead in faceoffs.
-Betts is 6-for-8 (75 percent).
-Jordan Staal is 3-for-5 (60 percent).
-Whitney leads the game with 9:03 of ice time.
-Rozsival leads New York with 8:54.
-Boucher, Rob Scuderi and Redden each have one blocked shot.
-The Penguins will have 1:22 of power play time on fresh ice.
-EN reader Ian DeArdo is in Madison Square Garden and sent us a photo of the national anthem:
-Former Avalanche goaltender David Aebischer apparently uses eHarmony:
SECOND PERIOD
19:36: A blast by Letang is high.
19:15: Crosby zips a cross-ice pass to Letang. Letang has an open shot but forces a pass to no one in particular in the slot.
18:37: Crosby fires a wrister from the right wing which is blocked out of play by Redden.
18:22: Voros' penalty expires. Another just flat effort by the Penguins.
16:18: Betts pumps a quick wrister on net from the right wing. Fleury fights it off despite some traffic.
15:43: Boucher is in deep and zips a backhanded pass to Jordan Staal in the slot. Staal shoots but his stick snaps. Staal slams it on the ice. Things are just going that way for the Penguins right now.
15:35: Crosby is sent off for hooking.
14:16: Chris Drury chases down a loose puck and sails a shot high from the right wing.
14:00: Fleury gloves a shot by Dawes from in tight.
13:52: Orpik blocks a big blast from Kalinin from the right point
13:34: As Crosby's penalty expires, Jordan Staal appears to get away with some sort of take down on a Rangers player.
12:58: Dan Girardi bombs a one-timer from the right point which is no where near the cage.
12:03: So far there haven't been any Jose Cuevo commercials but a ton of spots for Pappa Johns. Our knowledge of Versus' advertisers is terrible.
11:09: Callahan blasts a slapper from the right side. Fleury kicks it out.
11:04: Malkin gets behind the defense and bears down on net with the puck. He shoots high to the far side and is denied by Lundqvist who get a piece of it with his shoulder. New York fans shower their goaltender with "HEN-RIK! HEN-RIK!" chants.
10:38: Ludqvist covers a puck in the slot.
9:56: Prucha steps up on Crosby at the Penguins' blue line. Crosby adjusts and drops Prucha with a shoulder.
9:26: The ever dangerous Rob Scuderi puts a shot wide of the cage.
8:33: Cooke slams into Callahan behind the Rangers' net.
7:25: On a delayed penalty, Sykora tries to force a pass into the slot for Ruslan Fedotenko. Rozsival is sent off for interference.
7:23: Almost immediately, the Penguins are called for their own penalty. He interferes with a Rangers player right off the faceoff. Four-on-four for 1:58. Ugh.
5:43: Whitney collects a puck at the left point and pushes a wrister on net. Lundqvist kicks it out.
5:23: Both teams' penalties expire.
4:38: Crosby dishes a pass to Dupuis. Dupuis rips a wrister on net which Ludnqvist is able to juuust hang on too. Nice save.
3:38: Dawes leaves a pass for Kalinin rushing into the offensive zone. Kalinin fires a wrister which rings off a post and into the netting.
2:53: Cooke drops Kalinin behind the Rangers' net with a check into the boards.
2:35: After as shot by Girardi hits a body in front, Cooke is sent off for interference.
2:33: The Rangers strike right off the faceoff. Scott Gomez, who has been quiet so far, wins the draw. It goes to Paul Mara who steps up and blasts a slapper by Fleury on the stick side. That was a heck of a shot. "Let's Go Rangers" Gomez gets the only assist. Rangers 2-0.
2:04: Crosby pushes a backhander on net. Lundqvist fights it off.
1:30: The Penguins get a break as Drury throws a puck out of play from his own end. That's two minutes for delay of game. A goal here would be huge for the Penguins.
0:50: A wrister by Whitney is just wide.
0:19: Malkin pushes a pass to Whitney in the right faceoff circle. Whitney's shot is kicked out by Lundqvist.
0:04: Fredrik Sjostrom pushes the puck up ice and whips a backhander on net. Fleury denies him.
0:01: Mara gets a chance and blasts a slapper which Fleury fights off. The Rangers have had the best chances so far on this power play.
0:00: End of period. Rangers 2, Penguins 0.
SECOND INTERMISSION
-What was frustrating about that period was that the Penguins did put in a decent effort and played pretty well on defense. The Rangers' are hardly the 1984 Oilers, but they've had very little going there on offense. Additionally, the Penguins have created some opportunites, but they've missed more than a few of those chances.
-Lundqvist is still playing pretty strong.
-How many times can we say the power play is an issue?
-The Penguins have a 20-17 lead in shots.
-Crosby leads the game with five shots. Kennedy is right behind him with four.
-Sjostrom leads the Rangers with three.
-The Rangers control faceoffs, 25-17.
-Drury is 7-for-10 (70 percent).
-Crosby is 9-for-17. (53 percent).
-Whitney leads the game with 18:59 of ice time.
-Rozsival leads the Rangers with 16:15.
-Crosby and Redden lead the game with two blocked shots.
-The Penguins will have 30 seconds of power play time to begin the period. We couldn't find anything in the rule book that says you can decline it.
-OK, that Versus "V" thing. Really lame.
THIRD PERIOD
19:33: Lundqvist eats up a shot by Whitney. Lundqvist is just not going to be beaten tonight.
19:27: As Drury's penalty expires, Crosby tries to deflect a pass by Whitney on net. It goes just wide.
18:59: Fleury denies the Rangers on a timing play.
18:15: Prucha gets the best of Brooks Orpik behind the Penguins' net.
16:02: Kennedy takes down Naslund at the Penguins' blue line. That's two minutes. The Penguins must kill this if they hope to come back.
15:53: As Olczyk points out, the Rangers win the faceoff and almost immediately get a puck on net. Gomez fires a wrister from the right faceoff circle. Fleury stops it and covers up the rebound.
14:55: A Ranger fires a wild wrister from the right point which is off the mark.
14:33: Talbot kills about eight or nine seconds by pinning the puck along the boards near the benches.
14:13: Mara blasts a shot wide of the net.
14:04: Fleury denies Dawes in tight with a big save.
14:02: The Penguins come up with a big penalty kill.
13:34: Dupuis centers a puck into the slot for a teammate who can't take it cleanly.
12:12: Callahan chops a one-timer which flutters on net. Fleury punches it away with his blocker.
11:16: Orpik fires a slapper from the left point which is blocked.
11:06: Orpik slides a pass to Whitney at the right point which is deflected just wide.
9:08: The Rangers are pretty much dumping the puck and changing lines. They're playing to protect the lead the rest of the way.
8:51: Cooke pushes a backhander on net. Lundqvist covers it up. This "Free Credit Report" band isn't half bad by the way:
-The Staals are brothers.
8:16: Fleury punches out a shot on net.
7:58: Orpik tags Colton Orr with a nice check.
7:30: Well that pretty much ices the game. After making a move that makes Letang lose his skates, Dawes pushes a puck around the boards to Prucha behind the net. He almost immediately zips a pass to Drury in the slot. Drury puches a shot by a helpless Fleury. That was a complete defensive breakdown. Prucha and Dawes get assists. "Let's Go Rangers." Rangers 3-0.
4:55: Orr gets a little payback as he gets a stick into Orpik's face. It's not exactly smart as Orr is sent off for two minutes, but it's not like the Penguins are going to score a goal here.
4:21: Lundqvist fights off a slapper by Boucher.
3:49: Whitney whips a wrister on net which is deflected out of play by Rozsival. Fire Craig Patrick. Michel Therrien calls a time out to ... we don't know. We can't make up jokes about bad movies at this point.  Fleury is pulled for an extra attacker. OK.
3:11: This just keeps getting better and better. Drury blasts a puck from his corner down ice towards the empty net. It hits off the boards. Gomez gets to it first without a Penguins player anywhere near him. He punches it into the cage for one of us. How does Gomez not even get challenged for that puck? Drury and Rozsival get assists. "Let's Go Rangers!" Rangers 4-0.
2:46: Orr and Eric Godard decide to drop the gloves late. Why even bother. Orr throws about 320 punches before Godard gets one in. After Orr tires himself out a bit, Godard lands a few before Orr forces him to the ice. Someone better hope there's not an instigating penalty on that.
1:50: Orpik blasts a slapper from the left point. Callahan slides down to block it. He's showing a lot of guts blocking that shot with such a big lead late.
1:14: Kennedy work free off a check and slaps a shot on net. It gets blocked away with a stick.
1:10: "Crossss....Beeeee..... Crossss....beeeee...."
0:38: Satan drops a player with a hit from behind. That might be the most physical he's played all year. He's sent off for boarding.
0:00: End of game. Rangers 4, Penguins 0.
POSTGAME
-What can we say which hasn't been said already been said 50 times the past two weeks or so?  The Penguins just have nothing going. The effort is there effort was there tonight for the most part. But there just isn't a tone of cohesion or chemistry on many fronts with the Penguins. Not on the power play, not the transition game and none in the defensive end. They're just not working well together. There's talent on this roster. Just not chemistry.
-The power play. It stinks. We really can't say much more than that.
-Actually we can. The Rangers' penalty kill came into this game hurting. If there was a night the Penguins could break through with even one goal on the man advantage, it was tonight. Combine that with the early two-man advantage tonight, the Penguins' power play completely failed the team tonight. Again.
-The Penguins actually played fairly well on defense we thought until the roof caved in late.They broke up quite a few passes and opportunites in their end throughout the game. They improved quite a bit in terms of their positioning compared to Saturday's debacle against Florida.
-As much as the Penguins just failed to produce offensively tonight, Henrik Lundqvist was outstanding tonight. He withstood an early rush by the Penguins, including a few quality chances by Crosby with a man-advantage and really stole the momentum from the Penguins. He did more than enough to earn this shutout tonight.
-At some point, Crosby and Malkin need to step up and start producing on their own. They're two of the best players in the world. Their individual brilliance should be able to produce something, anything on their own regardless of their coaching or linemates. A few EN readers have commented that Mario Lemieux used to produce with the likes of Warren Young and Rob Brown on his line. While expecting 190-point seasons out of Crosby and Malkin is a little outlandish in this defensive era, the comparison is valid in that Lemieux found a way to produce regardless of the skill level of his teammates.
-That said, the Penguins do need to upgrade their wingers.
-Staal deserves some blame for the power-play struggles as well. While we still think Sergei Gonchar is the biggest missing piece to that puzzle, they are missing Ryan Malone, or someone like him, in front of the net. After the first few days of free agency this past offseason, Ray Shero held a "state of the union" press conference on where the franchise stood with personnel. He named Staal specifically as a person who would replace Malone in front of the cage. Staal has played well in areas this season and we would even argue he's improved from last season, but he's failed them specifically on the man advantage.
-Some would argue that Staal was miscast in that role as a true power foward. If that's the case, then Shero and company deserve blame for trying to pound a square peg into a round hole.
-We in no way are blaming the result on the officials, but the zebras were a little incosistent in some ways tonight. The seemed to blow a quick whistle with some infractions while letting other things go. Again, it had nothing to do with the Penguins' loss. It's just an observation.
-The Penguins had a 27-26 edge in shots.
-Crosby, Callahan and Kennedy led the game with five shots.
-Faceoff continue to be an issue for the Penguins. The Rangers controlled the faceoff circle, 32-26.
-Gomez was 11-for-13 (85 percent).
-Crosby was 13-for-22 (59 percent).
-Whitney led the game with 26:57 of ice time.
-Rozsival led New York with 25:51.
-Crosby and Redden led the game with two blocked shots.
-It might be hard to believe, but that was only Lundqvist's second regular season shutout against the Penguins. He blanked them, 4-0, Dec. 18, 2007.
-Lundqvist did shut them out in Game 4 of the Eastern Conference semifinal, 3-0, May 1, 2008.
-The Penguins' regular season losing streak at Madison Square Garden is now at eight games.
-We don't have our media guide immediately available, but we're pretty sure the last Penguins goal against the Rangers was scored by Ron Duguay. We think: