About the Canadiens - 2-19-09
A preview of the Canadiens.

Time and place: 7 p.m. Mellon Arena.
TV: FSN Pittsburgh, CBC, RDS
Record: 30-21-7, 67 points. Montreal is in second place in the Northeast Division and sixth place in the Eastern Conference.

Leading Scorer: Andrei Markov, 45 points (7 goals, 38 assists).

Last Game: 4-3 shootout loss at Washington last night. Andrei Kostitsyn had a goal and an assist in regulation while Makov added three assists. This was the 6,00th game in the history of the Canadiens.

Last Game against the Penguins: 4-2 home win Feb. 3. Luca Caputi scored his first career NHL goal on his first career shift.
 
Canadiens Player We Would Bet Money On Scoring: Andrei Kostitsyn. he has goals in three consecutive games and has four goals in two games against the Penguins this season.
 
Ex-Penguins on the Canadiens: Tom Kostopoulos, RW; Alex Kovalev, RW; Robert Lang, C; Georges Laraque (right), RW.

Ex-Canadiens on the Penguins: Mathieu Garon, G; Andre Savard, unknown; Michel Therrien, Head Coach. (Savard was re-assigned within the organization but his position is unclear.)
Useless Canadiens Trivia: The Montreal player to score a playoff hat trick was Paul DiPietro who had three goals and an assist in a 6-2 defeat of the rival Nordiques, April 28, 1993.

Best Canadiens YouTube Video We Could Find: You find us a better French Canadian Best Buy commercial:
Notes:
-Marc-Andre Fleury (19-15-4, 2.81 GAA, .912 SV%) and Carey Price (18-11-6, 2.72 GAA, .906 SV%) are the expected starters in net.
-Price's career numbers against the Penguins are pretty good. He's 4-0-0 with a 2.20 goals against average and .918 save percentage against them.
-Fleury's career totals are abysmal against the Habs. He's 4-5-0 and has a 4.15 goals against average and .874 save percentage versus Montreal.
-It was training camp 2.0 for the Penguins yesterday.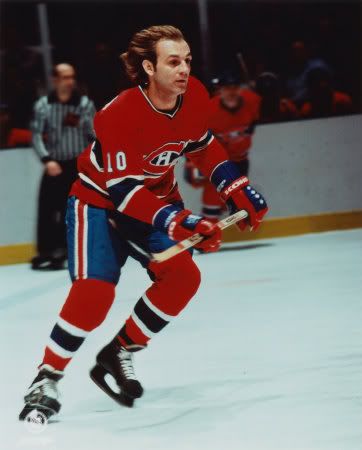 -Keep that old Alex Kovalev Penguins jersey in the closet for now.
-Even if it lost, Montreal coach Guy Carbonneau was satisfied with his team last night.
-In his first game back in a Habs uniform last night, defenseman Mathieu Schneider led the Canadiens with 27:06 of ice time and recorded one assist.
-Kovalev, who was benched last night and will be as well tonight, denied a report which stated he was finished with Montreal.
-In addition to Kovalev, the Canadiens will be without forwards Robert Lang (Achilles tendon), Guillaume Latendresse (shoulder) and Alex Tanguay (shoulder).
-The Habs sure like their Speedos.
-Canadiens legend Guy Lafleur (right) criticized general manager Bob Gainey and Carbonneau for their treatment of Kovalev.
-Our live blog begins at approximately 6 p.m. Please tune in.
(Photo: Laraque-Nick Laham/Getty Images; Lafleur-Photobucket)