Empty Netter Assists - 11-21-09
Penguins
-Dave Molinari's recap from last night's game. Quite a bit has changed in the past 35 days.
-The Associated Press' recap. Dan Bylsma said his team has a swagger.
-Note: No Los Angeles paper covered last night's game.
-Evgeni Malkin's shot to head on Los Angeles' Wayne Simmonds:
-That deserving of a suspension if you ask us. Malkin clearly went after the player's head. Additionally, there was less than 10 seconds left in the game. If that's a Flyer delivering a blow, the suspension is almost automatic. Malkin shouldn't be exempt because he's a star player. But the NHL has a game on NBC Sunday to worry about so don't expect Colin Campbell and company to take any action on this.
-Malkin's pregame interview and all four of the Penguins' goals:
-Sidney Crosby was kind of indifferent towards Alex Ovechkin's celebration of his 50th goal.
-Before last night's game, Sidney Crosby and Evgeni Malkin were each in the top-ten in career point-per-game totals.
-The success of Dan Bylsma (right) and Ottawa's Cory Clouston shows a coach doesn't need NHL experience in order to suceed.
-Vincent C. Lascheid. 1923-2009.
-An online guest book for Mr. Lascheid.
-A video tribute to Mr. Lascheid.
-John Curry made 24 saves for the Wilkes-Barre/Scranton Penguins in a 2-1 road loss to the rival Philadelphia Phantoms.
-Chris Minard thought the Phantoms got away with a hit from behind that led to the winning goal.
-The AHL Penguins' power play is still a mess.
-Curtis Darling made 34 saves for the Wheeling Nailers who lost to the Dayton Bombers, 4-3.
-Penguins prospect Chad Johnson, a goaltender with Alaska Fairbanks, was named CCHA Player of the Year and was nominated for the Hobey Baker Award. He was a fifth-round pick of the Penguins in 2006.
Atlantic Division
-Scoreboard Watch for the Penguins: Daniel Briere had two goals and led the Flyers to a 6-4 win against his former team, the Sabres. Mike Richards added a goal and two assists for Philadelphia which swept the Sabres while Kimmo Timonen contributed three assists. Martin Biron, another former Sabre, made 39 saves in the win. Former Penguin Dominic Moore led Buffalo with a goal and an assist. The Flyers are in fourth place in the Eastern Conference with 86 points, just as many as the Penguins who are in fifth place. The Flyers have a tiebreaker over the Penguins based on having played fewer games. The Sabres, who have lost five of their past six games, are in 10th place with 76 points.
-Martin Brodeur keeps rolling along. He made 35 saves and led the Devils to a 4-0 win against the Wild. It was Brodeur's 101st career shutout. He is two behind former Red Wings goaltender Terry Sawchuk who has the NHL record with 103. Patrik Elias had two goals for the Devils while teammate Zach Parise added two assists.
-Elias hit the 30-goal mark for the first time in five years.
-Devils defenseman Colin White is dealing with a "lower-body" injury.
-Devils goaltender Martin Brodeur (right) declined an invitation to read the Top 10 List on "The Late Show with David Letterman" on account of his daughter's birthday.
-Does Zach Parise have a shot at the Hart Trophy?
-Islanders defenseman Bruno Gervais' game has improved over the course of the season.
-The Islanders apparently recall people from the AHL on a daily basis without really announcing it. Forwards Mike Iggulden Joel Rechlicz and former Pittsburgh Forge goaltender Peter Mannino were recalled from Bridgeport.
Northeast Division
-The Maple Leafs demoted forward Andre Deveaux to their AHL affiliate.
-The Sabres are falling apart.
-Even if they are, the Sabres still believe they can reach the playoffs.
-With the Habs in need of a big change to end their slide, it appears defenseman Mike Komisarek and Andrei Kostitsyn will be benched.
-Canadiens forward and former Penguin Alex Kovalev admitted some of the moves by former coach Guy Carbonneau confused him.
-Montreal has a ton of unrestricted free agents to worry about this offseason.
-For some reason, Bruins general manager Peter Chiarelli saw the need to proclaim coach Claude Julien's job security is not in doubt. The Bruins are in first place in the Eastern Conference.
Southeast Division
-Scoreboard Watch for the Penguins: Matt Cullen had two goals and an assist for the Hurricanes who edged the Islanders, 5-4. Chad Larose added two goals for Carolina while teammates Joe Corvo and Ray Whitney each recorded three assists. Frans Nielsen and Kyle Okposo each had a goal and an assist for New York. The Hurricanes are in sixth place with 83 points, three less than the Penguins.
-Thomas Boswell of the Washington Post strongly suggests those who had a problem with Alex Ovechkin's (right) celebration should join the 21st century.
-Capitals coach Bruce Boudreau is apparently nice and snug in the 20th century and doesn't expect Ovechkin to pull that stunt again.
-With forward Boyd Gordon (finger) and Quintin Laing (spleen) dinged up, the Capitals recalled forward Chris Bourque from Hershey of the AHL.
-Laing will miss the rest of the regular season after tearing his spleen Thursday night.
-Washington defenseman Mike Green is dealing with an undisclosed injury.
-The Thrashers' poor attendance numbers could cost them some revenue-sharing money.
-Carolina defenseman Anton Babchuk has been racking up some serious goal totals as of late.
-Panthers forward Nathan Horton is expected to return to the lineup Monday.
-Lightning forward and former Penguin Ryan Malone has a chance at 30 goals. Fire Ray Shero.
-Malone was pretty mad about Alex Ovechkin's celebration.
-Somewhat ironically, the word "Tampa" is a Calusa Indian name for "Sticks of Fire."
Central Division
-Johan Franzen had a goal and two assists for the Red Wings in a 6-3 win at Atlanta. Detroit's Marian Hossa added a goal an an assist in his first game in Atlanta since being dealt by the Thrashers to the Penguins last season while Henrik Zetterberg recorded four assists. Former Red Wings forward Slava Kozlov led Atlanta with a goal and an assist.
-Hossa got a slightly warmer reception in Philips Arena than he did in Mellon Arena last month. Hossa said, "It was kind of mixed in the crowd, more favorable than Pittsburgh."
-Check out this hit Detroit's Brad Stuart stuck on Atlanta's Joey Crabb:
-Chris Mason made 33 saves and led the Blues to a 3-2 win at Calgary. The victory moved the Blues within two points of a playoff seeding in the Western Conference. Jarome Iginla and Olli Jokinen each recorded two assists for the Flames.
-Chicago's Ben Eager was up to his old tricks. Check out this cheap shot to the head he landed on Edmonton's Liam Reddox:
-That's worth at least five games considering Eager's prior history.
-The Blackhawks are going to sink or swim with Nikolai Khabibulin in net.
-Columbus coach Ken Hitchcock and former Devils coach Pat Burns are friends to the end.
Northwest Division
-Shootout goals by Patrick O'Sullivan and Ales Kotalik gave the Oilers a 5-4 win against the Blackhawks. Dustin Penner had a goal and an assist for Edmonton in regulation. Chicago got a goal and an assist each from Dave Bolland and Martin Havlat in regulation. The Blackhawks have lost five consecutive games.
-Canucks defenseman Willie Mitchell "loved" Alex Ovechkin's celebration.
-Former Penguins captain Jaromir Jagr confirmed there was a deal in place for him to play for the Oilers had his KHL team, Avangard Omsk, missed the postseason.
-Flames forward and former Penguins goon Andre Roy is dealing with an "upper-body" injury.
-With $44 million already devoted to guaranteed contracts, the Avlanche won't have a lot of room to make any significant changes for next season.
-Wild forward Cal Clutterbuck claims he's a target of officials.
Pacific Division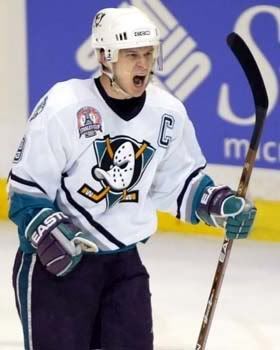 -Sharks forward Jeremy Roenick didn't have a problem with Alex Ovechkin's celebration. But he has a problem with how Sidney Crosby treats the sport?
-Defenseman Keith Yandle is logging some serious ice time for the Coyotes.
-Should the Ducks retire No. 9 in honor of Paul Kariya (right)?
-Anaheim defenseman Francois Beachemin has resumed practicing for the first time since suffering a knee injury in November.
-Stars coach and former Penguins forward Dave Tippett doesn't want to talk about his team's injuries.
-Sharks forward Brad Staubtiz became an overnight sensation with his savage beating of Predators forward Jordin Tootoo Thursday.
Patrick Division
-Mercyhurst beat RIT, 5-4, in the semifinal of the Atlantic Hockey tournament. The Lakers will meet Air Force in the final today.
(Photos: Bylsma-Gene J. Puskar/Associated Press; Brodeur-Bill Kostroun/Associated Press; Ovechkin-Mike Carlson/Associated Press; Kariya-Photobucket)
Join the conversation: