Empty Netter Assists - 3-30-09
Penguins
-The Penguins do, like, pilates and stuff.
-Mark Eaton is your Masterton Trophy nominee for the Penguins.
-Will Dan Bylsma's inexperience be an issue come playoff time?
-An abbreviated version of "Picture This." EN reader Joy Fredrick and family went to Saturday's game early and sent us some shots of the players arriving in the morning for that day's game. Evgeni Malkin feeling and looking blue:
-Petr Sykora being embarrassed by Ruslan Fedotenko's amazing hair:
-Tyler Kennedy being all business:
-Kris Letang's apparently not big on brief cases:
-Max Talbot getting his coffee on:
-Finally, Marc-Andre Fleury being lazy with his hair:
-John Curry made 31 saves and led the Wilkes-Barre/Scranton Penguins to a 1-0 win at Hershey. Dustin Jeffrey scored the Penguins' goal.
-Wilkes-Barre/Scranton clinched its seventh consecutive playoff appearance.
-Curry set a franchise record with his 31st win of the season.
-Luca Caputi is dealing with an "upper-body" injury.
-Curtis Darling made 25 saves for the Wheeling Nailers who lost to the Elmira Jackals, 4-1. The awesome-named Colton Yellow Horn scored a goal for Elmira while even awesomer-named teammate Bear Trapp was held without a point.
-Do the Penguins still need that scoring winger? Former Penguins forward Ziggy Palffy is looking pretty good after he scored the winning goal in overtime for Skalica in a 3-2 defeat of Slovan in a Slovakian Extraliga semifinal:
-Slovan will meet a team called the Kosice Steelers in the final.
-We didn't even know the Penguins had 1,500 members on their roster.
Atlantic Division
-The Rangers and Sean Avery catch up with old friends Martin Brodeur and the Devils tonight.
-Injured Rangers defenseman Michal Rozsival is close to returning from a knee injury.
-The Rangers recalled defenseman Corey Potter and demoted defenseman Mike Sauer to Hartford of the AHL.
-The Flyers missed a chance to increase their lead in the Eastern Conference over the Hurricanes and Penguins.
-With forward Riley Cote dealing with a finger injury, the Flyers recalled forward Andreas Nodl from their AHL puppy-drowning affiliate.
Northeast Division
-Scoreboard Watch for the Penguins: Milan Lucic (right) had two goals and helped the Bruins edge the Flyers and their Creamsicle uniforms, 4-3. David Krejci added three assists for Boston while teammate Zdeno Chara recorded two assists. Tim Thomas made 45 saves in the win while former Penguin Mark Recchi picked up his 20th goal for Boston. Fire Ray Shero. Claude Giroux led Philadelphia with a goal and an assist. The Flyers are in fourth place in the Eastern Conference with 92 points, two more than the Penguins who are in sixth place with 90 points.
-Ottawa's Brian Elliott made 20 saves and earned his first career NHL shutout, a 3-0 win at Tampa Bay. The Senators have won 10 of their past 13 games.
-Since being traded from Toronto to Buffalo, former Penguins forward Dominic Moore's scoring has dried up.
Southeast Division
-Goaltender Craig Anderson has come through just when the Panthers needed it the most.
-Lightning coach and former Penguins forward Rick Tocchet sort of had a Therrienesque "soff" rant after last night's loss to Ottawa.
-The Lightning recalled forward Brandon Bochenski from Norfolk of the AHL.
Central Division
-Steve Sullivan had a goal and an assist for the Predators who won at Detroit, 4-3. Pekka Rinne made 33 saves in the win. Pavel Datsyuk and Nicklas Lidstrom each had two assists for Detroit.
-Tough break for the Predators who lost forward Martin Erat to a leg fracture after he was hit by a shot from teammate Shea Weber. He will miss the rest of the regular season.
-Late in the game, the Red Wings pulled goaltender Chris Osgood for an extra attacker. The only problem was, Osgood never actually left the net and Detroit got away with having seven players (including Osgood) on the ice:
-In all fairness to Osgood, he's not used to leaving the net  unless it involves flopping like a fish:
-Patrik Berglund had a goal and two assists for the EN bandwagon favorite Blues who beat the Blues Jackets, 5-2, for the second consecutive night. T.J. Oshie and David Perron each added a goal and an assist for St. Louis which has won five consecutive games. Rick Nash led Columbus with a goal and an assist.
-Remember that big hit Oshie put on Nash Saturday? Well he did it again last night:
-Oshie is not popular in Columbus.
-Greg Wyshynski of Yahoo! has joined us on the Blues' bandwagon.
-Detroit defenseman Brian Rafalski is dealing with a groin injury.
-Awesome Picture of the Day: The Blackhawks filling up the penalty box:
Northwest Division
-Roberto Luongo made 26 save and led the Canucks to a big 4-0 shutout win at Chicago. Daniel Sedin had two goals and an assist while Alex Burrows added a goal and two assists. Vancouver has won seven of its past nine.
-The Canucks sent the Blackhawks a message.
-The Sedin, Sedin, Burrows line really came through for Vancouver.
-Chicago's Ben Eager returned from a three-game suspension and it didn't take him long to spark a line brawl in last night's game:
-The Wild kept its playoff hopes alive with a 3-2 win at Edmonton. Marian Gaborik continued to play well in his return from a hip injury and picked up a goal and an assist for Minnesota while teammate Owen Nolan recorded two assists. Niklas Backstrom made 31 saves in the win. The Oilers lost four out of their past five.
-Backstrom set a career-high and franchise record with his 34th win of the season.
-Meet Pavol Demitra and Mats Sundin - Vancouver's Bald Brothers.
-Unavailable for comment: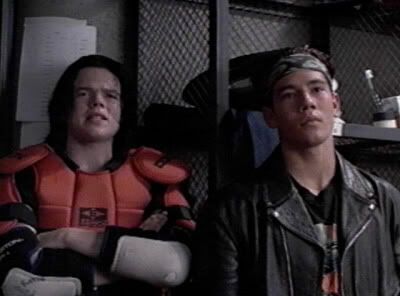 -A +1 goes to the first person to identify the two gentlemen in the above picture via the comments down below.
-Avalanche forward Milan Hejduk called the Avalanche's terrible season "the worst time ever in my career."
Pacific Division
-Bobby Ryan, the second overall pick in the 2005 draft after Sidney Crosby, scored two goals and led the Ducks to a 4-1 win against the Avalanche. Fire Craig Patrick. Corey Perry added a goal and an assist for Anaheim which has won seven of its past nine games. Colorado has lost seven consecutive games. It is the franchise's longest losing streak since it lost eight in a row in 1992 while based in Quebec.
-With defensemen Trevor Daley and Stephane Robidas both dealing with "lower-body" injuries, the Stars recalled defensemen Dan Jancevski from Hamilton of the AHL and Garrett Stafford from Grand Rapids of the AHL.
-During a game with the Panthers Saturday, Stars forward Steve Ott received a five-minute major for charging Florida forward Gregory Campbell. All charging penalties are reviewed by the NHL's director of operations Colin Campbell who happens to the father of the Panthers forward. To avoid any conflicts of interest, the NHL will have Mike Murphy, senior vice president of hockey operations, review the play.
-Sharks forward and captain Patrick Marleau (right) will miss at least two games this week due to a "lower-body" soft tissue injury.
-According to a study by the city of San Jose, HP Pavilion has provided an cumulaitive economic impact of $1.7 billion since it opened in 1993.
NCAA Mens' Tournament
-Bemidji State, the No. 16 seed overall in the tournament, advanced to the Frozen Four with a 4-1 defeat of Cornell.
-Boston University also advanced by scoring a goal with 14.4 seconds remaining in regulation and edging New Hampshire, 2-1.
-Saturday, Miami, Ohio and Vermont moved on to the Frozen Four which begins April 9, in Washington D.C.
-Several NCAA prospects are now available through free agency. Among them include Notre Dame forward Christian Hanson, the son of Dave Hanson, the "Slap Shot" actor and general manager of the Robert Morris Island Sports Center.
Patrick Division
-See ya later you fat pig:
(Photos: Lucic-Chris McGrath/Getty Images; Blachkawks-Jonathan Daniel/Getty Images; Bash Brothers-Photobucket; Marleau-Christian Petersen/Getty Images)
Join the conversation: